Innovation ist ein Wort, das auf vielen Entwickler, Hersteller, Designer und mehr verloren geht. Wir leben in einer Gesellschaft, die damit begonnen, erbrechen, zu ändern und etwas verändern die Entwürfe der anderen nach dem schnellen Geld hat. Oder vielleicht Technologie ist nur was uns alle faul, und wir einfach "nicht mehr die Energie" über den Tellerrand hinaus denken mehr.
Synplant , vor etwa einem Jahr durch das freigesetzte Sonic Laden vor kurzem meine Meinung geändert auf dem obigen Absatz. Innovation bleibt!
For years we saw synth plug-in after synth plug-in that resembled our favorite classic synthesizer. And, like everyone else, I loved the nostalgia of it all, and the familiarity of the user interfaces, etc. And ultimately, I believe it was this familiarity that kept manufacturers in this mode of design. You want your end-user to understand what they are doing!

The interface is where the designers of Synplant truly achieved an amazing feat. They made a synthesizer that a child could program, because it simply doesn't behave like a synthesizer at all!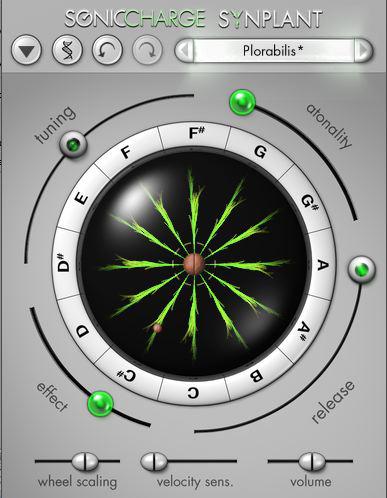 So programmieren Sie einen Sound in Synplant nicht wirklich benötigen keine Programmierkenntnisse. Sie wachsen eine Pflanze und wie die Pflanze Stängel wachsen, entsteht ein Ton. Jeder Stamm wird von einem anderen Taste auf Ihrer Tastatur ausgelöst, oder auch von den kleinen Tasten um die Zweige. Wenn Sie zu den Klängen von einem Zweig über die gesamte Tastatur Karte wählen, einfach Klon der Branche mit der rechten Maustaste auf den Stamm, und wählen Sie "Clone Selected Branch".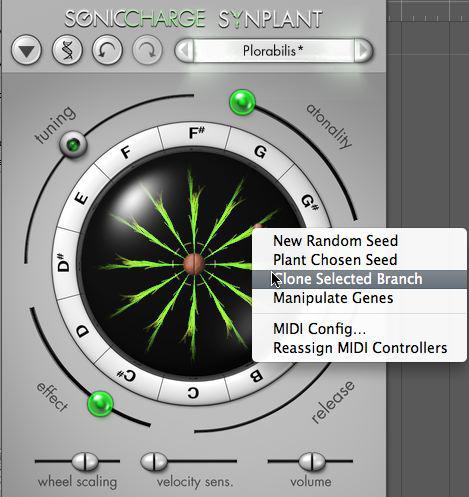 Sofort Ihren Sound umfasst heute das gesamte Tastatur. Alternativ können Sie wählen, um den Stamm Ihrer Wahl wie ein Samenkorn pflanzen und dann sehen, wie viele Sorten von der Sound wird nach dem Zufallsprinzip gezogen werden.
Wenn Sie sich in die Programmierung mit tiefen Synplant bevorzugen, ist die Option zur Verfügung. Durch einfaches Drücken der DNA-Strang-Taste, wird die DNA von Ihrem Sound zu Ihnen präsentiert. Ändern Teile der DNA in Ihrer Freizeit, wobei einige "Envelope Attack", etc. Glauben Sie mir, können Sie sich wirklich tief mit der Programmierung, aber es ist die eigentliche Schnittstelle und es ist Gartenbau Konzept der "wachsenden klingt", dass der eigentliche Spaß bietet.

Von gleicher Bedeutung ist die Gesamtleistung des Synplant. Wie alle Sonic Charge Plug-ins, ist Synplant extrem leicht auf den Prozessor Ihres Computers. Auch mit ihm eingebauten die Auswirkungen auf Hochtouren, mit einem langen, langen Abklingzeit, ich kaum setzen einen Punkt auf meiner CPU Meter. Doch es klingt immer noch erstaunlich.
Meine einzige Nachteile für Synplant wäre, dass es nicht unbedingt einen Synthesizer für alle Zwecke gemacht. Ich persönlich würde es nicht als ein Bass-Synthesizer. Ich neige dazu, größer, tiefer und growlier Synths bevorzugen. Synplant scheint besser zu funktionieren als Lead, Pad oder Wirkung.
Ich werde besonderes Augenmerk auf Effekt allerdings setzen. Dieses Plug-in ist ein Traum für Sound-Designer wahr, weil es die Fähigkeit ständig zu erzeugen, um neue Effekte perfekt für Atmosphären, kleine bytes, stürzt, schwillt an und vieles mehr. Sie können ein gut klingendes Bibliothek schnell zu erzeugen und es ist lizenzfrei!
Synplant ist in einem Demo-Form angeboten, so dass, wenn Sie mir nicht glauben zunächst an, wie toll es ist, können Sie sich Zeit nehmen und für sich selbst entscheiden. Also, gehen Sie es jetzt herunterladen und posten Sie Ihre Kommentare unten!