Innovation is a word that is lost on many a developer, manufacturer, designer, and more. We live in a society that has begun to regurgitate, modify and slightly alter the designs of others for the quick buck. Or perhaps technology is just making us all lazy, and we just 'don't have the energy' to think outside the box anymore.
Synplant, released about a year ago by Sonic Charge recently changed my mind on the above paragraph. Innovation still remains!
For years we saw synth plug-in after synth plug-in that resembled our favorite classic synthesizer. And, like everyone else, I loved the nostalgia of it all, and the familiarity of the user interfaces, etc. And ultimately, I believe it was this familiarity that kept manufacturers in this mode of design. You want your end-user to understand what they are doing!

The interface is where the designers of Synplant truly achieved an amazing feat. They made a synthesizer that a child could program, because it simply doesn't behave like a synthesizer at all!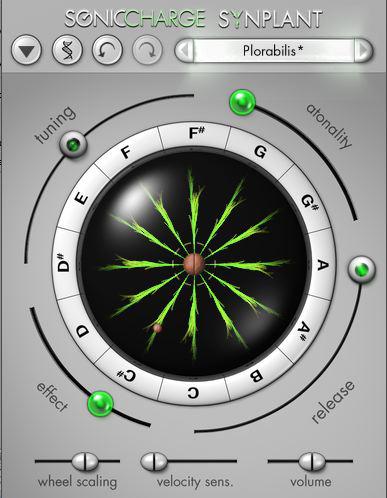 To program a sound in Synplant doesn't actually require any programming. You grow a plant and as the plant stems grow, a sound evolves. Each stem is triggered by a different key on your keyboard, or also from the small buttons around the branches. If you choose to map the sound of one branch across the whole keyboard, simply clone the branch by right-clicking on the stem, and choosing 'Clone Selected Branch'.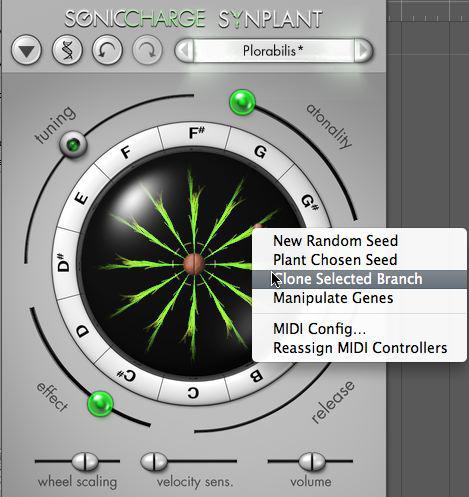 Instantly, your sound now spans the entire keyboard. Alternatively, you can choose to plant the stem of your choice as a seed, and then see how many varieties of the sound will randomly be grown.
If you prefer to get deep into programming with Synplant, the option is available. By simply pressing the DNA Strand button, the DNA of your sound is presented to you. Modify portions of the DNA at your leisure, some being "Envelope Attack", etc. Believe me, you can get really deep with the programming, but it's the actual interface and it's horticulture approach to 'growing sounds' that provides the real fun.

Of equal importance is the overall performance of Synplant. Like all Sonic Charge plug-ins, Synplant is extremely light on your computer's processor. Even with it's built-in effects at full blast, with a long, long decay time, I barely put a dot on my CPU meter. Yet, it still sounds amazing.
My only cons for Synplant would be that it isn't necessarily a synth made for all purposes. I, personally, would not use it as a bass synth. I tend to prefer bigger, lower and growlier synths. Synplant seems to operate better as a lead, pad, or effect.
I'll put special emphasis on effect though. This plug-in is a dream come true for sound designers because of it's ability to constantly generate new effects perfect for atmospheres, small bytes, swoops, swells and more. You can generate a great sounding library quickly and it's royalty free!
Synplant is offered in a demo form, so if you don't believe me at first on how great it is, you can take your time and decide for yourself. So, go download it now and post your comments below!