L'innovazione è una parola che si perde in molti uno sviluppatore, produttore, designer, e altro ancora. Viviamo in una società che ha iniziato a rigurgitare, modificare e alterare leggermente i disegni degli altri per i soldi alla svelta. O forse è solo la tecnologia ci rende tutti pigri, e noi 'non avere l'energia' a pensare fuori dagli schemi più.
Synplant , rilasciata circa un anno fa dalla carica di Sonic ha recentemente cambiato idea sul paragrafo precedente. L'innovazione rimane ancora!
For years we saw synth plug-in after synth plug-in that resembled our favorite classic synthesizer. And, like everyone else, I loved the nostalgia of it all, and the familiarity of the user interfaces, etc. And ultimately, I believe it was this familiarity that kept manufacturers in this mode of design. You want your end-user to understand what they are doing!

The interface is where the designers of Synplant truly achieved an amazing feat. They made a synthesizer that a child could program, because it simply doesn't behave like a synthesizer at all!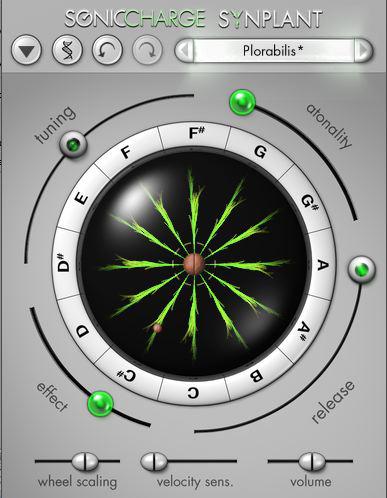 Per programmare un suono in Synplant in realtà non richiede alcuna programmazione. Si cresce una pianta e la pianta deriva crescere, un suono si evolve. Ogni stelo è provocata da una diversa chiave sulla tastiera, o anche dai piccoli pulsanti intorno ai rami. Se si sceglie di mappare il suono di una filiale attraverso tutta la tastiera, è sufficiente clonare il ramo destro del mouse sullo stelo, e scegliendo 'Branch clone selezionato'.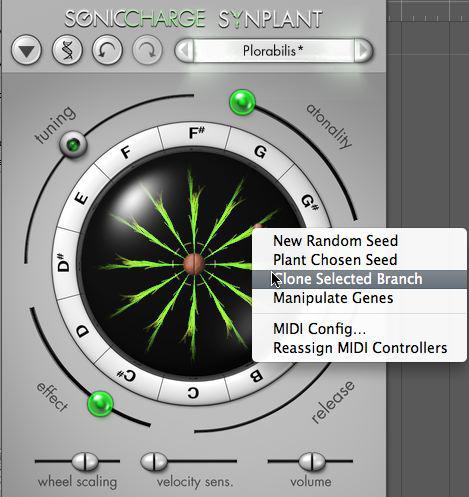 Immediatamente, il suono si estende ora su tutta la tastiera. In alternativa, è possibile scegliere di piantare lo stelo di vostra scelta, come un seme, e poi vedere come molte varietà del suono in modo casuale essere coltivate.
Se si preferisce avere in profondità nella programmazione con Synplant, l'opzione è disponibile. Semplicemente premendo il pulsante filamento di DNA, il DNA del vostro suono è presentato. Modificare porzioni del DNA a vostro piacimento, alcuni sono "Attacco Envelope", ecc Credimi, è possibile ottenere davvero profondo con la programmazione, ma è l'interfaccia attuale ed è l'approccio orticoltura a 'suoni sempre più' che fornisce il vero divertimento.

Di pari importanza è la performance complessiva del Synplant. Come tutte le carica di Sonic plug-in, Synplant è estremamente leggero sul processore del computer. Anche con la sua built-in effetti a tutto volume, con un lungo tempo di decadimento lungo, ho appena messo un punto sul mio metro CPU. Eppure, sembra ancora incredibile.
Il mio contro solo per Synplant sarebbe che non è necessariamente un synth fatta a tutti gli effetti. Io, personalmente, non lo uso come un synth bass. Io tendo a preferire più grande, più basso e synth growlier. Synplant sembra funzionare meglio come piombo, pad, o effetto.
Metto particolare attenzione effetto però. Questo plug-in è un sogno che diventa realtà per i progettisti del suono a causa della sua capacità di generare continuamente nuovi effetti perfetto per le atmosfere, i byte piccolo, piomba, si gonfia e altro ancora. È possibile generare una libreria grande suono in fretta ed è royalty free!
Synplant viene offerto in forma demo, quindi se non mi credete in un primo momento su quanto grande sia, si può prendere il vostro tempo e decidere per te. Quindi, vai scaricalo ora e inserire i tuoi commenti qui sotto!