Chaînage Side est un de ces sujets que les gens parlent toujours. C'est un grand processus qui peut être utilisé comme un outil de résolution de problèmes ou d'un effet créatif. Peu importe DAW que vous utilisez vous devriez vraiment être au courant de comment le configurer et quand l'utiliser.
Let's take a look at the basics of side chaining in Cubase.

Qu'est-ce chaînage Side
Chaînage Side est un processus qui permet d'alimenter un plug-in comme un compresseur ou une barrière avec un signal audio externe qui va alors déclencher un élément clé du processus. Ainsi par exemple dans une chaîne latérale traditionnelle mis en place nous avons pu voir une grosse caisse étant alimenté par un compresseur pour déclencher la réduction de gain c'est.
C'est l'une des utilisations les plus courantes de chaînage côté et il est souvent appelé esquive. Le signal envoyé dans le compresseur sera réduit de volume lorsque notre signal chaîne latérale est présente et aura pour effet de «canard» de la charge entrante.
Routage notre Side Chain dans Cubase
Jetons un regard rapide sur comment mettre en place esquive dans Cubase, je suis en utilisant la version 6 ici, mais la technique reste la même pour n'importe quelle version qui a la capacité de chaînage côté.
Première place, vous aurez besoin d'insérer un compresseur sur le canal que vous souhaitez traiter. Pour activer le plug-in capacité de la chaîne latérale cliquez sur le bouton petit côté de la chaîne au sommet de l'interface de plug-ins. Toute plugin qui a cette icône peut être utilisé de cette façon.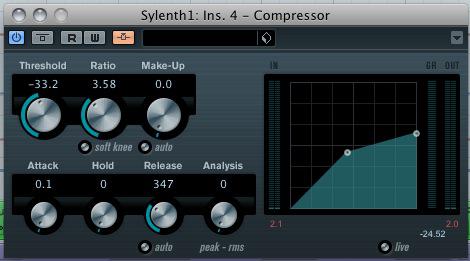 Ensuite, vous devez décider quel son que vous souhaitez utiliser comme votre flux de la chaîne latérale. Avec ce canal sélectionné aller à la bande de canaux et de se concentrer sur les départs auxiliaires sur le côté droit.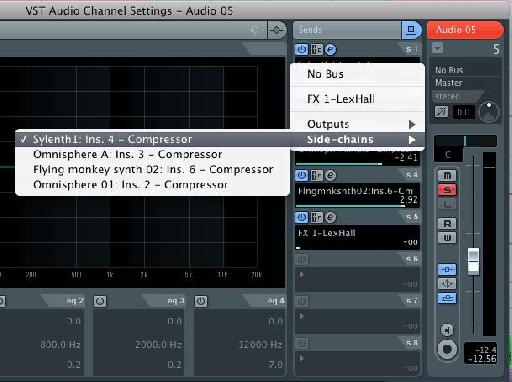 Lorsque vous choisissez votre destination d'envoi, vous devriez maintenant être en mesure d'envoyer une partie du signal d'entrée du compresseur côté de la chaîne. Une fois ceci fait et un certain niveau a été envoyé, le lien est fait.
Quand utiliser le processus de la chaîne latérale
Avec votre itinéraire complet vous trouverez désormais que la réduction du gain de votre compresseur est effectuée par le signal de la chaîne latérale et vous pouvez facilement recréer effets classiques esquive. Essayez cette mise en place pour réduire le niveau des lignes de basse quand vos feux de grosse caisse, ou essayer de l'utiliser pour maîtriser une partie guitare quand votre voix est présent.
Il ya des milliers d'utilisations pour ce type de routage et certains d'entre eux peuvent être très créatifs. Par exemple, essayez de créer des groupes d'embrayage réalistes ainsi une ouverture à haut chapeau s'ouvre et se ferme quand un joue charleston fermé, ou même utiliser une porte latérale enchaîné à effet de deux lignes de synthé du même type. Utilisez votre imagination ici et vous serez heureux que vous savez comment utiliser la technique de la chaîne latérale.
Voici un exemple audio d'un côté de la basse et son synthé être enchaîné avec une grosse caisse:
[Audio id = "1692"]
Affamé pour plus d' astuces Cubase conseils n ' ?