Side Chaining ist eines jener Themen, die die Leute immer reden über. Es ist ein tolles Verfahren, das als ein Problem zu lösen Werkzeug oder eine kreative Wirkung eingesetzt werden können. Egal, welche DAW Sie Sie sollten wirklich wissen, wie man sie aufsetzt, und wenn man es benutzt.
Let's take a look at the basics of side chaining in Cubase.

Was ist Side Chaining
Side Chaining ist ein Prozess, mit dem Sie ein Plug-in wie ein Kompressor oder ein Tor mit einem externen Audio-Signal, das dann auslösen soll ein zentrales Element der Prozess einfließen können. So zum Beispiel in einem traditionellen Seitenkette einrichten konnten wir sehen, eine Kick Drum wird an einen Kompressor zugeführt es Gain Reduction auslösen.
Dies ist eine der häufigsten Anwendungen von Side Chaining und es ist oft als Ducking. Das Signal in den Kompressor zugeführt wird im Volumen reduziert werden, wenn unsere Seitenkette Signal vorhanden ist und effektiv "Ente" der Einspeisung.
Routing unserer Side Chain in Cubase
Werfen wir einen kurzen Blick auf die Einrichtung Ducking in Cubase, bin ich mit der Version 6 ist hier aber die Technik bleibt dieselbe für jede Version, dass die Side Chaining Funktion verfügt.
First up, müssen Sie einen Kompressor auf dem Kanal, den Sie bearbeiten möchten, einzufügen. So aktivieren Sie das Plug-In-Seitenkette Fähigkeit traf die kleine Seitenkette Taste an der Oberseite des Plug-Ins-Schnittstelle. Jeder Plugin, das Sie auf dieses Symbol hat, kann auf diese Weise eingesetzt werden.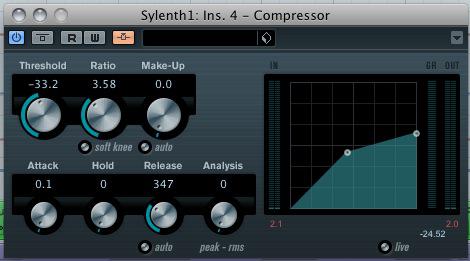 Nächstes müssen Sie entscheiden, welche Sound, den Sie als Ihren Seitenkette Feed verwenden möchten. Mit diesem Kanal ausgewählt gehen an den Kanalzug und konzentrieren sich auf die Aux-Sends auf der rechten Seite.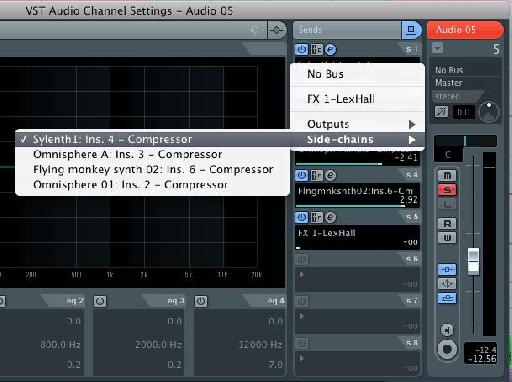 Bei der Auswahl Ihrer Send-Ziel sollten Sie jetzt in der Lage sein, einige der Signal an den Kompressor Sidechain-Eingang senden. Sobald dies geschehen ist und ein gewisses Maß gesendet wurde, ist die Verbindung hergestellt.
Wann verwendet man den Side-Chain-Prozess
Mit Ihrer Routing schließen Sie werden jetzt feststellen, dass Ihr Kompressor Gain Reduction durch die Seitenkette Signal erfolgt und Sie können leicht neu klassischen Ducking-Effekte. Versuchen Sie, diese einzurichten, um das Niveau der Bass-Linien zu reduzieren, wenn Ihr Kick-Drum-Feuer, oder versuchen Sie es zu einem Lead-Gitarre Teil zu unterwerfen, wenn Ihr Gesang ist vorhanden.
Es gibt Tausende von Anwendungen für diese Art von Routing und einige von ihnen können sehr kreativ sein. Zum Beispiel versuchen realistische Kupplung Gruppen so eine offene Hi-Hat öffnet und schließt, wenn ein geschlossener Hut spielt, oder sogar eine Seite angekettet Tor verwenden, um zwei Synthesizer-Linien des gleichen Typs Wirkung. Verwenden Sie Ihre Phantasie hier und du wirst glücklich sein, dass Sie wissen, wie die Seitenkette Technik zu verwenden.
Hier ist ein Audio-Beispiel für eine Bass-und Synthesizer-Sound zu Seite gefesselt mit einem Kick-Drum:
[Audio-id = "1692"]
Hungry for more Cubase Tipps n 'Tricks ?