Encadeamento de lado é um daqueles assuntos que as pessoas estão sempre falando. É um grande processo que pode ser usado como uma ferramenta de resolução de problemas ou um efeito criativo. Não importa o que você está usando DAW você realmente deve estar ciente de como configurá-lo e quando usá-lo.
Let's take a look at the basics of side chaining in Cubase.

O que é encadeamento Side
Encadeamento de lado é um processo que permite alimentar um plug-in como um compressor ou portão com um sinal de áudio externo, que, então, desencadear um elemento chave do processo. Assim, por exemplo, uma cadeia lateral tradicional configurar nós poderíamos ver um bumbo sendo alimentado a um compressor para provocá-lo de redução de ganho.
Este é um dos usos mais comuns de encadeamento de lado e é muitas vezes chamado de ducking. O sinal alimentado no compressor será reduzido de volume ao nosso sinal cadeia lateral está presente e vai efetivamente 'pato' da alimentação de entrada.
Roteamento nossa cadeia lateral no Cubase
Vamos dar uma rápida olhada em como configurar ducking no Cubase, eu estou usando a versão 6 aqui, mas a técnica permanece a mesma para qualquer versão que tem a capacidade de encadeamento lado.
Primeiro-se você terá que inserir um compressor sobre o canal que deseja processar. Para ativar o plug-in de capacidade de cadeia lateral apertar o botão pequena cadeia lateral, na parte superior da interface do plug-ins. Qualquer plugin que tem este ícone pode ser usado desta forma.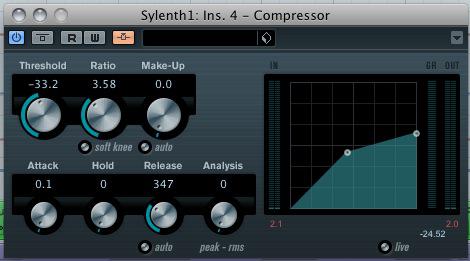 Em seguida, você terá que decidir qual o som que você deseja usar como seu feed cadeia lateral. Com este canal selecionado ir para a faixa de canal e foco no auxiliares envia no lado direito.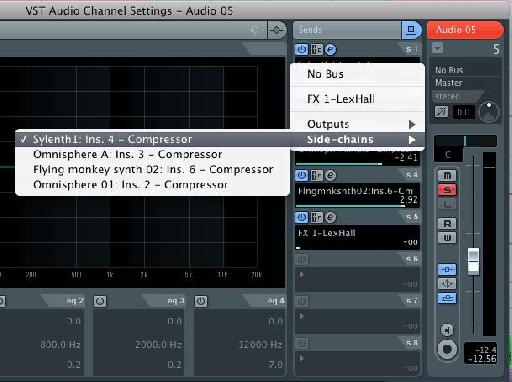 Ao selecionar o seu destino lhe enviar agora deve ser capaz de enviar parte do sinal para o compressor de entrada da cadeia lateral. Uma vez feito isso e algum nível foi enviada, a ligação é feita.
Quando usar o processo da cadeia lateral
Com a sua rota completa agora você vai descobrir que a redução do seu compressor ganho é feita pelo sinal de cadeia lateral e você pode facilmente recriar clássicos efeitos ducking. Tente esta configurado para reduzir o nível de linhas de baixo quando seu incêndios bumbo, ou tente usá-lo para subjugar uma parte guitarra quando o seu vocal está presente.
Há milhares de usos para este tipo de roteamento e algumas delas podem ser muito criativo. Por exemplo, tente criar grupos de embraiagem realista para um open hat-alta abre e fecha quando um joga o chapéu fechado, ou mesmo usar um portão lateral acorrentado a efeito duas linhas de synth do mesmo tipo. Use sua imaginação aqui e você será feliz que você sabe como usar a técnica de cadeia lateral.
Aqui está um exemplo de áudio de um baixo e sintetizador de som do lado de ser preso com um bumbo:
[Audio id = "1692"]
Fome de mais truques dicas Cubase n ' ?