Kickstarter has been responsible for more than a few innovative devices becoming reality. Thankfully, it has helped birth another device(s) that I feel is going to be around a long time... Well, at least in my studio! These devices are known as Patchblocks. And, for a small amount of money, you might consider picking up one or two of the most utilitarian instrument/effect/clock that you will ever use. Let's check it out!
From Germany with Love
First off, Patchblocks are hand built in Germany, and that alone should make you want to get out of your seat and make a purchase. This is a real chance to support members of our global musical community, outside of corporate assembly lines and questionable labor laws. And, you can more than feel the love in the assembly. The two Patchblocks that I received (black and yellow) sport buttons and knobs that feel as sturdy as any of the also handmade Livid controllers. So, these babies will definitely travel well with you to all of your shows, as well as survive the rigors of living in yours as well as my studio.
Granted, you still want to be careful. The internals are exposed through the sides, but the hard plastic enclosure gives you a feeling of security. And, that's good enough for me.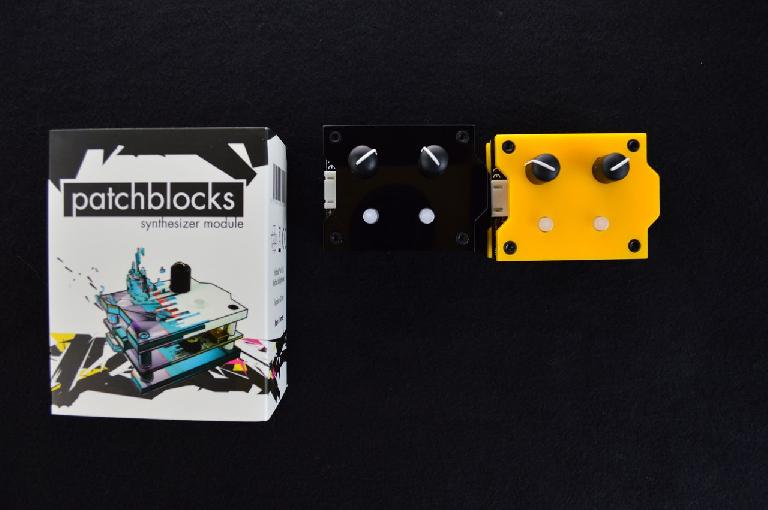 What Do Patchblocks do?
This is probably the most interesting question you could ask—Patchblocks are, in a sense, small, portable USB drives when they are on, and connected to a computer. It is within this mode that you can load up patches, or blocks of patches, if you have more than one Patchblock. But, once the unit is powered on, without the USB connection, you get a fully functional musical device, of your choosing, depending on which patch, or block you loaded.
Patches that are available for Patchblocks range dramatically from synthesizer patches, to effects, and even clock generators for syncing third-party devices, like the Korg volca line. And, the library of patches, and blocks are growing rapidly, thanks to a community driven library that is constantly loading new content. But, how are they creating all of these patches?
If You Build it, They Will Come...
For free, and available right now, is the amazing Patchblocks editor. Before reading any further, note that you do not have to own a single Patchblock to make this work. You can download right now, and try out the whole library. And, it is a cool editor.
If you enjoyed the Nord Modular software, from back in the day, you are really going to love this.
In fact, if you enjoyed the Nord Modular software, from back in the day, you are really going to love this. Gates, Envelopes, Oscillators, Sequencers and more are available within the custom editor that will allow you to build either simple, or complex patches that you can load in to your blocks, or multiple blocks.
And, like the old Nord Modular, you can spend hours, just like the old days, wiring devices together in true modular patches, before you ever even drop a patch into a Patchblock.
Sound and Use
As I mentioned above, Patchblocks are handbuilt and very sturdy. But, they also sound great. I had a great time using Patchblocks as stomp boxes for my hardware synths. It was also great to know that you can also load up audio loops, drum beats, samples, and all other manner of audio. An amazing boon, if you're doing live hardware on stage! But, it was the clock functionality which really got my attention. Being able to integrate Patchblocks with my existing hardware just made the experience all the more special. And, to have Patchblocks even control other hardware is just mind blowing.
Conclusion
Patchblocks bring something to the table that nobody else does—A true multi-purpose device that really does live up to what they say they will do. And, if you decide that one of your Patchblocks is becoming redundant in its functionality, just load another patch. That's the beauty of Patchblocks, they are whatever you need them to be. And, even if you don't get into programming, you've got a huge, ever growing library of devices that normally you'd have to buy, or download and run as a VST, or AU through a DAW. Through Patchblocks, you've got an ever-evolving, ever-changing hardware device that can be as mercurial as you want it to be, shifting responsibilities as you see fit. And, at a price that will bring a tear to your eye.
Price: $50 a piece. Software is free!
Pros: A hardware device that can literally be almost anything you want in terms of effects, audio playback, synthesizer, clock unit, or other. And, they link together!
Cons: No MIDI input, currently. But, a MIDI Block is in the works!