Kickstarter è stato responsabile di più di alcuni dispositivi innovativi che diventano realtà . Nascita fortuna, ha contribuito a un altro dispositivo (s) che mi sento sarà intorno a un lungo periodo di tempo ... Beh, almeno nel mio studio! Questi dispositivi sono noti come Patchblocks. E, per una piccola somma di denaro, si potrebbe considerare di far salire uno o due degli strumenti più utilitaristico / effetto / orologio che si potrà mai utilizzare. Lasciare
From Germany with Love
Prima di tutto, Patchblocks sono costruito in Germania mano, e che da solo dovrebbe ti fanno venir voglia di uscire dal proprio posto e fare un acquisto. Si tratta di una reale possibilità di sostenere i membri della nostra comunità musicale globale, al di fuori delle linee di montaggio aziendali e le leggi sul lavoro discutibili. E, si può più di sentire l'amore in assemblea. I due Patchblocks che ho ricevuto (nero e giallo) pulsanti sportivi e manopole che si sentono robusto come una delle anche a mano controllori Livid. Così, questi bambini sarà sicuramente viaggiare bene con voi a tutti i tuoi spettacoli, così come sopravvivere ai rigori della vita in vostro e il mio studio.
Certo, si vuole ancora stare attenti. Gli interni sono esposti attraverso i lati,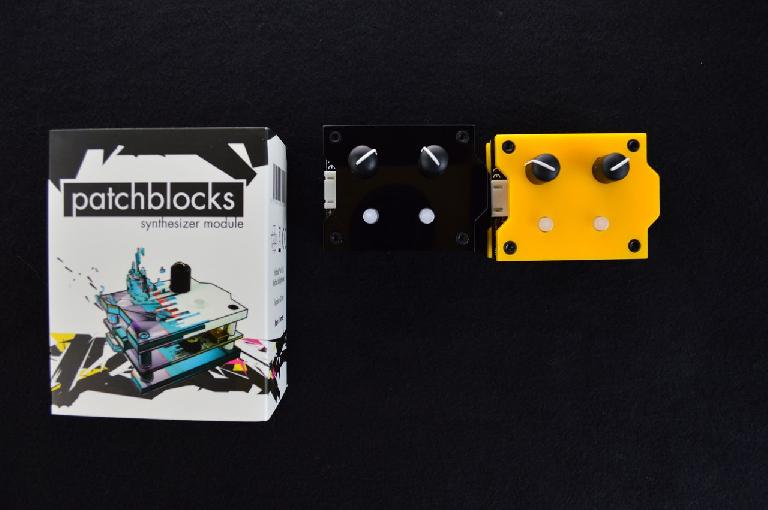 What Do Patchblocks do?
Questa è probabilmente la domanda più interessante che si può chiedere
Le patch che sono disponibili per Patchblocks variano drammaticamente da patch del sintetizzatore, agli effetti, e anche generatori di clock per la sincronizzazione dei dispositivi di terze parti, come la linea Volca Korg. E, la biblioteca di patch, e blocchi sono in rapida crescita, grazie ad una comunità bibliotecaria driven che è costantemente caricano nuovi contenuti. Ma, come stanno creando tutte queste patch?
If You Build it, They Will Come...
Gratuitamente, e disponibile in questo momento, è l'incredibile editor di Patchblocks. Prima di leggere oltre, si noti che non è necessario possedere un unico Patchblock per fare questo lavoro. È possibile scaricare questo momento, e provare l'intera libreria. Ed è un editor di fresco.
Se ti è piaciuto il software Nord Modular, dal back in the day, si sta davvero andando ad amare questo.
Infatti, se ti è piaciuto il software Nord Modular, dal back in the day, si sta davvero andando ad amare questo. Gates, buste, Oscillatori, sequencer e altro ancora sono disponibili all'interno dell'editor personalizzato che permetterà di costruire sia le patch semplici, o complessi che è possibile caricare in per i blocchi, o più blocchi.
E, come il vecchio Nord Modular, si possono trascorrere ore, proprio come ai vecchi tempi, dispositivi di cablaggio insieme a veri patch modulari, prima che mai anche cadere una patch in un Patchblock.
Sound and Use
Come ho già detto, sono Patchblocks handbuilt e molto robusto. Ma, anche grande suono. Ho avuto un grande momento con Patchblocks come pedali per i miei sintetizzatori hardware. E 'stato anche bello sapere che si può anche caricare loop audio, percussioni dei tamburi, i campioni, e tutte le altre modalità di audio. Un vantaggio incredibile, se si
Conclusion
Patchblocks portare qualcosa al tavolo che nessuno fa altro
Prezzo: 50 $ al pezzo. Il software è gratuito!
Pro:
Contro:
Web: