Después de meses de espera, por fin tengo mi guitarra del ala. El dispositivo, antes de que incluso dejó en manos de los anyones, ya era legendaria debido a la increíble giro hacia fuera de la campaña de Kickstarter. Sin embargo, no fue hasta que finalmente llegué a tener en mis manos lo que me dieron a conocer realmente lo que sólo ha sido un concepto maravilloso en el papel. ¿Vive hasta el bombo?
Lleve el ala
No soy un guitarrista. Pero, Im siempre trabajando con ellos y ser capaz de ponerlos en mi mundo siempre es una ventaja añadida, ya que tengo dentro de mi equipo de efectos que se pueden utilizar en el escenario y en muchos casos van más allá de lo que un amplificador regular puede hacer. Quiero decir, dando a mi guitarrista la capacidad de glitch sí mismo en tartamudeo Editar, o hacer explotar los altavoces de la casa con Trash 2 es una búsqueda digna por derecho propio, ¿no?
Afortunadamente, Austin, un verdadero amigo y un guitarrista maravilloso pudo venir. Y, no sólo él trae su hacha, pero también tiene una guitarra que no es el strat forma estándar. Esto fue genial porque nos dio la oportunidad de ver cómo Guitar Wing se adapta a una forma no estándar.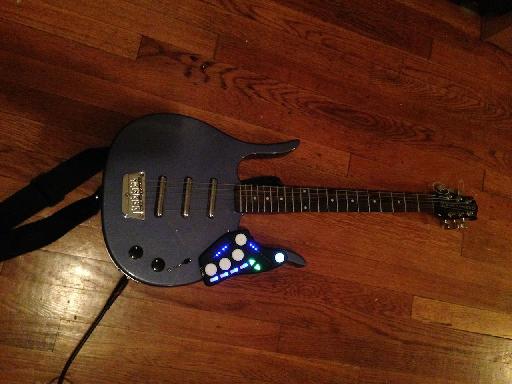 Afortunadamente, encontramos que la guitarra Wing fue capaz de hacer la transición a esta forma muy bien. Y, aún con el poco de volumen añadido en una sección delgada como exterior y, todo funcionaba muy bien y todavía puede tener un montón de diversión. Con todo, me dispararon hasta Ableton y entré para ver lo genial este chico malo en realidad. Por desgracia, tuve un poco de extrañeza, al principio, conseguir el receptor bluetooth USB para obtener la señal de la guitarra del ala al principio. Después de algunos intentos con conectar y desconectar, yo era capaz de obtener conexión y desde allí no tuvimos problemas.
"I mapped the Accelerometer to the Frequency knob within Driver so that we might get some nice filter sweeps going."
Después de que todo estaba funcionando, traté procesamiento Austin y su hacha a través de Native Instruments conductor para que yo pudiera trabajar con un enchufe que tiene una disposición de mando simple, sería trazar muy bien para guitarra se va volando acelerómetro incorporado, que puede ser activado pulsando el azul botón, redondo en el extremo superior del ala. Me asignan el acelerómetro a la perilla de frecuencia dentro del controlador para que podamos conseguir algunos buenos barridos de filtro va. Y, muy a nuestro entusiasmo, funcionó. Y, con un poco de modulación de LFO va junto con él, Austin fue de repente un tecladista. De acuerdo, vamos a hablar amplificadores de guitarra.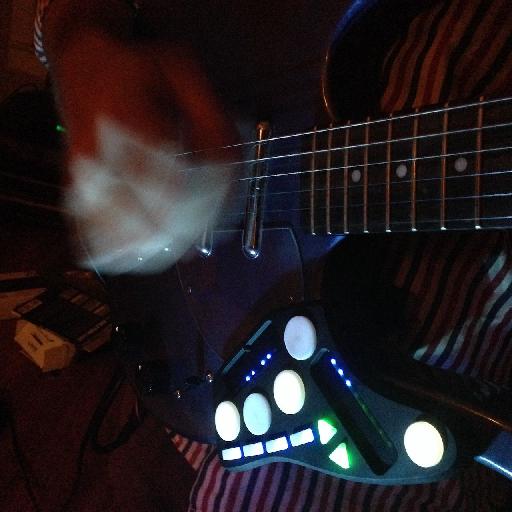 Desde aquí, experimentamos con ambos usando Guitar Wing para desencadenar en vivo, y junto con los controladores de cinta, y el acelerómetro de nuevo, estábamos esencialmente capaz de hacer de Austin un dios del rock. Hed levantar su hacha y otra pila podría empezar a jugar detrás de él, donde estaba limpio antes. Hed deslizar el dedo, y de repente tenía trémolo. El mapeo fue impecable.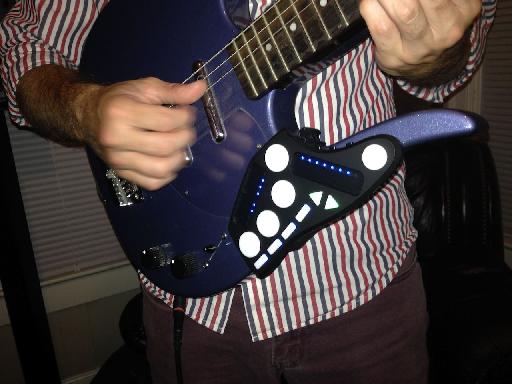 "You only need a guitar and a computer and Guitar Wing."

También probamos el ala guitarra plug-in que ha efectos pre-asignada y es maravilloso para una rápida, entrar y empezar a jugar. También me impresionó que había una aplicación independiente también. En esencia, esto significa que sólo se necesita una guitarra y un ordenador y Guitarra Wing. Y, esto hace que la guitarra Wing una compra maravillosa.
Construir
No podrías pedir un controlador más durable. Guitarra se va volando botones son básicamente como pequeñas, almohadillas redondas MPC que se pueden montar en una guitarra. Si usted es un cuerpo baterista guitarra, usted va a tener un día de campo! Es realmente posible. Además, los controladores de cinta se sienten como la mantequilla y responden de la misma manera. Me quedé muy impresionado de que realmente trataron de encajar botones adicionales en cualquier lugar que podían. Cuatro botones asignables más se alinean en la parte superior del ala, casi sin llamar la atención. Livid realmente fuera lo hicieron ellos mismos.
"Guitar Wing really could change your way of doing things both in the studio and on stage."
Conclusión
Sin importar si usted es un guitarrista o un tecladista, Guitarra Wing realmente podría cambiar su vida y la manera de hacer las cosas, tanto en el estudio como en el escenario. Si estás en una banda en vivo, youd estar loco para no tener uno. Las posibilidades de experimentación son enormes y, finalmente, ser capaz de ejecutar realmente una pista de un guitarrista, si usted es una banda de un solo hombre, probablemente traer una lágrima en el ojo. También puedo ver que esto acabe como algo que la gente podría atar a sus muñecas, para un rendimiento interactivo en vivo adicional, o incluso un keytar. Las posibilidades son infinitas.
Precio:
Pros:
Contras:
Web: