After months of waiting, I finally got my Guitar Wing. The device, before it even made it in to anyone's hands, was already legendary due to the amazing turn out from the Kickstarter campaign. However, it wasn't until I finally got to get my hands on it that I got to really experience what has only been a wonderful concept on paper. Does it live up to the hype?
Bring the Wing…
I'm not a guitarist. But, I'm always working with them and being able to bring them into my world is always an added bonus, as I have effects within my rig that can be used on stage and in many cases go beyond what a regular amp can do. I mean, giving my guitarist the ability to glitch himself in Stutter Edit, or blow up house speakers with Trash 2 is a worthy pursuit in its own right, right?
Thankfully, Austin, a true friend and a wonderful guitarist was able to come over. And, not only did he bring his axe, but he also has a guitar that isn't the standard strat shape. This was great because it gave us a chance to see how Guitar Wing adapts to a non-standard shape.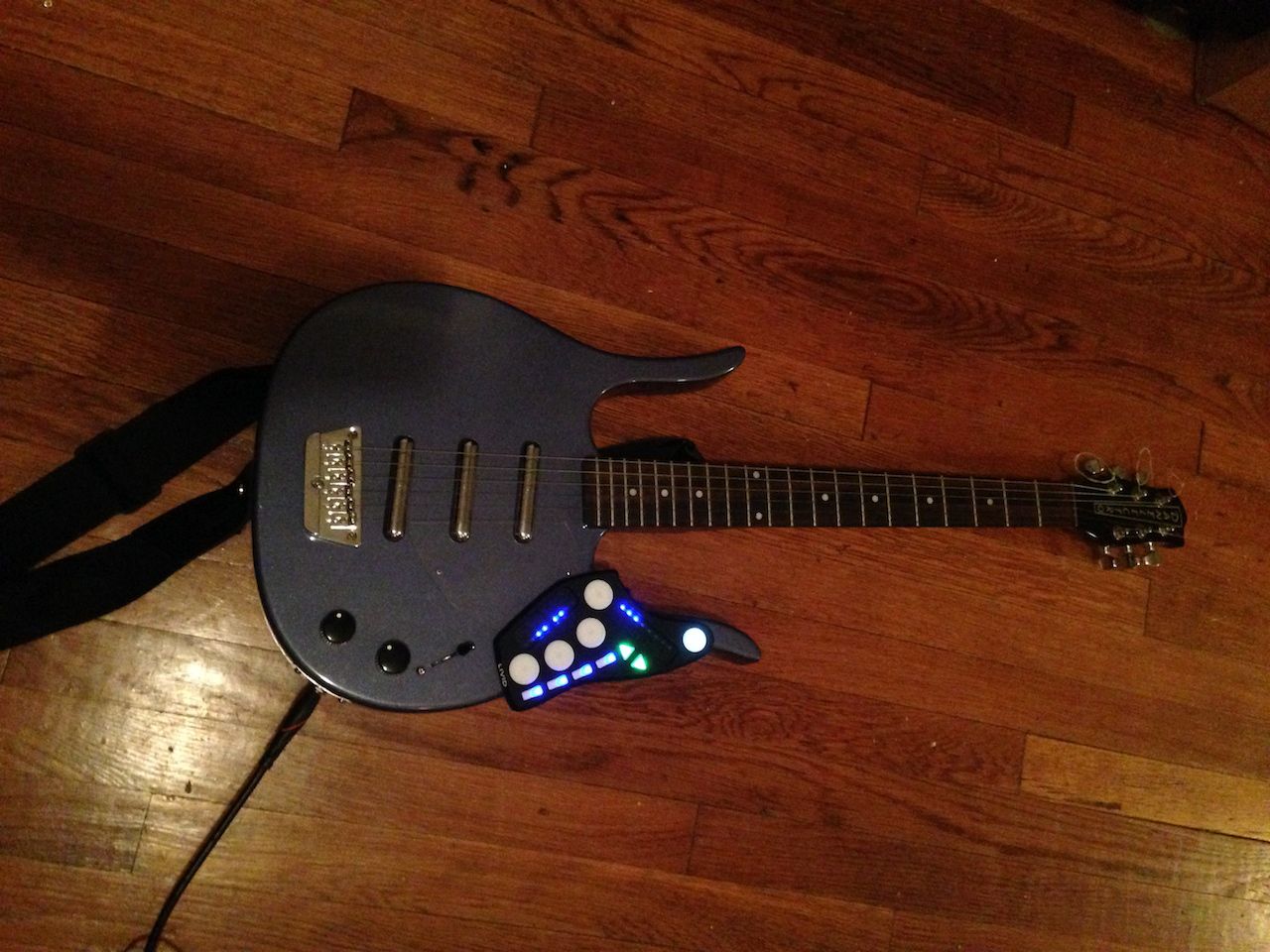 Thankfully, we found that Guitar Wing was able to transition to this shape nicely. And, even with the little bit of added bulk on such a thin exterior and section, everything worked nicely and we could still have a lot of fun. With everything on, I fired up Ableton and went in to see how cool this bad boy really is. Unfortunately, I had some weirdness, at first, getting the USB bluetooth receiver to get signal from Guitar Wing… at first. After a few attempts with plugging and unplugging, I was able to get connection and from there had no issues.
"I mapped the Accelerometer to the Frequency knob within Driver so that we might get some nice filter sweeps going."
After everything was running, I tried processing Austin and his axe through Native Instruments Driver so that I might work with a plug that has a simple knob layout, would map nicely to Guitar Wing's built-in Accelerometer, which can be enabled by pushing the blue, round button on the top end of the wing. I mapped the Accelerometer to the frequency knob within Driver so that we might get some nice filter sweeps going. And, much to our excitement, it worked. And, with a little bit of LFO modulation going along with it, Austin was suddenly a keyboardist. Okay, let's talk guitar amps.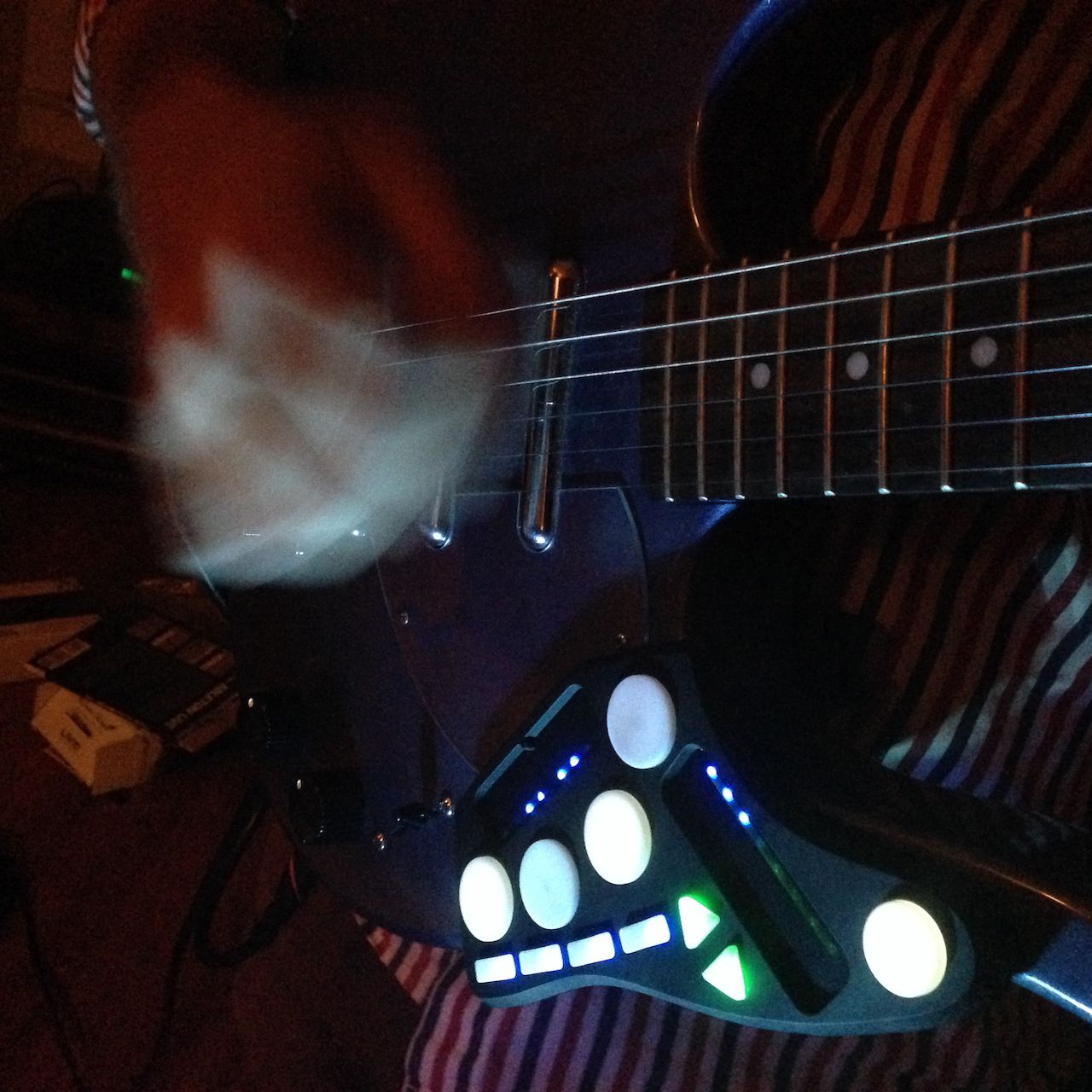 From here, we experimented with both using Guitar Wing to trigger Live, and along with the ribbon controllers, and accelerometer again, we were essentially able to make Austin a rock god. He'd raise his axe and another stack would start playing behind him, where it was clean before. He'd swipe his finger, and suddenly had tremolo. The mapping was seamless.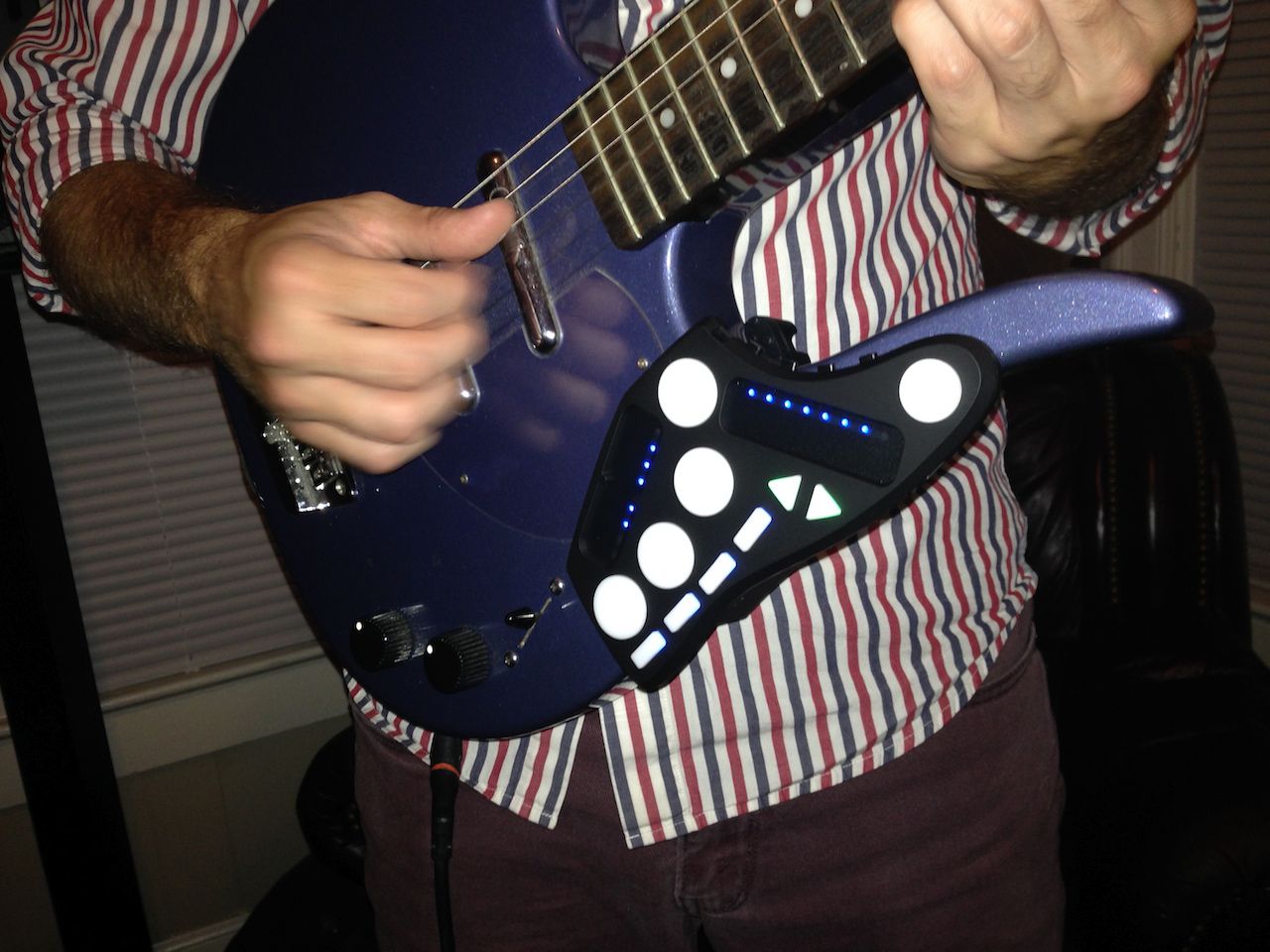 "You only need a guitar and a computer and Guitar Wing."

We also tried the Guitar Wing plug-in that has pre-mapped effects and is wonderful for quick, get in and start playing. I was also impressed that there was a stand-alone app as well. This essentially means that you only need a guitar and a computer and Guitar Wing. And, this makes Guitar Wing a wonderful buy.
Build
You couldn't ask for a more durable controller. Guitar Wing's buttons are basically like little, round MPC pads that can be mounted on a guitar. If you're a guitar body drummer, you're going to have a field day! It's really possible. Also, the ribbon controllers feel like butter and respond much the same way. I was very impressed that they really tried to fit additional buttons in any place they could. Four more assignable buttons line the top portion of the wing, almost inconspicuously. Livid really out did themselves.
"Guitar Wing really could change your way of doing things both in the studio and on stage."
Conclusion
Regardless of whether you're a guitarist, or a keyboardist, Guitar Wing really could change your life and way of doing things both in the studio and on stage. If you're in a live band, you'd be crazy not to own one. The possibilities of experimentation are huge and finally being able to really run a track from a guitarist, if you're a one man band, will probably bring a tear to your eye. I can also see this ending up as something that people might strap to their wrists, for additional live interactive performance, or even a keytar. The possibilities are endless.
Price: $189 (street price)
Pros: Groundbreaking device that shatters previous limitations that go along with using Guitars with computers. Because of the stand-alone app, it is also a great device for beginners who have no other programs, plug-ins, and just own a computer.
Cons: Setup was a little weird, at first. But, once running, it was incredible.