Transfuser is an RTAS-format virtual instrument for Pro Tools that can be purchased as a standalone product, or as part of the Instrument Expansion Pack, which contains all five of the instruments developed by Digidesign's A.I.R team. It has been around for a few years now but is such a powerful instrument in its own right that I thought it a good time to remind you of its existence and its abilities!

What does it do?
Transfuser allows you to create and manipulate grooves in real time by beat-syncing, auto slicing and resampling. It also lets you create MIDI patterns from audio loops on the fly, slice and randomize drum patterns, and is the go to plug-in in Pro Tools for creating stutter and other vocal effects that are so in demand at the moment. With its own built-in sequencer, Transfuser would make an excellent standalone instrument in its own right, and in this quick look I intend to run briefly over a few of its key functions.
Drum Sequencer, Synthesizer, Slicer
Transfuser comes with 2 GB of content, consisting of 'tracks' and samples, to get you up and running, but it also lets you use your own samples and audio pulled in directly from tracks in Pro Tools.
To get started drag a 'track' from the Browser on the lefthand side of Transfuser's interface to the Tracks pane (which is the empty space at the top of the window).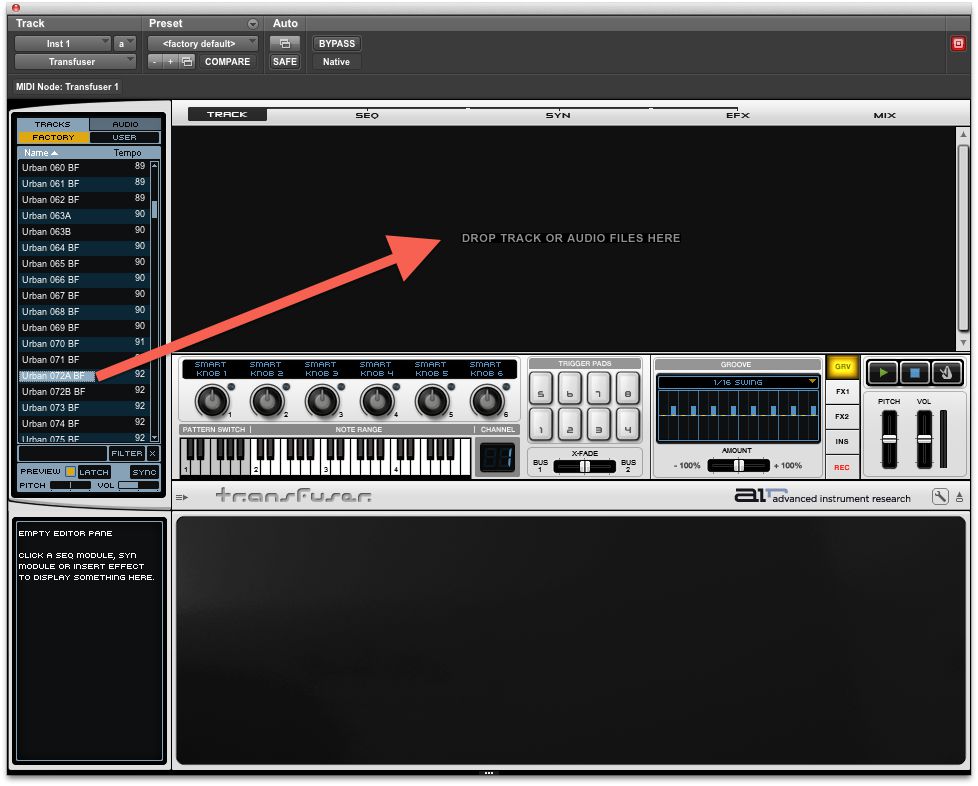 A preset 'track' typically consists of a Sequencer module and either a drum synthesizer or sample slicer module. The example shown here has the latter.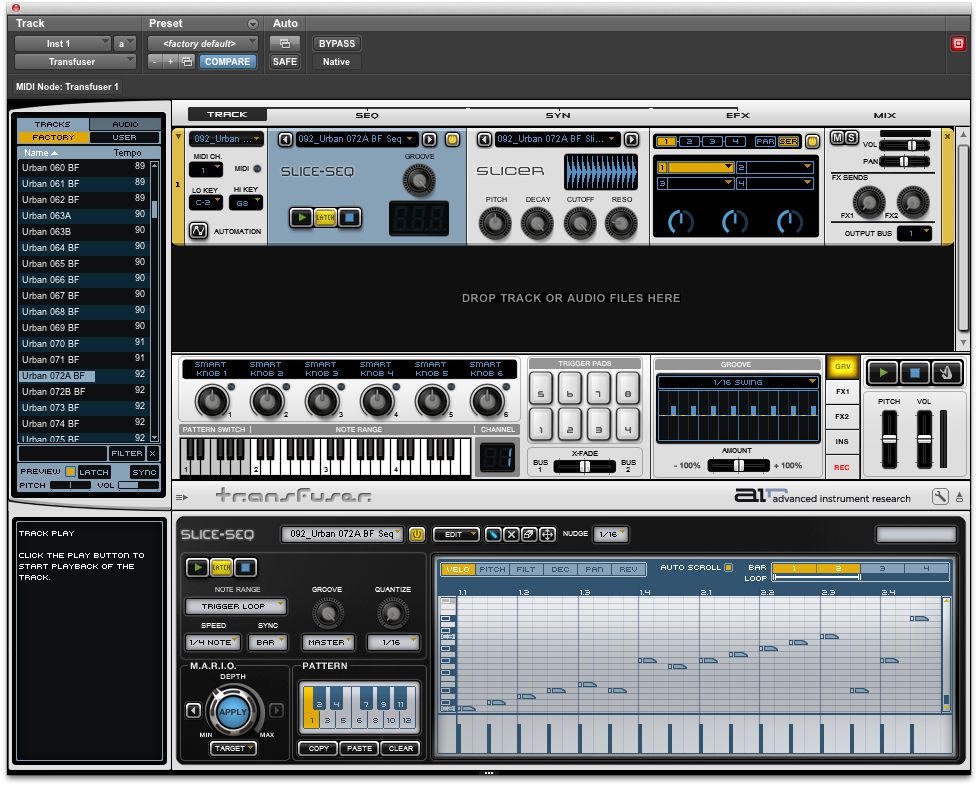 You can play the 'track' using your MIDI keyboard or by clicking the 'play' button in the Slice Sequencer. The Slicer automatically inserts slice markers at transients. Each slice can then be played back individually or reordered to create a new loop.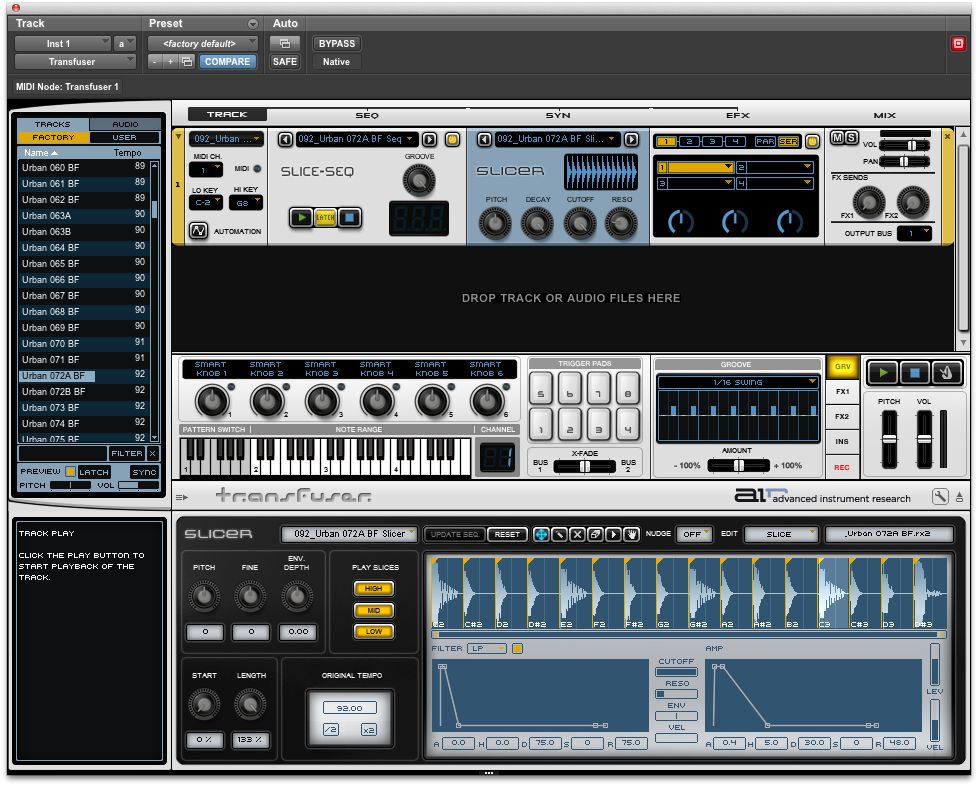 The Slicer module
You can also assign filters and change the amplitude envelope and pitch of each slice
Dragging and Dropping
Dragging your own samples from the Browser into the tracks pane allows you to choose what sort of instrument (or 'track') to create (See image below).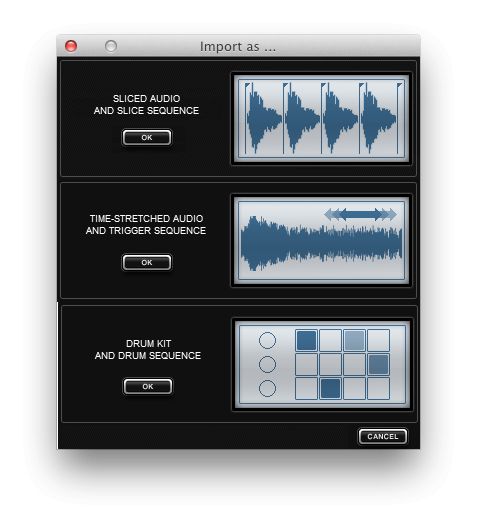 Choose your track type
Choosing the third option slices up the audio and then assigns each slice to drum pad allowing you to play back the slices using your MIDI keyboard or the mouse.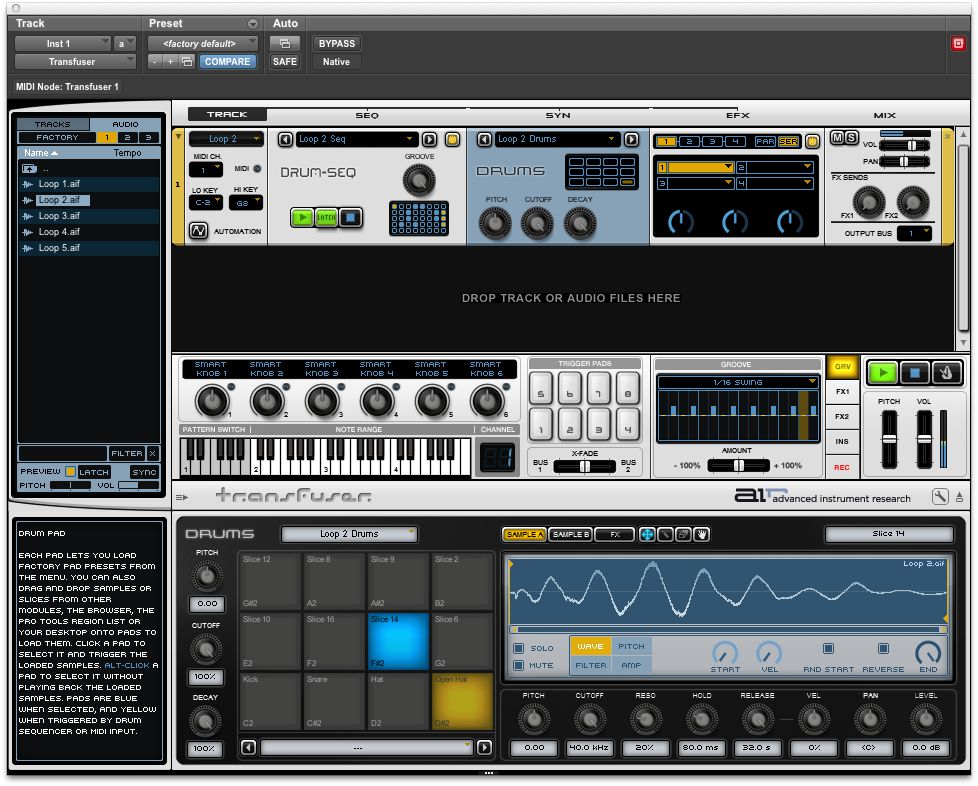 The Drums module
Vocal Effects
Another of Transfuser's tricks is that you can drag and drop audio from Pro Tools' Edit window directly into the Tracks pane.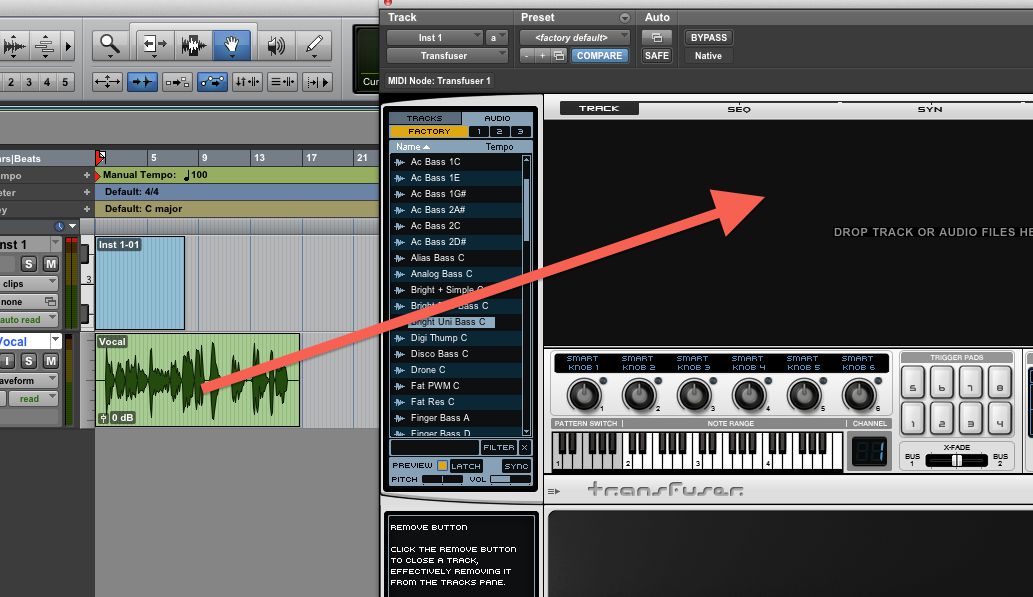 Drag and drop from audio tracks in Pro Tools' Edit window
For vocals, choose Time Stretch Audio and Trigger Sequence.

In the Phrase Synthesiser module you can add vocoder effects.

In the EFX module you can choose the Beat Cutter effect, which lets you manipulate the phrase with all sorts of DJ-style effects in real time by clicking with the mouse.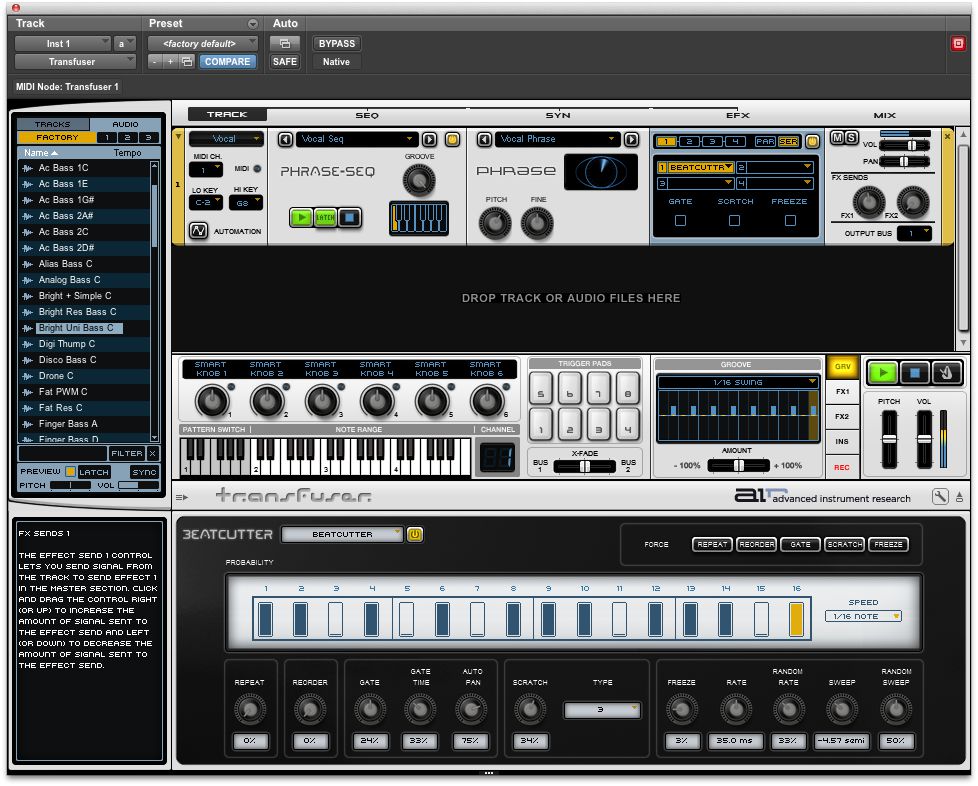 The Beat Cutter effect
As you can tell, Transfuser is a complex instrument with a dazzling array of beat-related tricks, and we have only scratched the surface in this brief overview. Look forward to future articles which will teach you how to get the best out of each function of Transfuser and use it to create incredible loop-based music. Who knows, you may never need another plug-in!