Cassian: Grammy-Nominated Mixing Engineer On Stunning Debut Album, Laps
Cassian, mixing engineer for RÜFÜS DU SOL, opens up on creating his debut album and overcoming perceived failures in the music industry that have helped him release highly-acclaimed album, Laps.
Cassian says of debut album Laps, that it "is about a journey that starts and ends in the same place. A journey that gets repeated over and over again."
From start to finish, the album traverses Cassian's robust career through the years, whilst maintaining a through-line to his distinct sound. "Banza" draws on his brooding melodies and resounding synths, "The Rise" finds its stride in darker atmospheric tones and his catchy pop sensibilities shine on "Together ft. Thandi Phoenix." Cohesively, Laps is a testament to Cassian's sought-after skills in the studio - from working with RÜFÜS DU SOL to Hayden James to What So Not, there's an inimitable slice of Cassian that resonates in everything he touches.
I'm so grateful to be at the point I am now.
Hi Cassian, as well as being a producer in your own right, you're well known as an audio engineer for the likes of RÜFÜS DU SOL, Hayden James and others. Tell us about how your journey in the music industry has taken you to where you are now.
I'm so grateful to be at the point I am now. Getting to make the music I want to with an incredibly supportive management & label team around me. I've gotten to see the industry from a lot of different angles along the way. I started out in a band that would play at bars & clubs around Sydney when I was 16. I started DJing at the absolute bottom of the ladder, playing in the backroom to 5 of my friends that would show up. Guitarist, session keys player, promoter, working DJ, mixer, producer, mastering engineer, opener, headliner, no one showing up, shows selling out, dodgy record labels, getting played on the radio, not being on the radio for years. It's a lot to reflect on but I think the crux of it is that I've had a lot of things not go my way, much of what I perceived at the time to be failure, but I've also had a lot of incredible opportunities & luck. It really is all just part of the journey. There's always something new to learn, and opportunities will always present themselves if you stick with it & keep moving forward.

Your new album Laps has taken 5 years to complete. Have there been benefits to allowing it to evolve in-between all your other projects?
I think that evolution was key to it ever getting finished and released. I doubt it would have ever come out without RÜFÜS DU SOL reaching the point where they could start their own label. I learned so much and gained so much confidence working behind the scenes with other artists, watching how committed they were to their vision, watching how they approached everything. I learned to approach other artist's music with the right perspective to finish it the way they heard it in their heads. It took me a long time to really understand that process to the point where I brought that same perspective to my own project.
I learned so much and gained so much confidence working behind the scenes with other artists...
The album is varied and eclectic while still being very listenable and cohesive. What was your guiding motivation / inspiration behind Laps?
Thank you! I think most importantly I wanted to put together what I saw as a proper electronic album. Some ambient moments, some vocal moments, a range of tempos, a range of beats. In the initial phases I was just freeling writing and experimenting but once I dialed in on what the concept was going to be, that really helped me get to the finish line
Tell us about the hardware you primarily used in the studio for the album.
I really wanted to limit myself when it came to hardware for this album. I wanted one great poly synth & one great mono synth and to really dive into them and learn them inside out. The whole album was done with a Moog Model D reissue & a Sequential Instruments Prophet 6. There's definitely some soft synths and sampled instruments but the heart of the album is Prophet & Model D.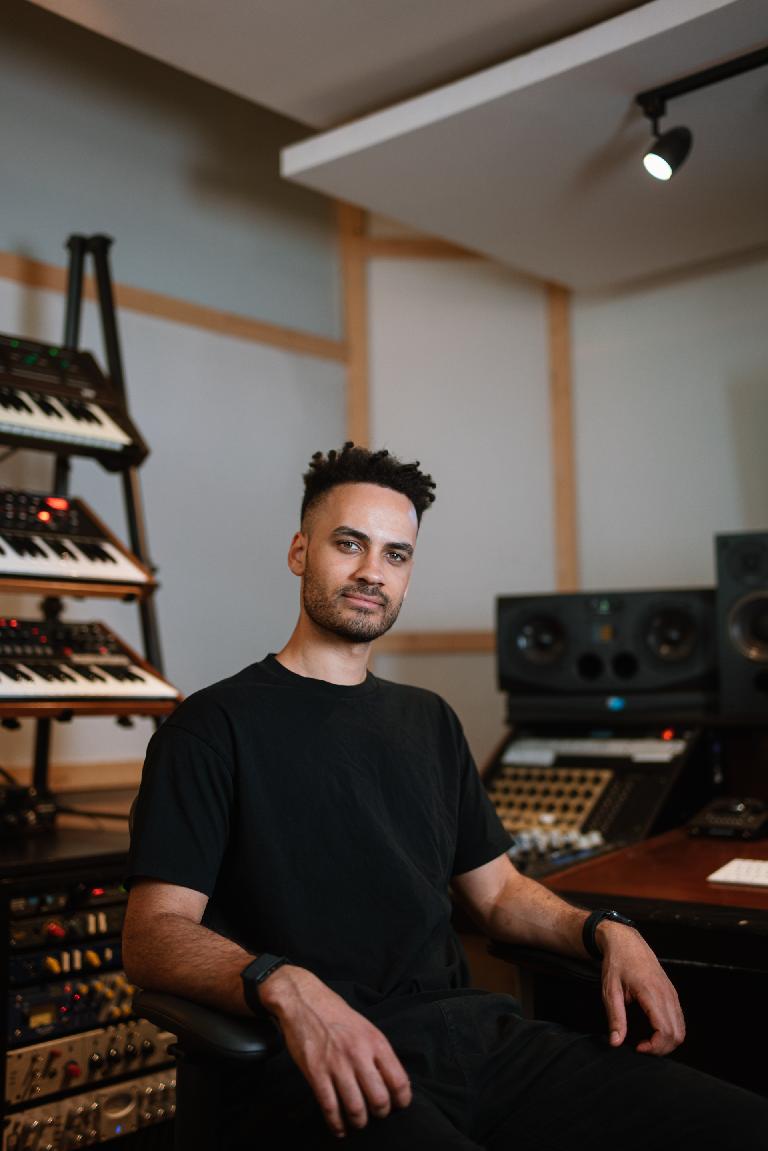 And what about the software side of things... I understand you use Ableton Live? What draws you to it? Do you use other DAWs for mixing and mastering?
Yeah I love Ableton Live. I just feel free and can really create what I hear in my head pretty fluidly. For me Ableton makes it easy to be creative. I use Pro Tools where I have to for mixing but not for my own project, it's all done within Ableton.
The whole album was done with a Moog Model D reissue & a Prophet 6
Are there particular plug-ins you always reach for?
So many. Echoboy, Valhalla Delay, UAD Studer A800, brainworx Control, UAD LA2A, D16 Decimort are a few that are on every mix.
For tracks like, "Magical (feat. Zolly)" and "Same Things (feat. Gabrielle Current)" how did the song evolve? What came first the lyrics or beat, or melody?
They both started with an instrumental idea but the overall process was quite different. The original instrumental for "Magical" was a slow monotonous groove centered around one note. I got in the studio with Phil (Zolly) and he loved the vibe of it. We added some chord changes and he took the instrumental home and sent me the first vocal ideas a few days later and we went from there as far as the vocal goes. For "Same Things" I had recorded the chords you hear in verse 1 and we started writing the vocal around that. The pre-chorus chords & chorus stabs came together really quickly that same day.
As you created the album over a period of time did you find yourself working on it during other projects in hotel rooms and in planes? Did the environment you were in have an impact creatively on the tracks?
I used to try and work on planes and in hotels a lot. I've slowly realized over the years that I just never do good work in those situations, haha. Nowadays I'm just catching up on sleep as much as possible. I did however put it together in a lot of different studios. Those rooms all had an impact on the sonics over time but the album is about relationships and I really tried to stay focussed on that as much as possible.
To progress and keep getting better you need to be your own biggest critic but still be proud of what you do
Tell us a bit about your live setup and how you bring the big, detailed sound from the album to life in a club.
The live setup is more so for venues that would normally house bands & for festival stages. Definitely not something I could pull off in a club environment just yet. One thing I focus on for the live show is the sonics of it. I've been working on RÜFÜS DU SOL's live show since I started mixing for them and seen how helpful it can be to really dial in the mix on your samples & live hardware ahead of time. I run an SPD, MPD, Kemper + Strat & a Korg Minilogue. I trigger samples & control FX with the SPD & MPD. Play the minilogue as well as have it MIDI triggered for sequences.
How have you been spending your time during lockdown?
Mainly just acknowledging when I'm feeling off and trying to do something that can pull me out of it or asking for help from my friends / girlfriend. Apart from the lack of touring my routine hasn't changed too much. Just spending time in the studio and trying to stay active and exercise every day.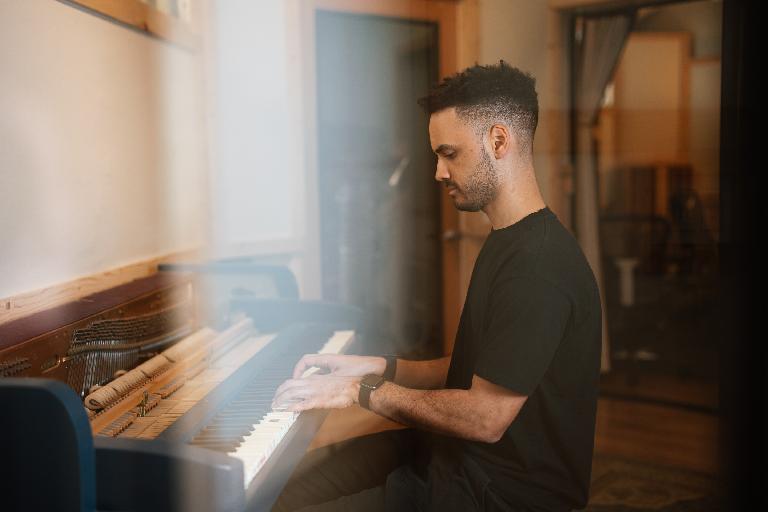 What advice would you give to producers and musicians looking to break into the industry.
Everyone's path is different so it's hard to generalise but there's definitely a few constants for me personally. I can't understate the importance of community & putting yourself out there to meet people and collaborate. Persistence is extremely important, I don't see myself as having reached any particularly notable point so far but I'm proud to have been doing this full time for 11 years. My last point is just as important as it is hard to talk about, being introspective and being able to critique yourself. In order to progress and keep getting better you need to be your own biggest critic but still be proud of what you do and be able to champion your music. If you don't, how can you expect anyone else to.