Transfuser ist ein RTAS-Format für virtuelle Instrumente für Pro Tools, die als eigenständiges Produkt erworben werden kann, oder als Teil des Instrument Expansion Pack, das alle fünf der Instrumente, die von Digidesigns AIR-Team entwickelte enthält. Es gibt es schon seit einigen Jahren aber schon ist so ein mächtiges Instrument in seinem eigenen Recht, dass ich es eine gute Zeit, um Sie über seine Existenz und seine Fähigkeiten zu erinnern glaubte!

Was macht er?
Transfuser ermöglicht Ihnen das Erstellen und Bearbeiten von Grooves in Echtzeit durch die Beat-Synchronisation, automatische Schneide-und Resampling. Darüber hinaus ermöglicht Ihnen das Erstellen von MIDI-Patterns Audio-Loops on the fly, in Scheiben schneiden und randomisieren Drum-Patterns, und ist das Plug-in in Pro Tools gehen für die Erstellung von Stottern und andere vokale Effekte, die so gefragt sind im Moment. Mit einem eigenen integrierten Sequenzer, Transfuser wäre eine hervorragende Standalone-Instrument in seinem eigenen Recht zu machen, und in dieser kurzen Blick Ich beabsichtige, kurz laufen über ein paar der wichtigsten Funktionen.
Drum-Sequenzer, Synthesizer, Slicer
Transfuser kommt mit 2 GB von Inhalt, bestehend aus Spuren und Proben, um Sie zum Laufen zu bekommen, aber es lässt Sie auch mit Ihrem eigenen Proben-und Audio-gezogen in direkt von Tracks in Pro Tools.
Um loszulegen ziehen Sie einen Track aus dem Browser auf der linken Seite des Transfusers Schnittstelle zu den Tracks angezeigt (das ist der leere Raum an der Oberseite des Fensters).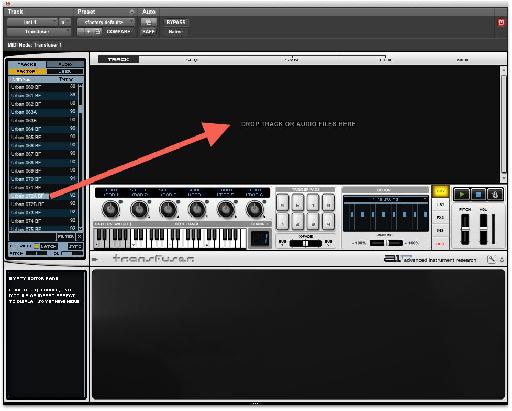 Eine vorgegebene Strecke besteht typischerweise aus einem Sequencer-Modul und entweder einer Trommel Synthesizer oder Probe Slicer-Modul. Das hier gezeigte Beispiel hat die letztere.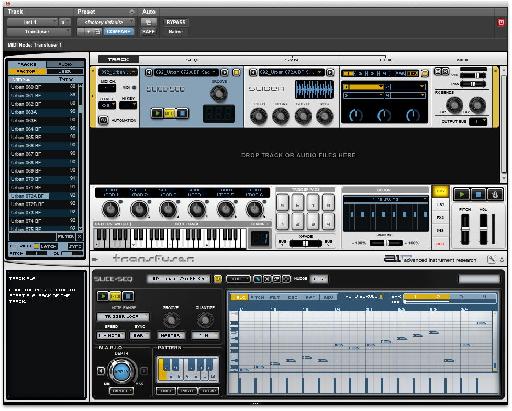 Sie können in die Spur mit Ihrem MIDI-Keyboard oder durch Klicken auf die Play-Taste in der Slice-Sequencer.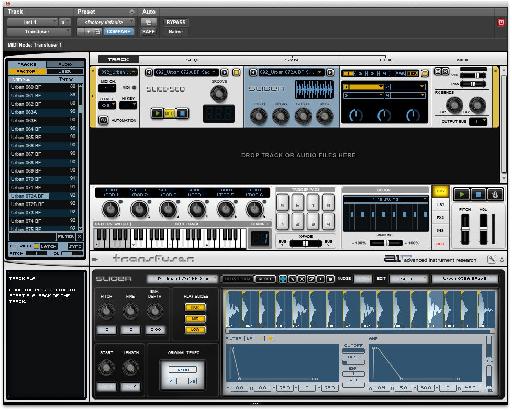 Der Slicer-Modul
Sie können auch Filter und ändern Sie den Amplituden-Hüllkurve und Tonhöhe jeder Scheibe
Ziehen und Ablegen von
Ziehen Sie Ihre eigenen Proben aus dem Browser in die Tracks Fenster können Sie, welche Art von Instrument (oder Track) zu erstellen (siehe Bild unten) wählen.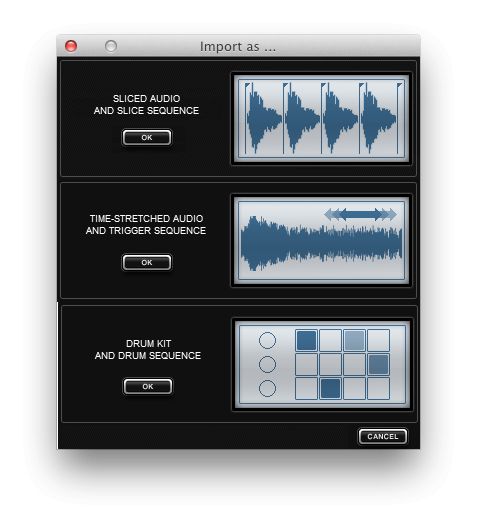 Wählen Sie Ihre Spur-Typ
Die Wahl der dritten Option zerschneidet die Audio-und ordnet dann jede Scheibe zu trommeln Pad so dass Sie zum Abspielen der Scheiben mit Ihrem MIDI-Keyboard oder die Maus.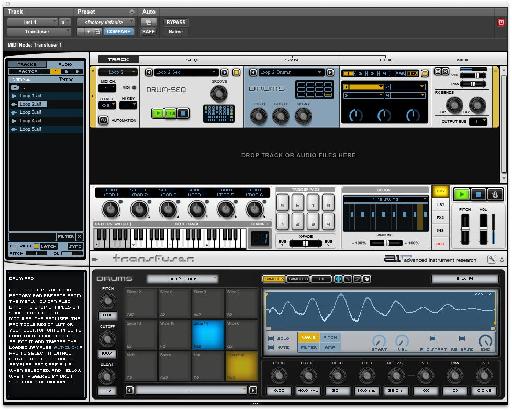 Die Drums-Modul
Vocal Effects
Ein weiteres von Transfusers Tricks ist, dass man per Drag & Drop Audio von Pro Tools "Edit-Fenster direkt in die Tracks angezeigt.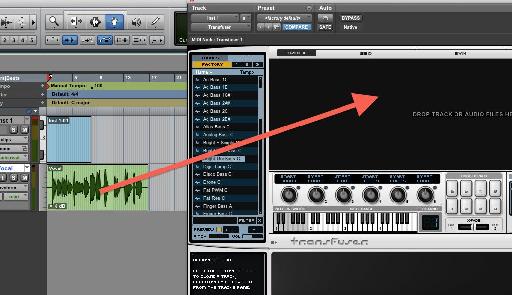 Drag & Drop von Audio-Tracks in Pro Tools Edit-Fenster
For vocals, choose Time Stretch Audio and Trigger Sequence.

In the Phrase Synthesiser module you can add vocoder effects.

In the EFX module you can choose the Beat Cutter effect, which lets you manipulate the phrase with all sorts of DJ-style effects in real time by clicking with the mouse.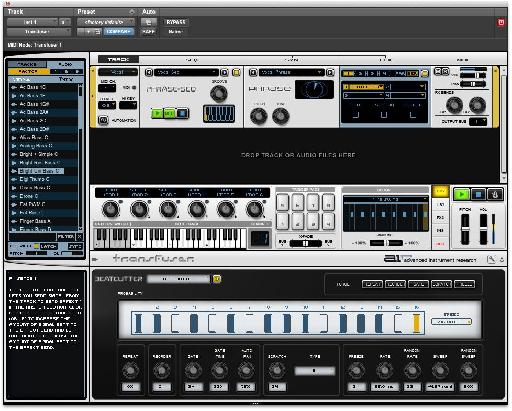 The Beat Cutter-Effekt
Wie Sie sehen, ist Transfuser ein komplexes Instrument mit einem Feuerwerk an Rhythmus-bezogene Tricks, und wir haben nur die Oberfläche in diesem kurzen Überblick zerkratzt. Freuen Sie sich auf zukünftige Artikel, die Sie lehren, wie man das Beste aus jeder Funktion von Transfuser bekommen und es verwenden, um unglaubliche loop-basierte Musik zu schaffen. Wer weiß, vielleicht müssen Sie nie ein anderes Plug-in!