If you love vintage synths the Vintage Vault collection from UVI brings a history of synthesis to your fingertips.
Comprising instruments, drum machines and presets, these sample-based instruments bring that authentic hardware sound to your digital DAW. Plus, this $499 USD collection is a steal as it includes over 80% savings if all plug-ins were purchased separately ($2,400+).
NOTE: PLEASE ENTER YOUR EMAIL ADDRESS AFTER ANSWERING THE QUESTION BELOW TO ENTER!
[survey id=12]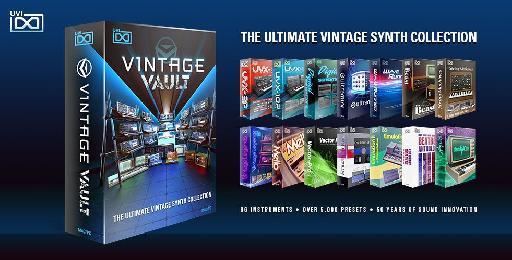 Termini E Condizioni
Le iscrizioni devono essere presentate tramite la domanda multipla scelta sopra. È necessario il tuo indirizzo email dopo aver completato l'indagine, che firmerà fino a un libero
Completamento del sondaggio ti dà la possibilità di vincere il premio. Le probabilità di vincita dipendono dal numero di iscrizioni valide ricevute.

Il termine ultimo per le iscrizioni è
Il vincitore sarà selezionato da caso tra i partecipanti che hanno fornito il loro indirizzo di posta elettronica al completamento del sondaggio. La decisione dei giudici è inappellabile.
Nessuna alternativa in denaro possono essere offerti per i vincitori.
Tutti i marchi ei loghi sono protetti.
I partecipanti concordano sul fatto che i risultati delle indagini e gli indirizzi e-mail possono essere condivisi con macProVideo.com, AskVideo.com e UVI (solo per il loro uso interno). I suoi dati non saranno venduti o di abuso in alcun modo.

Le eventuali spese di spedizione saranno a carico dei soci di questo concorso sondaggio. Eventuali oneri fiscali o doganali locali devono essere a carico del vincitore.

Tutti i partecipanti a questo concorso saranno abbiano accettato le regole ei termini e le condizioni.

Abbiamo finito con il parlare legale Buona fortuna!