If you love vintage synths the Vintage Vault collection from UVI brings a history of synthesis to your fingertips.
Comprising instruments, drum machines and presets, these sample-based instruments bring that authentic hardware sound to your digital DAW. Plus, this $499 USD collection is a steal as it includes over 80% savings if all plug-ins were purchased separately ($2,400+).
NOTE: PLEASE ENTER YOUR EMAIL ADDRESS AFTER ANSWERING THE QUESTION BELOW TO ENTER!
[survey id=12]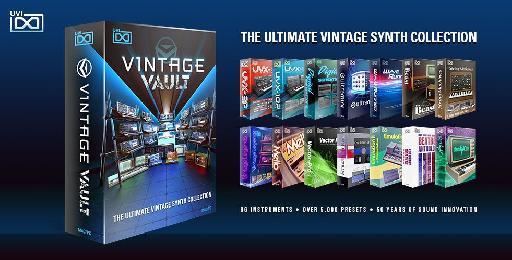 Geschäftsbedingungen
Die Beiträge müssen über die Multiple-Choice-Frage über eingereicht werden. Sie müssen Ihre E-Mail geben Sie nach Abschluss der Umfrage, die Sie unterschreiben wird sich für ein kostenloses
Ausfüllen der Umfrage erhalten Sie eine Chance auf den Gewinn des Preises. Die Gewinnchancen hängen von der Anzahl der teilnahmeberechtigten Einsendungen.

Der Einsendeschluss ist
Der Gewinner wird per Zufallsprinzip aus den Marktteilnehmer, die ihre E-Mail Adresse nach Abschluss der Umfrage geliefert gewählt werden. Der Rechtsweg ist ausgeschlossen.
Nicht in bar für Preisträger angeboten werden.
Alle Marken und Logos sind geschützt.
Die Teilnehmer stimmen zu, dass die Ergebnisse der Erhebungen und die E-Mail-Adressen können mit macProVideo.com, AskVideo.com und UVI (nur für die interne Nutzung) gemeinsam genutzt werden. Ihre Daten werden nicht verkauft oder in irgendeiner Weise missbraucht werden.

Alle Versandkosten werden für die Partner dieser Umfrage Contest gezahlt. Alle lokalen Steuern oder Zollgebühren müssen vom Preisträger gezahlt.

Alle Teilnehmer an diesem Wettbewerb gelten als die Regeln und Bedingungen genehmigt.

Wir sind mit der Rechts sprechen Viel Glück gemacht!