If you love vintage synths the Vintage Vault collection from UVI brings a history of synthesis to your fingertips.
Comprising instruments, drum machines and presets, these sample-based instruments bring that authentic hardware sound to your digital DAW. Plus, this $499 USD collection is a steal as it includes over 80% savings if all plug-ins were purchased separately ($2,400+).
NOTE: PLEASE ENTER YOUR EMAIL ADDRESS AFTER ANSWERING THE QUESTION BELOW TO ENTER!
[survey id=12]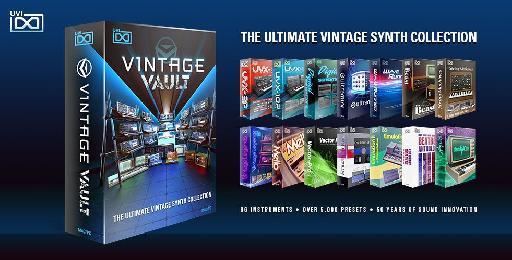 Сроки И Условия
Записи должны быть представлены с помощью множественного выбора вопроса выше. Вы должны ввести электронную почту после завершения обследования, которые будут подписать вас на бесплатно
Заполнение анкеты дает вам шанс на выигрыш приза. Шансы на победу зависят от получения номера допущенных заявок.

Прием заявок является
Победитель будет выбран случайным образом из абитуриентов, которые снабжали свой адрес электронной почты после завершения обследования. Решение судьи является окончательным.
Нет денежной альтернативы не могут быть предложены для призеров.
Все торговые марки и логотипы защищены.
Участники соглашаются с тем, что их результаты обследований и адреса электронной почты могут быть переданы macProVideo.com, AskVideo.com и УФО (только для внутреннего пользования). Ваши данные не будут проданы или неправильно в любом случае.

Любые расходы по доставке будут оплачиваться за счет партнеров этого конкурса обследования. Любые местные налоговые или таможенные сборы должны быть оплачены лауреата.

Все участники на этом конкурсе будет считаться, что вы приняли правила и условия.

Мы закончили с правовой хорошо говорить удачи!