If you love vintage synths the Vintage Vault collection from UVI brings a history of synthesis to your fingertips.
Comprising instruments, drum machines and presets, these sample-based instruments bring that authentic hardware sound to your digital DAW. Plus, this $499 USD collection is a steal as it includes over 80% savings if all plug-ins were purchased separately ($2,400+).
NOTE: PLEASE ENTER YOUR EMAIL ADDRESS AFTER ANSWERING THE QUESTION BELOW TO ENTER!
[survey id=12]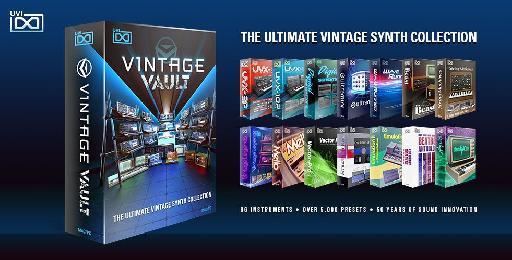 Termes Et Conditions
Les candidatures doivent être soumises par la question à choix multiple ci-dessus. Vous devez entrer votre e-mail après avoir terminé l'enquête qui vous inscrire à un libre
Fin de l'enquête vous donne une chance de gagner le prix. Les chances de gagner dépendent du nombre de bulletins de participation admissibles reçus.

La date de clôture des inscriptions est
Le gagnant sera sélectionné par tirage au sort parmi les participants qui ont fourni leur adresse courriel à la fin de l'enquête. La décision des juges est définitive.
Aucune solution de rechange de trésorerie peuvent être offerts pour les lauréats.
Toutes les marques et logos sont protégés.
Les participants acceptent que leurs résultats de l'enquête et les adresses électroniques peuvent être partagées avec macProVideo.com, AskVideo.com et UVI (pour leur usage interne uniquement). Vos données ne seront pas vendus ou utilisés à mauvais escient en aucune façon.

Les frais d'expédition seront payés par les partenaires de ce concours de l'enquête. Les charges fiscales ou douanières locales doivent être payés par le gagnant du prix.

Tous les participants à ce concours seront réputés avoir accepté les règles et les termes et conditions.

Nous en avons terminé avec l'imbroglio juridique Bonne chance!