It's funny to think that having spent years trying to get cleaner and cleaner digital recordings, many producers managed it, then thought "er, that sounds a bit clinical actually", and started to look for ways to bring warmth and character back into their sounds. If you have the funds, then tracking through analogue gear or onto tape is amazing but for the 98% of us who don't, software can be an excellent alternative.

Smooth as…
U-He's Satin is a VST / AU plug-in retailing at $129 that models the sound of tape as well as tape delay and supports an internal resolution of up to 384 kHz. Although some other tape simulators only model a couple of variants, Satin boasts both vintage and modern tape models plus an almost infinite combination of controls that let you get pretty much any tape sound you like. In the upper part of the window are the input and output level knobs, which you can use to control how hard the signal is driven. There's also makeup gain and softclipping to let you push things a bit harder.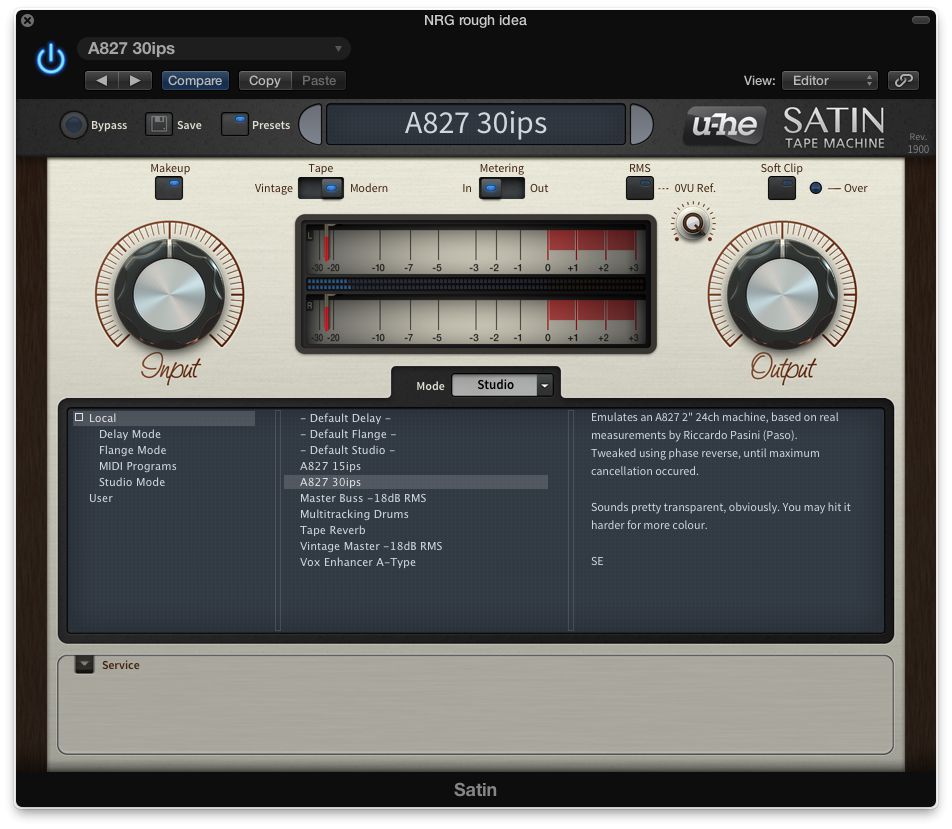 Choose from the many bundled presets for individual sounds or mastering whole tracks.
The effect can be used in several modes: studio, delay and flanger, each with its own unique set of controls. Studio is the mode that you use for affecting the character of the sound rather than necessarily introducing any extreme effects, say for example warming up a drum track or indeed mastering a whole project. I frequently use tape simulation across the master buss of my DAW to dial in a little extra warmth and punch, just enough to glue everything together nicely. A good tape sound is able to do that, and here there's even a Group function so you can bring multiple instances together.

You can change the speed and pre-emphasis of the tape effect, both of which affect the processing of the sound, and there's also a Compander. This is a simulation of the old noise reduction systems that used to be used with tape decks to reduce hiss. In reality they can really alter the character of a signal and used creatively, they can add a sort of warm compression or emphasis to the sound. Here you can choose an encoder and decoder type, and it offers pleasing results.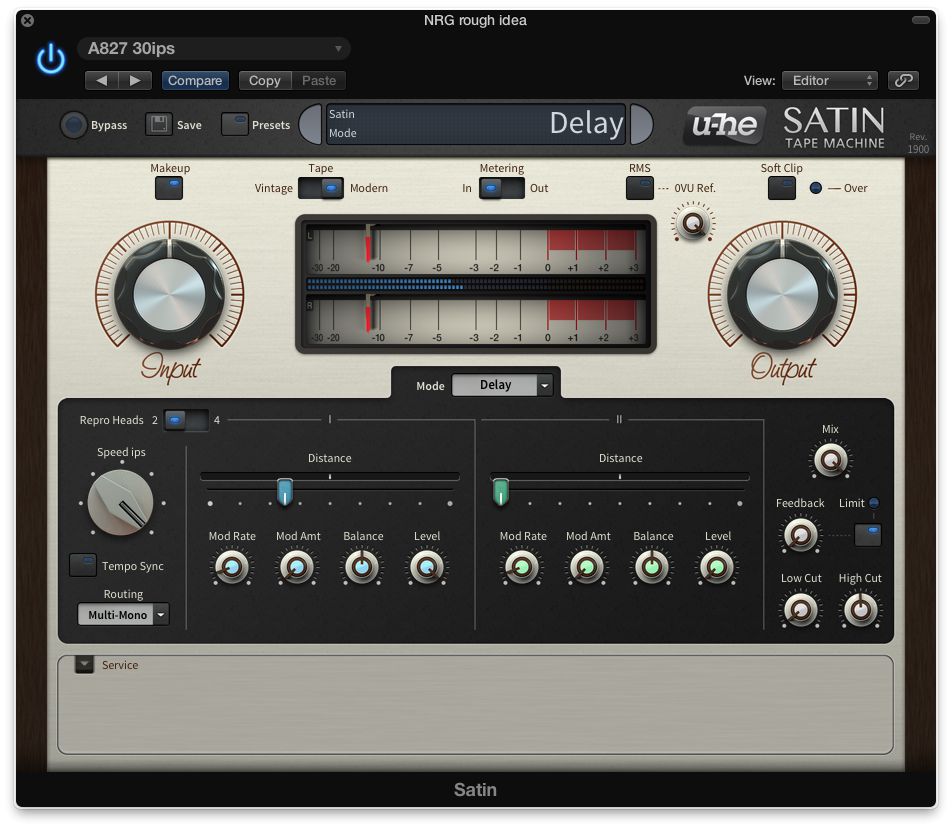 Each of the three modes has its own set of controls.
Special FX
Delay and flange mode are also excellent, with comprehensive controls and the ability to tempo sync and choose between two or four tape repro heads. The Service panel at the base lets you control the "imperfections" inherent in tape such as wow and flutter, hiss, crosstalk, bias and bump. Of course if you apply a lot of these you are going to deliberately degrade the signal, which could be what you're aiming for. Used more subtly, they add a human element, a very slight uncertainty to the sound which can bring a sense of reality back to sounds that might have been generated purely in the digital domain.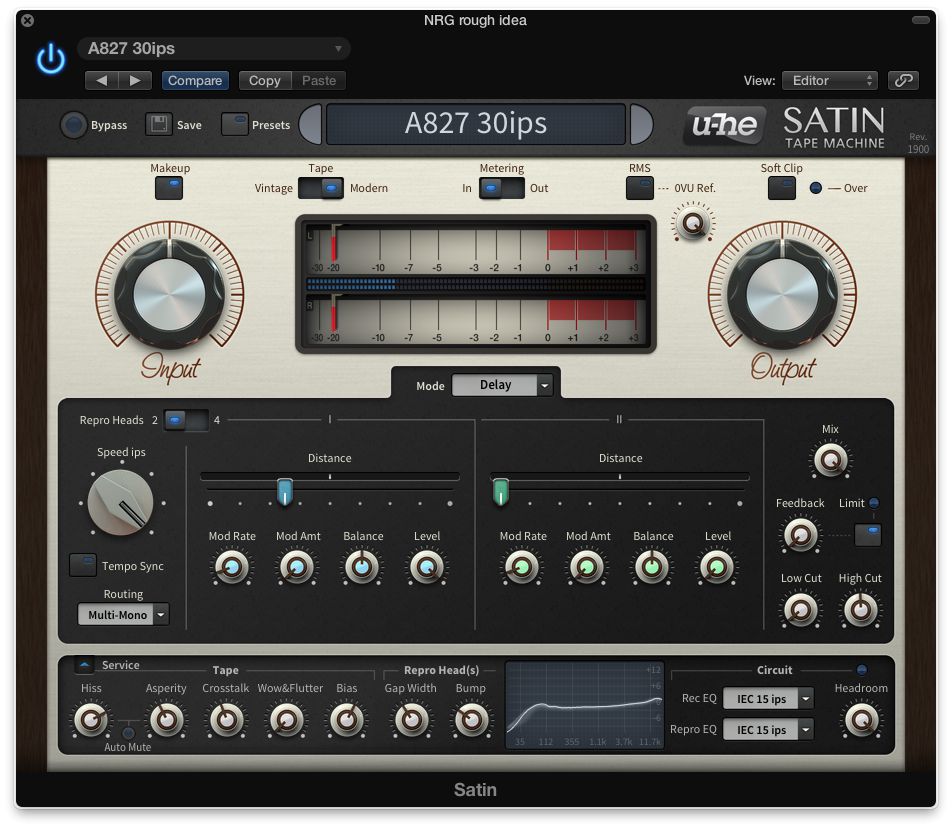 The Service area at the base lets you dial in imperfections like his, wow and flutter.
Final thoughts
The presets are very good and I particularly liked the many mastering setups and the classic sounding tape delays, which work on a wide range of sources. It's not particularly a diffcult effect to learn or use and the tape simulations you can achieve are perfect for warming up vocals, drums, keys or whole tracks. Used as a more extreme effect, it's a cool sounding delay too. If you're in the market for the sound of tape without the hassle of owning a real tape machine, you won't go far wrong with Satin.
Web: http://www.u-he.com/cms/satin