It's no secret that I am a big fan of Native Instruments' Traktor for iOS. In fact I was so taken with the iPad version I produced a video course on it for macProVideo.com, and was even more amazed when the company managed to create a feature-identical version for the much smaller screen of the iPhone and iPod Touch. One slight sticking point with doing any kind of audio on an iOS device is getting the sound out in a way that doesn't involve simply using the headphone port. While there are a number of iOS'"compatible audio interfaces of various kinds, these do tie up your 30-pin or Lightning connector, precluding any other kind of data I/O.
It won't come as a huge shock to discover that NI has solved this particular problem, and in its own inimitable fashion, thrown some more functionality in for good measure. The Traktor Kontrol Z1 is both an audio output device and a controller for Traktor DJ on iOS and also for Traktor Pro on your Mac or PC. It hooks into the apps in a way that only works when you design both the software and hardware, as of course NI does. So what does it do? Let's start with a look at the hardware.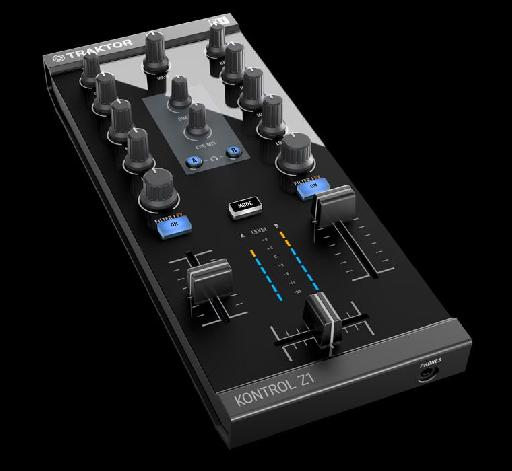 The Z1 is light but strong, and fits easily in a bag with an iPad or laptop.
Look and feel
The Z1 is lightweight but sturdy and finished in the same durable black plastic as many of the company's other DJ controllers, with sticky feet to keep it stationary on flat surfaces. It's also the right size and shape to line up next to any of the other controllers in the NI family. There's a headphone mini jack output on the front edge for pre-listening, with the remaining ports on the rear panel. There, you'll find a Kensington lock port, 24-bit stereo phono outs (phono being the connector of choice for DJs), a USB port and a power socket. The Z1 comes with an external PSU and though it powers over USB from a computer, when used with an iOS device it must be plugged in to the mains. On the upside this also charges your device, so you need never worry about running out of juice.
It comes with a regular USB cable and an NI-branded USB to 30-pin Dock connector, for plugging in to your device. This makes sense since the vast majority of iOS devices in use have the Dock connector. However owners of an iPhone 5, iPad 4 or most recent iPod Touch will have a Lightning port, and it doesn't come with a cable for that. Unfortunately you can't use your charging cable since the USB end is a different shape, so you'll need to shell out an extra £30 for an adaptor from Apple. Cheaper, third party adaptors are available but often receive mixed reviews, so that's your risk. The transition between interface formats is a bit of an industry-wide problem, but will be resolved over time as older devices are phased out.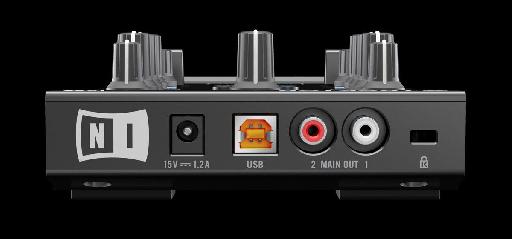 All the ports you need to get pro-quality sound out of your iPad or iPhone.
Up and running
Once connected and with Traktor fired up, it's all pretty straightforward. There are no playback controls on the hardware, so you still have to load and manipulate tracks using the screen, but that's half the fun anyway. There are controls for both decks, A and B and at the bottom a crossfader and two level faders with LED level meters. The hardware feels solid, sturdy and responsive, and the crossfader in particular has a great action to it.
Each deck has a gain control and there's a master volume knob as well. Then you get hi, mid and lo EQ controls and as with all other aspects of the Z1, moving these will show the changes in the relevant section of the app if it happens to be visible. Even if you're in some other section, they obviously still do their job.
Lower down you find an assignable button for each deck and holding the Mode button lets you switch these between controlling the filter or the FX for the deck. These are helpfully color-coded so you can see at a glance whether you're set to control the filter (blue) or the effects (orange). The knob above the button controls the parameter, so you can switch the selected effect on or off and turn it up or down, or do the same with the filter. It's really seamless and works perfectly, providing a more hands-on and tactile way to mess with your tracks as they play. The control works on whatever effect you currently have selected.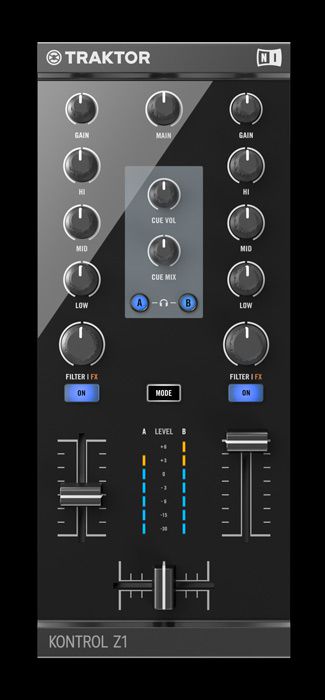 The controls are well laid-out and it's really easy to learn and use.
The Z1 allows for better control over cueing than you get when running through other interfaces. In the center, you can use the A and B buttons to assign which deck you want to cue, use the Cue Mix knob to adjust the balance between cue signal and master output in your headphones, and adjust the cue volume in your headphones. Since it's designed specifically for this sort of stuff, you're not having to fiddle about with adaptors: it just works and provides a more DJ-like experience than you'd get from using the device's own hardware. When connected to Traktor Pro on a computer the controls work in much the same way.
One thing it doesn't do is allow audio to be routed to the headphone port for apps other than Traktor DJ while using it with iOS. This is odd and a bit of a shame, since it would be nice to be able to take advantage of its high-quality audio out circuitry to play other sounds through the headphones but this is apparently an Apple-imposed limitation of iOS. On a computer, you are able to send other sounds out through it. And you can still route sound from third party apps to the RCA outputs.
Final thoughts
At an RRP of $199, the Z1 isn't exactly an impulse purchase but on the other hand the iOS apps themselves are actually pretty inexpensive so you've not paid a huge amount for them. The logical next step after developing the apps was to provide a better way for DJs to get hands-on control over the sound, and to get sound out more conventionally. It certainly excels at that, and it's a great solution to extending the utility of the iOS apps, or adding a lightweight controller to a computer-based setup.
If you're even halfway serious about DJing with your iOS device, the Z1 is the perfect partner for it and will have you mixing and tweaking like a pro in no time.
Web: http://www.native-instruments.com/en/products/traktor/dj-mixer/traktor-kontrol-z1/pricing/