It was wonderful, when Rack Extensions became available for Reason, to see Rob Papen join the wonderful list of RE creators. As a result, we got to see Predator RE, Punch RE, and even SubBoomBass RE. Classic synths from one of the true masters. However, now you're in for a real treat. Rob and his team have just added Quad RE, their very first synth built from the ground up, only for Reason. And, in this review, let's see how they did.
Something For The Future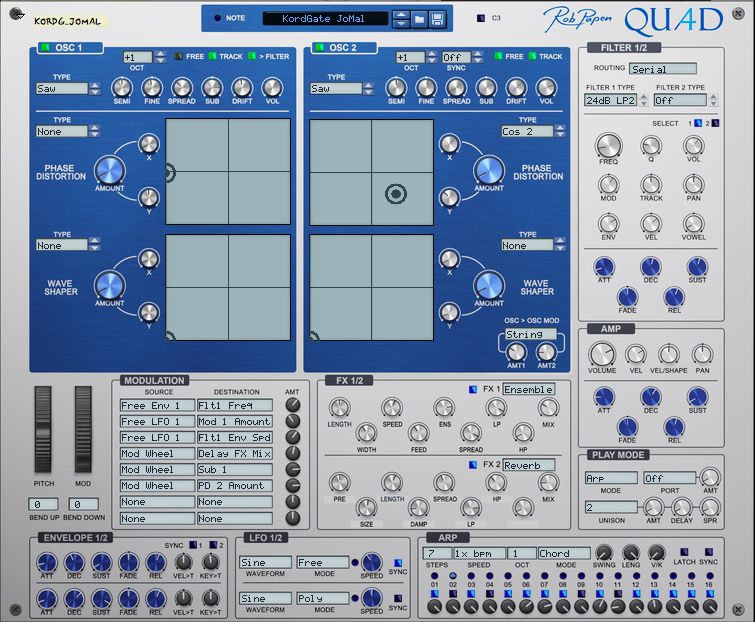 You can tell some serious thought went into Quad before the programming even started. Obviously, XY pads are a huge part of Quad, so let's start with what they are and how they work. In Quad, you get two main Oscillators, named appropriately Osc 1 and 2. The basic waveshapes are available, like Saw, Sine, Square, Noise, and so on. But, where things really change up is with the dedicated Phase Distortion and Wave Shapers, which are built into both oscillators. And, because Oscillator 1 and 2 have dedicated XY pads, individually, once the Phase Distortion or Wave Shapers are enabled, you can literally sculpt your tone with the Pads, as opposed to having to randomly tweak knobs, till you get something that sounds right. That's right, the XY Pads give you control over the Phase Distortion and Waveshaper! This is no gimmick! I was able to get something that would move the dance floor before I even got to the FX and Filters, simply by modifying the XY pads till I got something I liked. Because the pads can automated in Reason, it's really easy to get that true, evolving, morphing synth that changes throughout your track.
And, though it may sound just that simple to progam, remember—this is Rob Papen we're talking about! Additionally, on each oscillator, you have features what you've grown to expect from the master synthesist. A dedicated Sub can be raised, to add some instant fatness (right is saw, left is sine), Spread is around to thicken things up. Though, if the oscillators, themselves don't hold enough tweakability, keep on reading. This synth does a lot.
Tweak Till You Drop
The Oscillators are not all of Quad. Let's talk about the Filter section, now. Like all of Rob's synths, Quad is stocked. Comb filters, Vocal (Formant Filter), and varying degrees of LP, BP and HP filters from 6 dB, all the way up to 36 dB. And, like all Rob Papen filters, the two filters included with Quad sound incredible. And, the screen real estate is held nicely in check by having a simple toggle between seeing the visual settings for filter 1, and filter 2. I'd also like to mention, I really like the way that the Vocal filter was set up, as it has a dedicated Vowel knob, as opposed to having to find the vowels using the Filter Cutoff and Release, like many other synths.
The usual Rob Papen arpeggiator is there, as well. Though, it's much more stripped down than what you get with Predator. However, when you hear Quad, you begin to find that its strengths tend to lay outside arpeggiation, though still having some ability.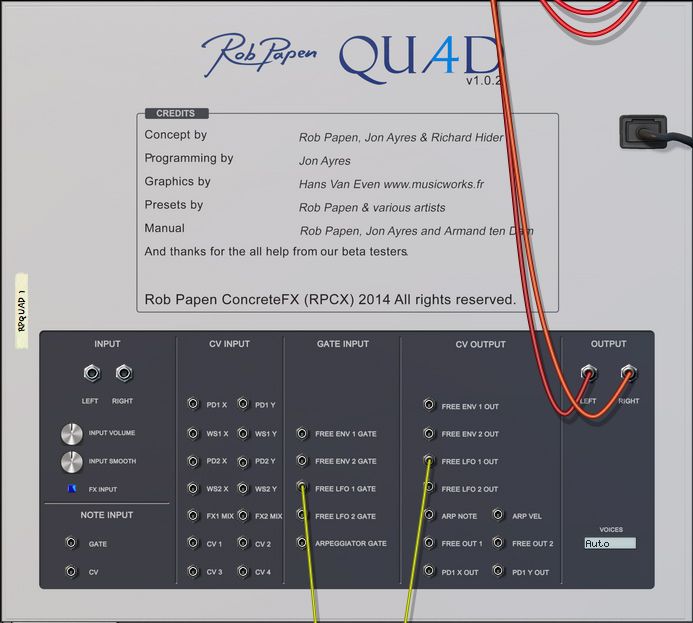 Conclusion
Quad is a big step forward for Reason. For users who don't know much about synthesis, Quad would make a wonderful 'first RE', as results are achieved fast, and it's so much fun to sculpt using the multiple XY Pads. Experienced users will enjoy a powerful synth, that through the built-in modulation matrix, can go even deeper with complex modulation routings and a large assortment of Control Voltages that will definitely bring something new to Combinators. For example: Quad has an audio input! How about using that wave shaper on a Subtractor? So, what are you waiting for? Download that trial, and see what I'm talking about.
Price: $119 USD

Pros: A truly powerful synth that sounds wonderful, while being fun and different to program.
Cons: Arpeggiator is a little 'slimmer' than some of the other Papen synths.