The Props have opened up the Reason rack to developers with the new Rack Extensions system, but that doesn't mean they can't also make their own instruments too, and that's exactly what they have done with Radical Piano. A 370 MB download, it costs $99.00 and as with all Extensions, there's a demo version available that's fully functional.
The company has a history of making piano instruments that expand on the bundled Sound Bank models, in the form of the Reason Pianos ReFill which used Combinators to introduce multisampled pianos to the Rack. Radical Piano is quite different, using a combination of samples and physical modelling to provide a much more flexible and easy to control set of sounds. It's a fully self-contained instrument with three models of piano: home grand, deluxe grand and upright.
The three pianos have multiple mic options: vintage mono, ambience, floor, jazz and close mic modes, and these all have very different effects on the character of the sound. To make things even more interesting, you can blend between two piano models using the mic blend knob, and select a mic position for each one. So the possible combination of sounds on offer is huge. Having a blend knob rather than just a selector exponentially increases the range of tones you can generate, which is great.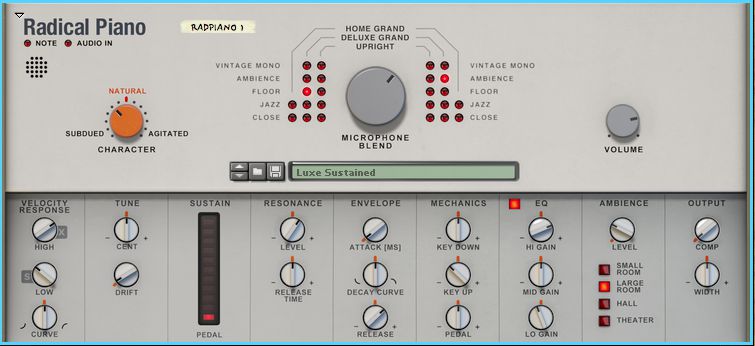 Radical Piano has lots of sound shaping options including the ability to blend between two models and multiple mic positions.
The pianos can be shaped in many other ways too, starting with the Character knob on the front panel. While centered, the sound is natural and the left and right extremes represent "subdued" and "agitated" states respectively. These affect the brightness of the sound and can take it anywhere from very soft through to quite spiky. There's also of course a master volume control.
The lower section has more detailed tweaks, and you start with a Velocity Response section with curve, high and low controls. Next up is tuning, where you can detune the piano and also add "drift", which rather pleasingly simulates a very slight instability in tuning just like a worn out old piano. A sustain section is provided where you can add various levels of sustain by clicking, which is handy if you don't have a sustain pedal to hand or are programming with the mouse. Resonance and Envelope sections follow, for further sound shaping options.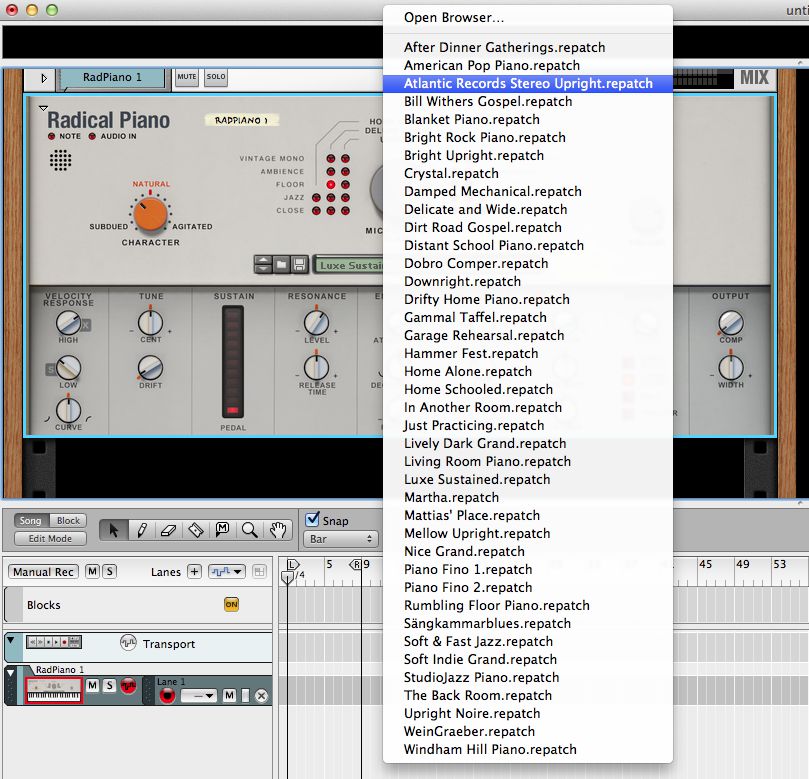 There are loads of presets provided and there's a heavy focus on uprights and authentic piano sounds.
With any piano instrument, it's important to have the option of tweaking the mechanics of the action, since real pianos have quirks to do with the sound of hammers and keys being moved. Here, you get key down, key up and pedal dials that let you change the amount of mechanical sound that is produced when a note is pressed. This is fine, though I found that the default amount of "key up" on a few presets was a little high. Even set to zero, there was a lot of noise added when a key is released, to the extent that I found it a little overbearing. Turning it down provides a cleaner sound and you can of course save the preset with the lower setting, so it's not a huge problem. Moving on, you get EQ and Ambience sections, with different levels of reverb available, and an Output stage with variable compression and stereo width controls, all provided in the Props' usual simple and understandable style.
Final thoughts
Radical Piano sounds really good and is by far the easiest way to get realistic sounding upright and grand pianos in your Reason Rack. The controls are simple but powerful and there's an almost infinite possible combination of sounds that you can create. These pianos sound believable and authentic, though you might find yourself dialling down the key effect occasionally.