Novation is rapidly becoming the company with the most comprehensive range of MIDI control devices out there, and the release of its new Launch Mini family looks set to move it even closer to that goal. As we are seeing in other areas of the music tech field, iPad compatibility is becoming an increasingly important feature as musicians are looking for their kit to work across their desktop and mobile systems. And so it is that the Launchpad Mini works not just with your Mac or PC but also with the Launchpad iPad app, but more on this in a moment.
Keep it light
The Launchpad Mini is incredibly compact and lightweight but feels well built, with a rubberized underside to stop it sliding about when placed on a flat surface. It's smaller and lighter than an iPad but doesn't feel at all flimsy. It powers over USB only, and comes supplied with a micro USB to regular USB cable for connection to your computer or iPad, though in the case of iPad this does require a Camera Connection kit. It is rather a shame that it doesn't come with USB to iPad native cables, though this is likely to keep costs down considering that they'd have to include a 30-pin and a Lightning version, and not everyone will use the device with an iPad anyway.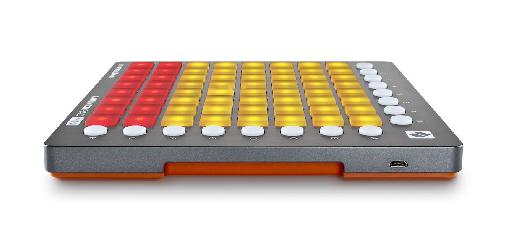 Isn't it cute?
You get a bundled version of Live 9 Lite and a code to download 1 GB of sample content. Essentially, when connected to your computer, the Launchpad Mini behaves in the same way as the full sized Launchpad. It has 64 three-color buttons as well as 16 mode buttons that can be used to launch clips in Live, and also incidentally in FL Studio 11 using its live mode: this is fully supported. The hardware is picked up automatically by the software and triggering clips is intuitive and fun, with the mode buttons letting you perform other tasks related to performance.
Going mobile
The Launchpad iPad app which runs on an iPad 2 or newer is really cool and though it offers in-app purchases of additional sound packs, does come with a great set of loops and samples for free as well. As you might expect, the loops are all set up to sync perfectly and can have their trigger modes set to one shot, loop or retrigger so you can control how they layer together. The lower buttons become effect controllers, and filter and stutter effects are included. The ability to import your own loops is available via an in-app purchase.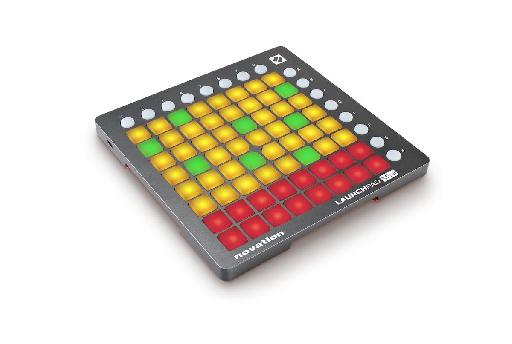 A lightweight and fun way to control Live on your computer or iPads.
The ability to use touch to trigger clips is of course less remarkable on the iPad than on a computer, since the iPad's entire interface is touch-based. But when you hook a Launchpad Mini up to your iPad, you definitely do get a more tactile sense that you're using a serious music creation tool. The lights in the buttons help a lot with keeping track of what's going on, and the integration between the two devices is seamless. It even automatically dims the iPad brightness while powering from it to conserve battery, though you can restore full brightness manually if you choose. As an inexpensive ($99) way to perform with Live on any of your machines, this is a fun and accomplished device.
Web: http://global.novationmusic.com/midi-controllers-digital-dj/launchpad-mini