It is now an astonishing 20 years since the launch of the original Bass Station, practically an eternity in technological terms. Anyone who's been at this game for long enough will remember the waves it caused in the music world, helping to define the sound of entire genres and subgenres of electronic music. In 1993 of course hardware was still king, and plug-ins were some years off becoming any kind of substitute. As it turned out, software didn't actually kill hardware as many prophesied, rather the two now coexist together and there's still a great demand for hardware instruments.

How low can you go?
Enter the Bass Station II, an updated model but very clearly related to the original. It's an analogue monosynth that's tailored towards bass but has a few more tricks up its sleeve as well. It's lightweight but sturdy and physically larger than the original, with more controls and a chunkier body. It's light enough to transport easily and will power over a USB connection from your computer as well as via the bundled power supply. On the rear panel, you'll find a power port and a USB port, which also handles MIDI to and from your computer. It is class compliant so requires no special drivers on recent versions of OS X and Windows.

You also get a headphone out port, conventional MIDI in and out 1x1, a sustain pedal input and a mono line output. A mono external in lets you blend external signal with the instrument's analogue filter and effects. A Kensington lock port is included too, to stop this highly portable synth going walkabout when used in a public space.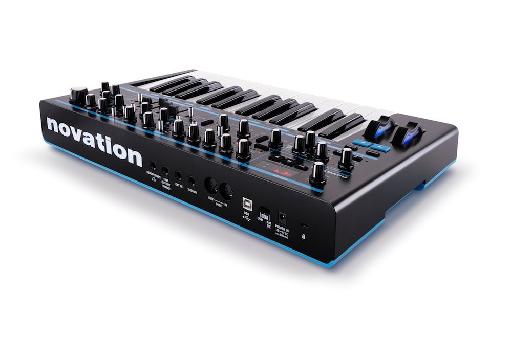 The Bass Station 2 is lightweight but solid, with all the ins and outs you need.
Old school
It's interesting that Novation hasn't gone down the fashionable route of providing a software plug-in to interact with the Bass Station II, opting instead to keep it more old school and leave the sound design and tweaking to the hardware controls. This is, I think, the right call. There are plenty of software bass plug-ins out there, including a software version of the Bass Station 1, so the focus here is on hands-on tweaking. It's compatible with third party SysEx librarian programs so you can back up your patches easily enough.
You can save patches of course and there are 64 presets provided plus a further 64 slots to save your own. The signal path is pure analogue and the hardware has been laid out in modules, clearly labelled to help you find controls easily. The pots, switches and buttons are sturdy and responsive, and the old style flip switches are a nice touch.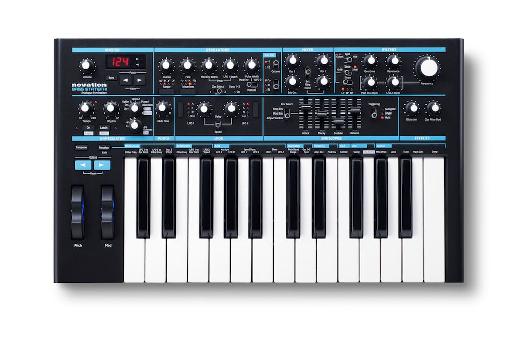 The controls feel reassuringly authentic and are fun to play about with.
There are two main oscillators, switchable on the front panel, as well as a sub oscillator with -1 or -2 octave setting, and a noise generator. Each of the two main oscillators can use sine, triangle, sawtooth or square / variable pulse waveforms and can be synced, detuned, pitch bent and have pitch and pulse width modulated from the mod envelope and LFO 1 and 2 sections. A mixer section lets you blend the three oscillator signals and also control noise, ring mod or external input levels depending on what you select. For their part, the LFOs are selectable between different waveforms and there are two ADSR envelopes with selectable triggering modes.
The Bass Station 2 is monophonic but that's not as restrictive as you might think. Bass is a tone that almost always needs to be played one note at a time anyway, and there are some performance controls to help liven things up. A portamento glide control lets you dial in the sweep time between notes, and this is excellent for creating classic synth bass effects. There's also a comprehensive arpeggiator section where you can select from up to 32 different patterns: it has a 1-4 octave range and six different directions including random. A swing function helps to add a human element should you want one and you can latch the arpeggiator so it stays switched on. Also of interest is the step sequencer which can hold up to four sequences. There are 32 preset rhythms or you can create your own, and you can use rests and slides.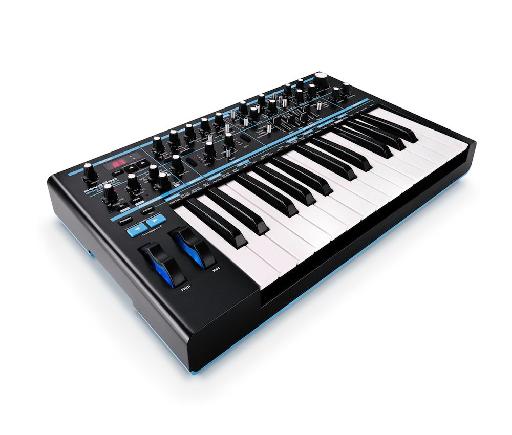 Cute, isn't it?
Playing around
The keyboard is made up of 25 full size synth-action keys which are very playable and perfectly suited to the kinds of sounds the Bass Station makes so well. It's very much designed for real-time sound manipulation and to this end, there's a large filter frequency knob located at the top right of the front panel. You'll frequently find yourself reaching for this to morph your sounds and there are two filter types to choose from: acid, and classic which is derived from the original Bass Station. You can add overdrive to dirty up the effect and the filters sound really fat, just what you want in this kind of instrument. There are also a couple of effects, comprising an overdrive stage and an oscillator filter mod amount.

Visual feedback is via a tiny LED screen but this is actually fine, since lights elsewhere tell you what is switched on or off. To access a range of functions you can press the Function button then press keys, each of which is labelled with a sub-function. This is the way things used to be done on hardware instruments so many people will be familiar with it, and it works well. A bit of synthesis knowledge will help you find your way around, but you're probably fine to just start tweaking and see what happens too.

Final thoughts
The Bass Station 2 is a worthy successor to the legendary original model, retaining its straightforward ethos and resolutely old school spirit while feeling decidedly up to date as well. It sounds amazing and feels great. It's best for basses of course but whack the octave control up a few notches and you can create fine sounding leads and sequences higher up the scale too so you'll get plenty of use out of it.

Price: £399 GBP / $499 US
Web: http://uk.novationmusic.com/hardware-synths/bass-station-ii