Lethal Audio have released their first instrument called Lethal. This instrument is unabashedly sample based. Its main objective here is about instant gratification, so you can easily choose from hundreds of patches in a variety of musical genres. The factory library has sounds for all styles of electronic music like house, progressive, trance, electro and more. In addition to great bass, lead, synth, pad, and riser FX, there's also an incredibly useful collection of House/EDM drum sound kits like kicks, snares, hats, and percussion. These are not loops, but excellent sounding one shot drum sounds that are alone worth the instrument's asking price.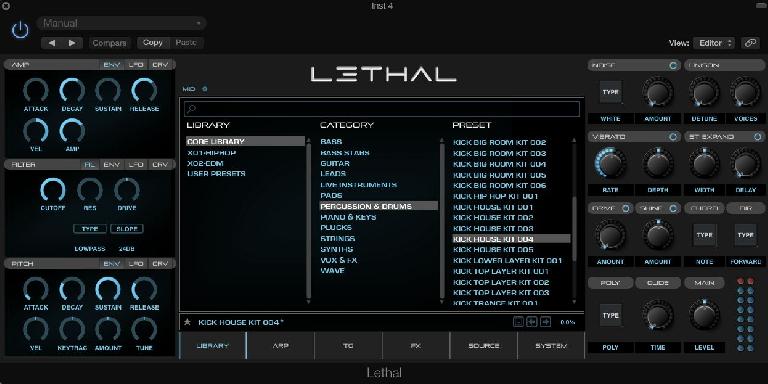 The add-on packs are currently free until June 2017 when purchasing Lethal. Since release, they've added both Hip Hop and EDM specific packs that sound great. Unlike some other sampler platforms, instead of buying huge sampler add-ons, the concept here is smaller focused genres/libraries that are easily downloaded. The add-on packs are installed using a standard Mac/Windows installer, instead of a long confusing proprietary method, and become instantly available to Lethal after installation. Read on for a description of Lethal's features and a demo example song I made while writing the article.
Main Interface
Want to change the waveform of the current preset's oscillator? You can't, it's not about that … the idea here is a super stable, and extremely efficient sampler platform that focuses on simplicity. Just because the oscillator/sample itself is inaccessible doesn't mean nearly every other standard synth parameter isn't. In Lethal, the left and right sides are permanently in place. On the left, each of the three categories (Amp, Filter, Pitch) allow you to choose modulations like envelopes, LFOs and curves. The right side has a noise oscillator that can be enabled, a very cool unison that allows you to select the voice amount and the detune depth, and effects like stereo width, vibrato, drive and more. You also choose whether the sound is stereo or mono, enable glide, and Lethal's overall volume is here.
Library
The center area contains 6 main pages/windows, the first being the Library. Here you're presented with a list of all your patches/presets. The left column shows the currently selected "library" like Core Library, Hip Hop, and EDM, the middle column shows categories and the right column displays the actual available presets. When looking through the main patch list, sounds nearest the chosen one are similar in tone making it easier to find variations. Here you can also save your own edited versions to a user presets library.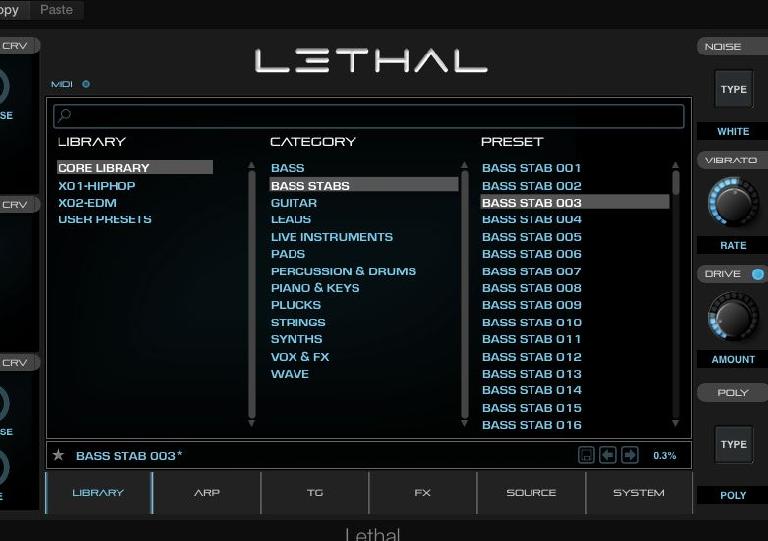 Arpeggiator and Trance Gate
The Arpeggiator is simple and fun, and the timing on it sounds musical and precise. You can choose rate, length, mode, and more here. You can change octaves across a tempo synchronized grid, change the length of each step, add swing, and even add a strum effect. The patches/presets sound great through the arpeggiator …since these are sample-based instruments, the sound designer can make each of the playable octaves sound great. So no matter what octave is played, it sounds good on all of them. This is where many virtual-based instruments can fail; they only sound useful/good in a very small window across the keys.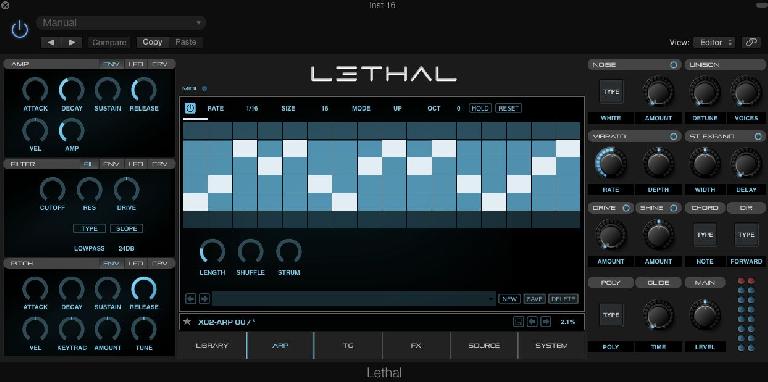 The Trance Gate cuts slices of silence from the sound. When you right-click any of the steps you create these silences. Just like the Arp, you have rate, size/length, swing/shuffle, and more. You can also smooth the silences with a cool contour setting. At the bottom of the window, both the Arp and TG have menus for choosing preset patterns.
FX
Lethal's effect tab allows you to add up to 6 simultaneous effects. By right-clicking each of the buttons labeled with a plus, you can select from Reverb, Delay, Chorus, Phaser, Distortion, Equalizer, and a Bit Crusher. Since Lethal can at times seem a bit too squeaky clean, adding the distortion effect can dirty your sound up a bit. This is also possible on the main right panel with the nice sounding Drive control.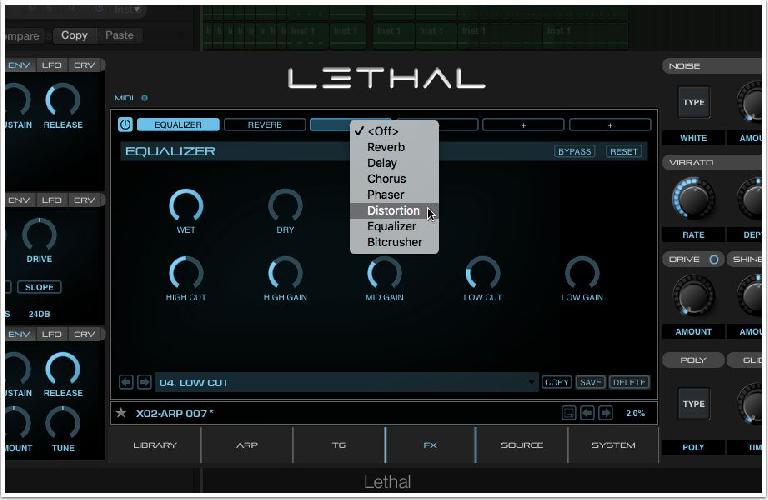 Source
There's also a "source" menu. Here's where you can choose wether the Amp, Filter, or Pitch can be modified by either your controller's mod wheel or via aftertouch. You can also choose the pitch-bend range, polyphony (how many notes simultaneously can play), overall instrument tune, and a "shift" parameter that allows you to transpose the instrument in half steps.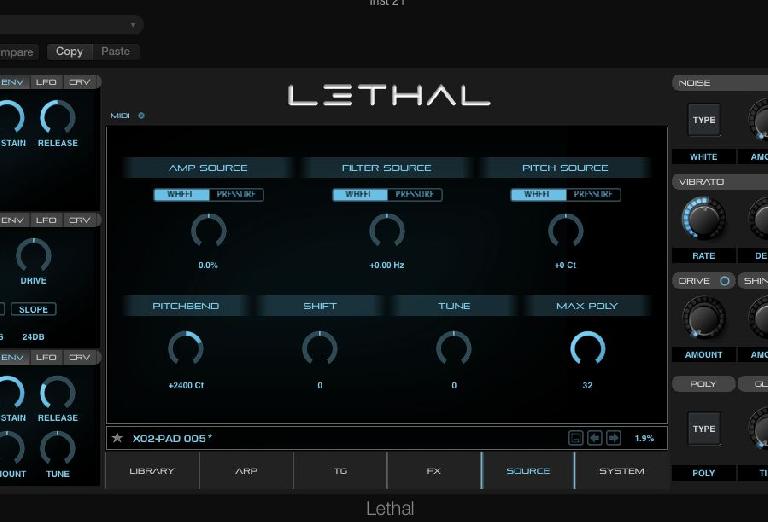 Sample Song
Here's the start of a song I produced in an hour or so using only Lethal (including all the drums). I used 18 instances of bass, lead, drums, arpeggiators, and sound FX. All sounds are raw unprocessed or minimally processed with compression and a bit of EQ.
Tips
Because the engine is so efficient, you'll probably be working with several dozen or more Lethals. It's easy to stack sounds by simply duplicating the track in your DAW, copying the MIDI to the duplicate, and then changing the patch on the duplicated instrument.
When you've worked on a cool arpeggiator (or Trance Gate) pattern, but you need to change the preset/patch, don't worry you won't lose it. If the new sound you are choosing had its own Arp/TG setting, a window appears asking if you'd like to keep the changes you'd made to the arpeggiator. If you say yes, your custom setting is copied to the new preset.
Price: $199 USD
Pros: Clear and simple interface, excellent range of sounds, easy installation, very stable and CPU friendly.
Cons: The interface is slightly bland. I'm personally a fan of Skeuomorphic interface design on plug-ins, here's hoping the interface will eventually gain a bit more.