Practice a lot, and you'll get better. Practice more efficiently, and you'll get better faster. Practice efficiently, rehearse with others, record and reflect on your performance, and you'll become a musical powerhouse. The JamHub is made with this in mind. Clear monitoring, fostering collaboration, and maximum flexibility are 3 concepts that come to mind after my month with the JamHub.
The Concept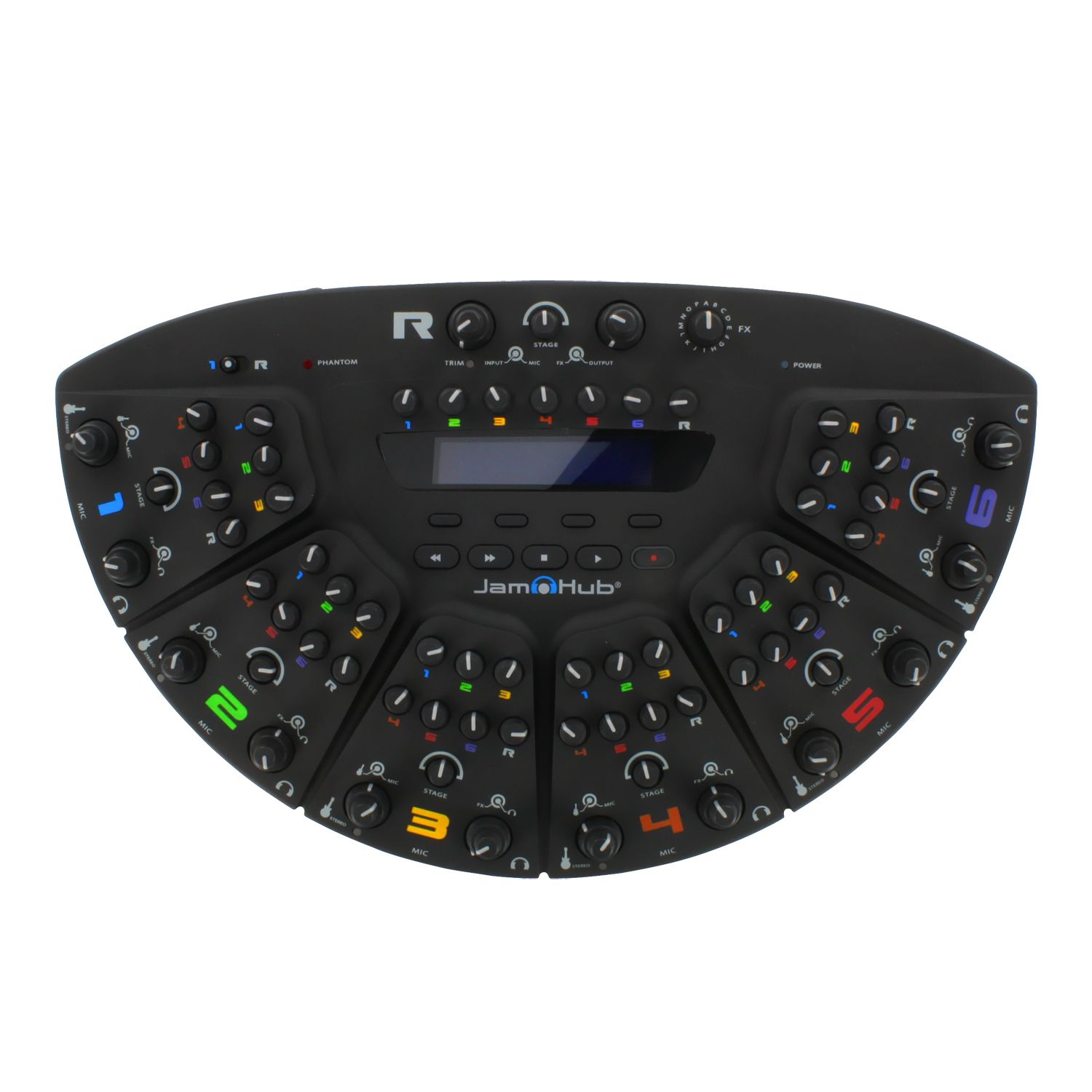 The TourBus model allows 7 musicians to collaborate and rehearse completely silently.
At its heart, the JamHub TourBus is seven mixers, all linked together in a compact way with a ton of features, bells, and whistles. Seven musicians can plug in with either 1/4" TRS or XLR cables (phantom power provided for microphones). Each musician gets their own personal mix that they can adjust on the fly right on the unit. For musicians who are a bit further away from the JamHub, you can use up to 4 SoleMix remotes (2 of which are included with the TourBus) to mix from further away. There is USB out for recording directly to the computer, and you can also record directly to a SD card. If you want to track everything separately, you can also hook in the MT16 attachment and get every track isolated for mixing later.
Versatility
There are so many ways you can use this thing, and I tried just about every single one. Obviously, creating a completely silent rehearsal space is the main focus of the JamHub—if you use all instruments that plug in (I had a Roland TD-12 electronic drum kit to utilize for this review) you can have a completely silent rehearsal, with everyone monitoring a crystal-clear mix through headphones.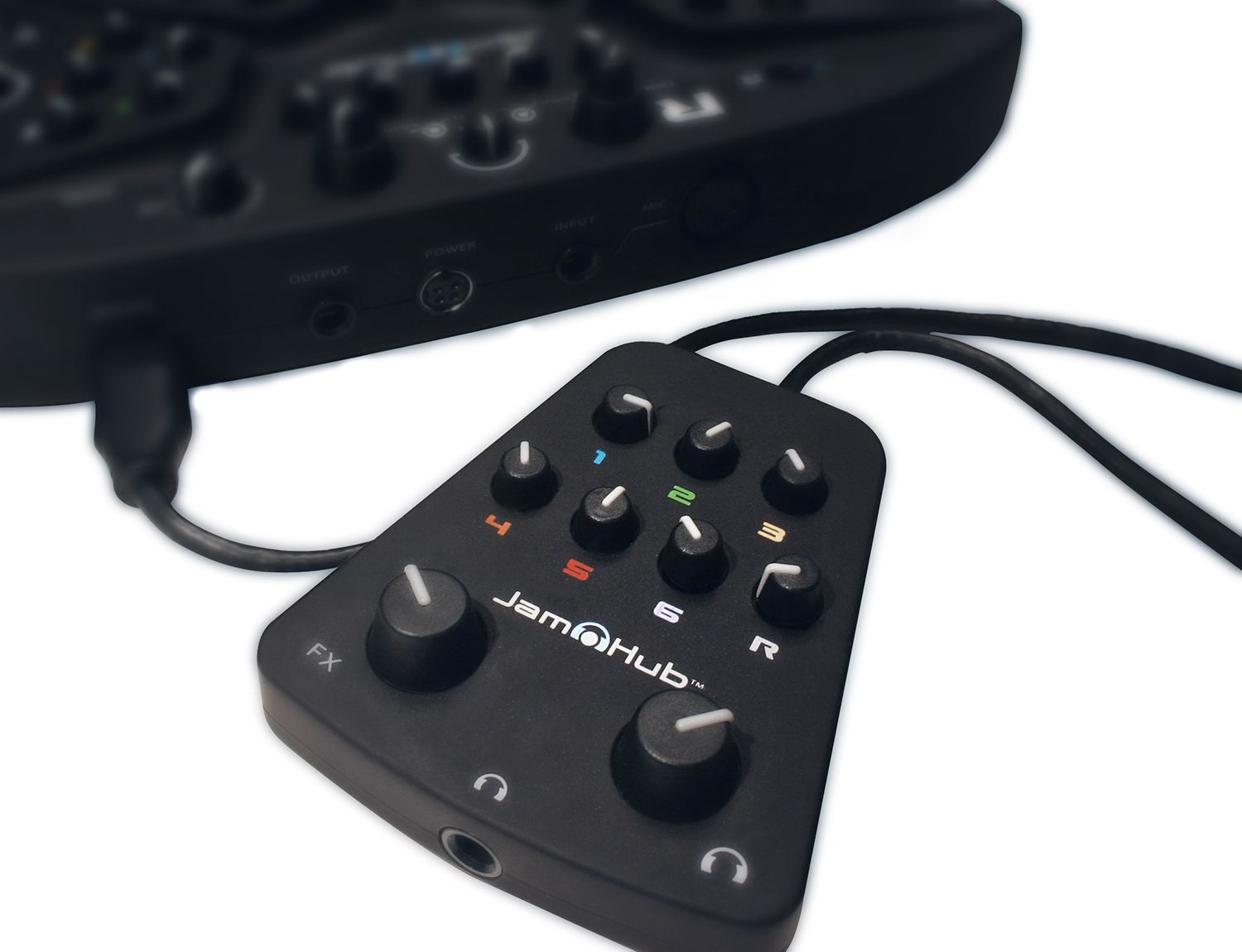 The SoleMix remote allows musicians who are physically further away from the JamHub to adjust their own mix.
After testing that out, I brought the JamHub to a live gig and allowed 4 musicians in the band to create their own personal monitor mixes. We use QSC powered monitors along with an in-ear system so the idea of putting the job of crafting a monitor mix into the musician's hands instead of mine was VERY attractive. (I mean, if you're the guy with the PA you get sick of hearing 'more me' at every gig REALLY quickly!)
The JamHub worked live like a charm. In fact, it cut down on our sound check / setup time dramatically. I routed each instrument to a separate JamHub input and we just played a song while everyone adjusted their own monitor mix. It almost felt weird NOT to spend 20–30 minutes 'dialing in' a perfect monitor setting for each musician!
Getting Schooled
Finally, I used the JamHub to set up a second practice room in the corner of my classroom. I teach a rock performance class and it can get pretty loud in the room. One of the challenges for me is to find ways to keep everyone engaged even when they are not playing, and the JamHub allowed me to have 7 other students rehearse a completely different song in the same room. That's right, I had a complete rock band blasting out a tune at what felt like 'volume 11' and in the corner I had a secondary group working on the NEXT tune with headphones and some electric instruments. If you're a music teacher, teach privately or work at a recording/rehearsal studio then the JamHub can really revolutionize what you do. We even hooked up an iPad using the Tablet Connect pack and had the students practice along with studio recordings and YouTube videos to get a feel for how some of the songs we were working on changed when played 'live'!
Conclusion
As a parent, I loved the JamHub's ability to let me have a full on band practice at 9 p.m. when my kids were asleep. As a studio musician and songwriter, I truly appreciated being able to easily record that band practice and flesh out some ideas later on. As an educator, I was extremely excited to essentially double my rehearsal time by allowing my students to rehearse 2 songs at the same time in the same room. The JamHub is a slam-dunk if you find yourself in any of those roles.
Price: $699
Pros: Creating a virtual rehearsal studio, saving your ears by monitoring at a safe volume, personal mix control when playing/monitoring live, stereo and multitrack (when paired with the MT16) recording ability, low price for the versatility and functionality.
Cons: None
Web: http://jamhub.com