Focusrite has spent recent years drawing on its considerable experience in the pro audio world to make an increasingly diverse range of USB audio interfaces in a range of sizes and specifications. The
Scarlett Solo
is the smallest member of the Scarlett family and though it feels solid and well built with its brushed red aluminium casing, it's certainly lightweight and portable enough to carry around. At the same time it feels robust and properly engineered.
Watch a video overview of the Scarlett Solo here:
On the rear panel you'll find a USB2 port that carries audio and power to and from your Mac or PC, a Kensington lock port and a stereo phono output. You do sometimes find phono plugs used on smaller interfaces, presumably for reasons of space and although they work perfectly, it may mean buying a couple of adaptors for your existing jack cables or indeed new jack to phono cables.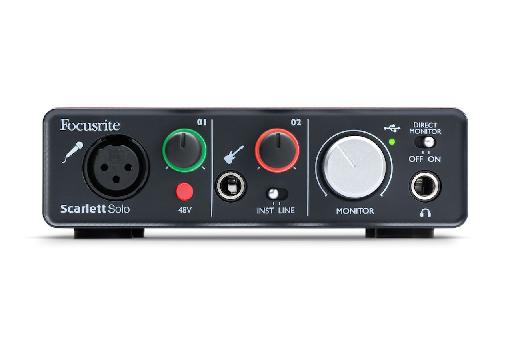 Ins and outs

On the front are two inputs: one is an XLR with a phantom power switch that uses a dedicated Focusrite preamp and the other is a jack input with a switchable instrument/line control. Both have gain dials that feel solid and well-engineered, and a clever halo light system shows green for healthy signal and red for clipping. The large monitor dial is easy to grab even though the unit itself is small and there's a headphone output on the front. Perhaps surprisingly for such a compact interface there's direct monitoring support too, with a switch on the front panel. Latency in recording can still be an issue even with powerful computers so this is a welcome addition. Internally the Scarlett Solo supports up to 24-bit, 96 kHz sound and has a dynamic range of over 105 dB.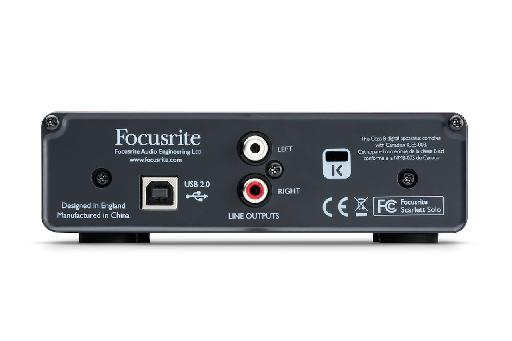 You get some extra goodies too, including downloadable copies of Ableton Live Lite, the Focusrite Scarlett plug-in suite consisting of reverb, gate, EQ and compression, and the Novation Bass Station plug-in in VST and AU formats. Finally, 1 GB of Loopmasters samples rounds off the package, so you get the software you need to start making music as well as the hardware through which to record.
Going Solo?

The Scarlett Solo is a great little interface and worked perfectly in my tests. Unfortunately it's not iOS-ready, which seems a bit of a shame as that would be a really nice bonus. The iTrack Solo which shares a near-identical feature set and design does have iOS compatibility and comes with a 30-pin connector cable, though its street price does seem to be a little higher. It also works with Macs and PCs, but doesn't come with the Loopmasters samples. So if you don't need iOS compatibility the Scarlett Solo represents better value, given that it is very similar in design. Ultimately you're getting a Focusrite preamp, direct monitoring and some bundled software for well under £100, and that's got to be a good thing.

Price: $99.99 / £79.99
Pros: Very portable and well built. Direct monitoring. Halo light system. Phantom power. Good bundled software.

Cons: Not iOS-compatible. You may have to add phono-compatible output cables.