Most keyboardists are aware of the XKey from CME. We gave it a pretty stellar review here at AskAudio, and I still take mine with me on the road just about every time I go out. The fact that a keyboard can be so compact and yet still have full sized keys makes it perfect for practicing tough riffs in the hotel room, or simply composing with a low profile. With the latest iteration, however, we were all most interested to see how the implementation of Bluetooth LE MIDI would work, and if the Xkey could realistically used wirelessly. At Keyfest 2016 I was able to get my hands on one and bring it back to AskAudio HQ and put it through its paces, and the results are in!
Design
The Xkey Air is built almost identically to its predecessor. When they say they ditched the cables, they weren't kidding. The only major difference in design is the removal of the Xcable breakout cable which provided sustain, expression pedal, and standard MIDI. Truth be told, for what this keyboard is designed to do, I don't miss that at all. I have my original Xkey and the Xcable sat in the box the whole time. This keyboard is all about going wireless, and it does that in spades.
There is a single port on the side for charging, and it uses a standard USB Micro cable (albeit a very, very slim one) to connect and charge. You can use the USB cable to connect in the standard wired configuration as well. The newly added power button and LED indicator is right near the USB port.
Functionality
The first thought on my mind, and likely on yours was, "what's the latency like with Bluetooth?" I'm happy to report that the Xkey Air performs absolutely admirably when used wirelessly. There really isn't any perceptible latency or any appreciable difference from performing with a cable. Truthfully, I think that for the typical user, the latency bottleneck will be with their computer or chosen software instrument and not likely the Xkey Air.
The immediacy of being able to use the Xkey Air within seconds and with no wires is both liberating and incredibly pleasing. It's really inspiring that the technology is progressing to the point where the physical connections and configurations are being pushed aside and more focus is being placed on the actual playing. You can turn on the Xkey air, unlock your iPad, and utilize the hundreds upon hundreds of amazing music apps and have some truly incredible sounds at your fingertips. Personally, I couldn't stop toying around with Moog's Model 15 and the Xkey air for nearly a week straight.
The folks at CME offer a product as well called the WIDI Bud which is a tiny USB dongle that allows for ultra high speed Bluetooth with firmware built right into the chip. They say that this can both allow for legacy computers and devices to use Bluetooth LE 4.0 as well as reduce the latency even more if desired. To be honest, I had no need to pick one up. The standard setup with both my MacBook Pro and iPad works flawlessly, and I don't notice any bothersome lag in the slightest.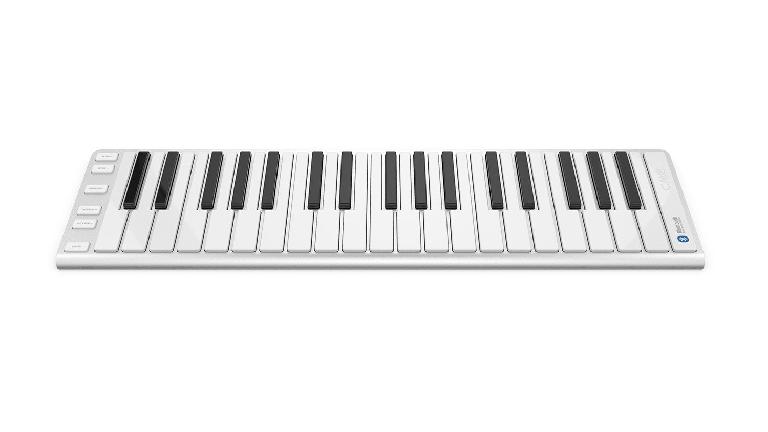 Conclusion
The Xkey Air is a fantastic keyboard that can fit a lot of needs. From a practice keyboard to a rock-solid setup with an iOS device, you can't really go wrong here.
Price: $299 for the 37 note / $199 for the 25 note
Pros: Wireless connectivity, long battery life, full-sized keys, sleek design, compact build
Cons: Price point may be a barrier for some