Arturia has a great pedigree when it comes to making recreations of classic instruments, and Spark Vintage Drum Machine is a more entry level of the Spark Creative Drum Machines software, with more of a focus on classic beatboxes. Supplied in all major plug-in formats and as a standalone application, it is a modestly sized download and requires an internet connection for authorization, though setup is very simple.
The main part of the interface is a pretty conventional drum sequencer sort of layout with eight pads at the bottom, though you'll almost certainly want to use a MIDI keyboard or other trigger to play it in a more hands-on fashion, or using its advanced sequencer section. It generates its sounds using a mixture of high quality samples and the company's True Analog Emulation (TAE) synthesis, and there are 30 classic drum machines to choose from. These are split broadly half and half between using the TAE and the sample-based and hybrid engines, though you'd be hard pressed to tell which was using which in everyday operation. All the classics are here from Roland's TR-808 and 909 through models from Linn, Oberheim, Korg, Casio and EMU amongst others. They sound great too; punchy, warm and powerful, and will certainly suit anyone making electronic music.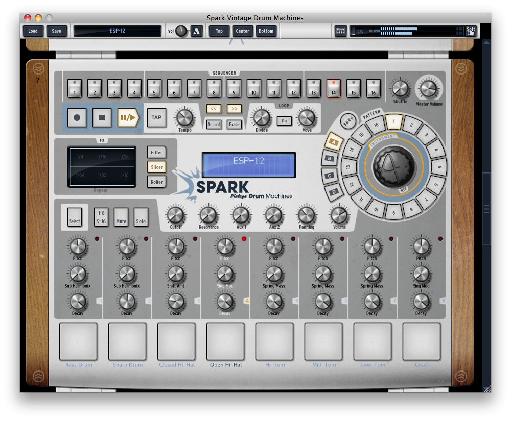 The interface will be familiar with anyone who has used a real drum machine. One interface, 30 beatboxes.
Sounds can be edited using the controls on the main panel, and also in more detail in the lower panel, and the Studio section can be revealed by clicking a button. Here you can mix and match any element of any kit, swapping for example the hi hats from an 808 into the relevant slots on a Linn model, or anything else you can imagine. So the possibilities for creating custom kits are, if not quite infinite, certainly very flexible. Here you can also change the pan and volume of sounds as well as controlling master parameters like filtering, pitch and click. For better control, use the Mixer section with its two FX returns and also the Library tab, where you can manage projects, banks and patterns.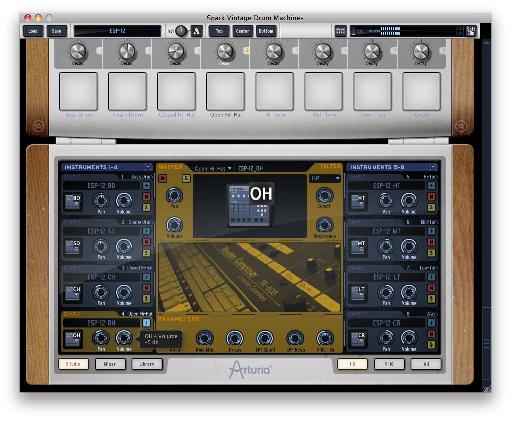 Edit sounds in detail, swap them and submix your kit to create a huge range of possible virtual beatboxes.
Back in the main screen you get 16 sequencer buttons with pattern length expandable up to 64 steps as well as shuffle and three great live performance controls with an X/Y pad '" filter, shuffle and roll for creative stutter creation. Loops can be divided and moved on the fly for excellent live performance tricks, and by expanding the upper section of the synth, you get a pattern and song sequencing view. Here you can work creatively with programming all the parts of a beat and sequencing patterns together into songs. Expand a drum's channel to get control over the velocity of every hit. The sequencer is really friendly to use and in the Song section you can assign patterns to the circular selector. Back in the main screen, flip between these on the fly to create new arrangements. You can even change the drum machine associated with a pattern while it is playing back.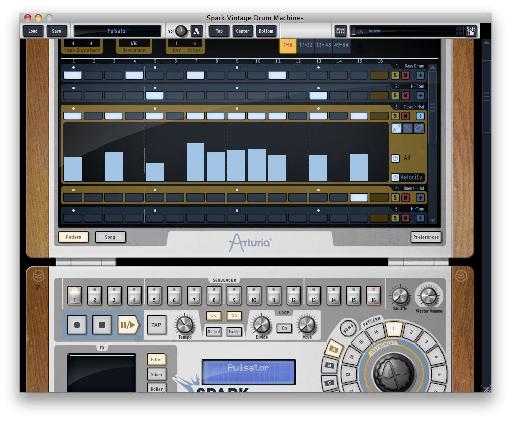 Edit patterns and songs in more detail using the sequencer section, expandable from the top of the main control section.
Spark Vintage Drum Machines is a very user-friendly and great sounding instrument, with more than enough sounds and flexibility to satisfy even demanding electronic producers. It works well in standalone mode and inside your DAW with its multiple outputs it will add a distinctly retro flavour to your productions. At the price, it's also an affordable way to get great beatbox sounds without spending thousands on eBay.