Apogee is perhaps best known for its high end studio hardware but in recent years they've also been developing more compact kit that works both with your Mac and your iOS device. The original MiC was introduced alongside the iPad 2 and GarageBand for iPad as a new way to interface directly with the device and record pro-quality audio directly in. The MiC 96k is an updated version that adds important new features to keep pace with changes in Apple's hardware.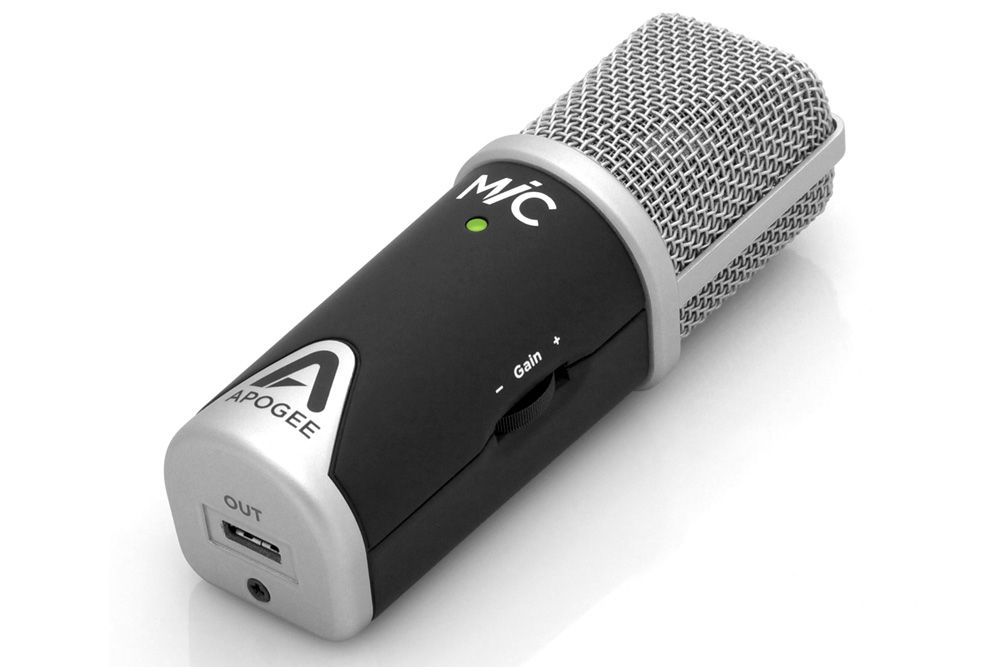 It's smaller than you might imagine.
Small is beautiful
MiC 96k is small : much smaller than you'd imagine from a picture, but it's solidly built and feels like a serious piece of kit. In the box you get some vital accessories comprising three cables: Lightning, 30-pin and USB, all terminating in the microphone's own proprietary connector which fits securely into its base. You also get a mic stand adaptor and a tabletop stand so you won't have to go shopping for accessories. The controls onboard are straightforward, with a multi-state LED indicating power, signal and clipping, and a gain knob to control input level. There isn't a headphone output built in, so you have to monitor using your device's headphone out or another output connected to your Mac.
Setup is nonexistent since the mic is class compliant and requires no drivers on iOS 6.1, OS X 10.7.5 or higher. It's bus powered by your device and allows up to 96 kHz, 24-bit recording via its onboard converter, offering a PureDIGITAL connection directly into your device. There's a preamp onboard of course as well as a studio quality cardioid condenser capsule with a polar pattern.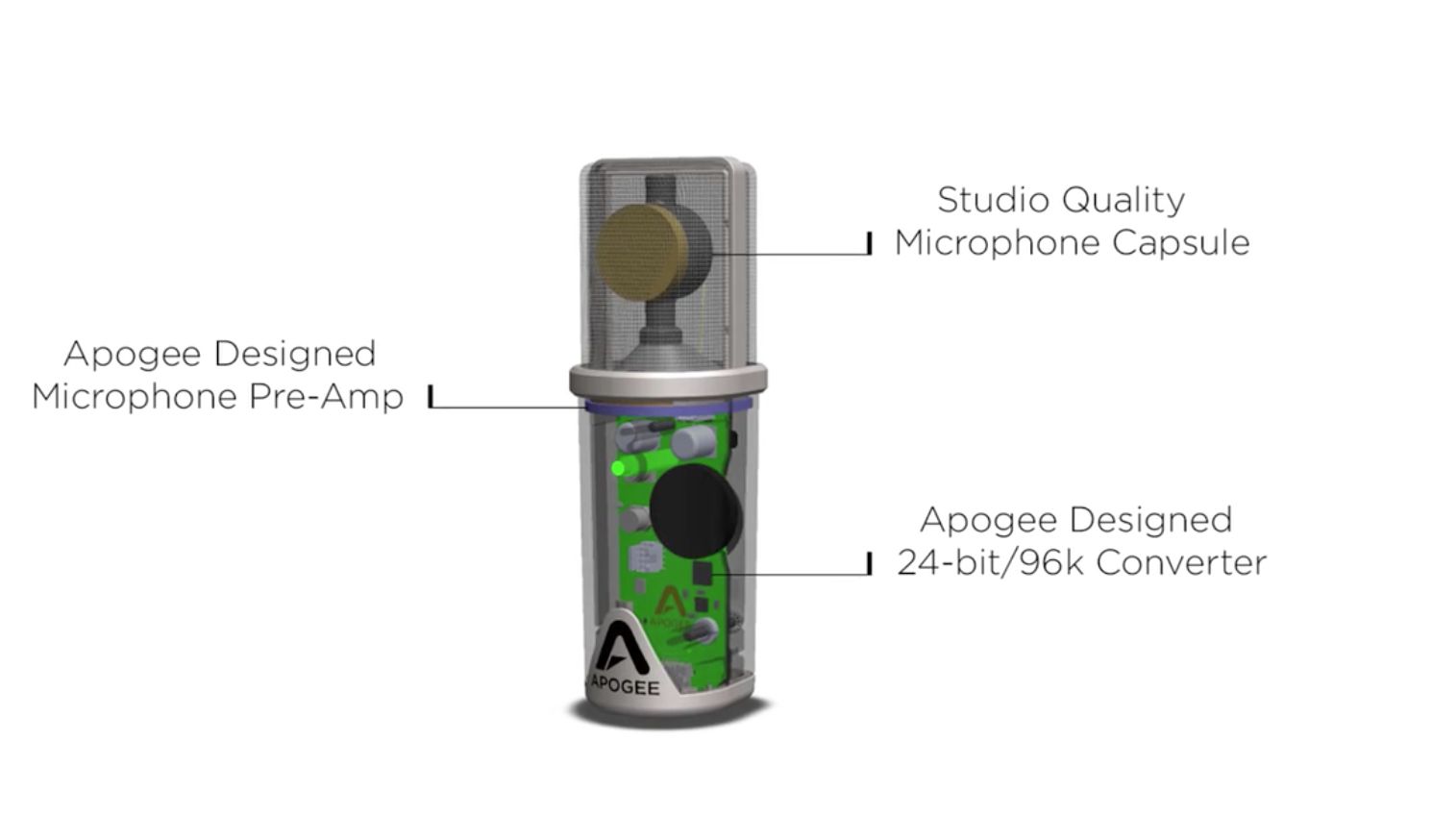 Apogee crams some top-quality components into the compact casing.
What's it for?
Apogee suggests that MiC 96k is ideal for recording vocals and acoustic instruments as well as interviews, podcasts, voice-over and audio for video. In my tests it captured a very clear voice signal in a variety of recording situations and setting a level was simple using the onboard knob and level LED. Although the promotional video shows a singer performing directly into the mic with no popshield, I'd always recommend using one with any kind of mic or vocal, because they're inexpensive and can save lots of headaches. With non-plosive sounds like acoustic instruments this is less of an issue.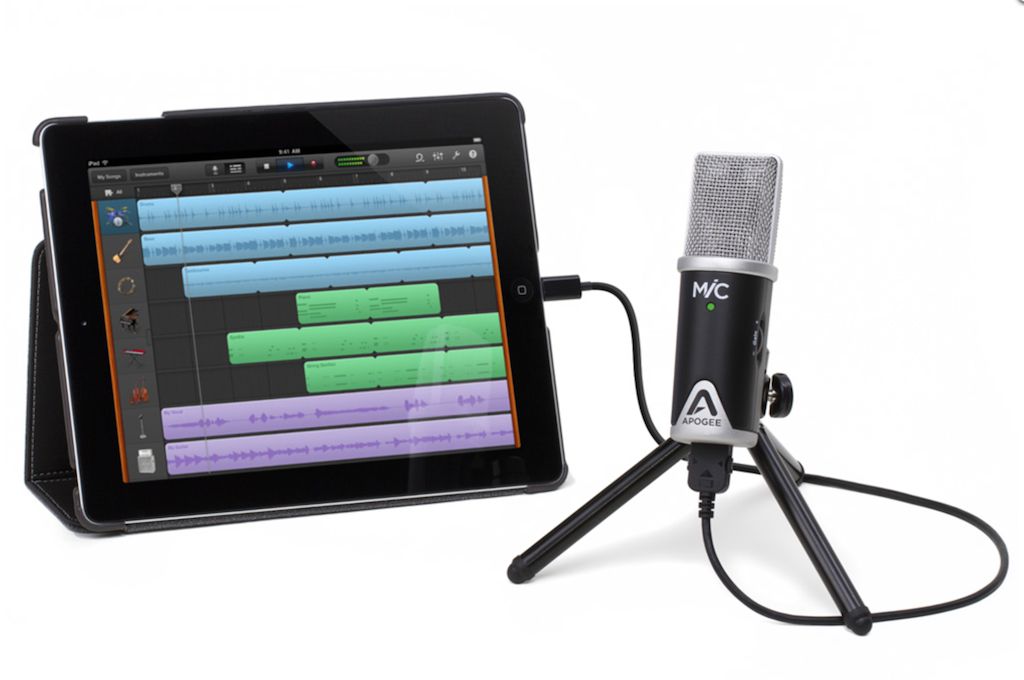 It works with your iOS device or your Mac.
The mic worked equally well on my iPad Air and MacBook Pro, with results comparable to a decent and much larger studio condenser mic. Tested with GarageBand and Cubasis on iPad and Logic Pro on the Mac, I was able to make great-sounding vocal recordings both for music projects and in an interview style. And though it may seem like a small thing, the bundled desktop tripod stand is incredibly useful for any kind of voice-over recording. As with any microphone you'll want to be in a relatively quite space to minimize external noise.
One thing I did experience initially was some latency during monitoring when the mic was first connected to the iPad Air. It turned out the cure was to quit all the currently "sleeping" apps using the multitasking system, and the latency went down to a very low level. This would seem to be an issue with iOS, and you shouldn't really have to do it, but it's worth knowing about. Once this was dealt with however, MiC provided a hassle-free recording experience.
Price: $229
Pros:Very portable. Great build quality. Zero setup. Excellent sound.
Cons: No built-in headphone output for direct monitoring.
Web: www.apogeedigital.com