Ampkit for iOS has been downloaded by over 600,000 iPad and iPhone users (at the time this review was written!) and now the developer has brought the software to the desktop, with a new 64-bit app designed specifically for OS X 10.7 and 10.8. A fairly modest sized download, it is available from the Mac App Store for an introductory price of £34.99 / $49.99 and doesn't require any special USB keys or authorisation.
This isn't a plug-in but a standalone suite of guitar effects with a few extra capabilities thrown in as well. As such it should be thought of as a product in its own right rather than an add-on for Logic, GarageBand or any other DAW. Fire up the software and you are presented with a simple, very Mac-like interface with some different sections. The first thing to do is go into the Preferences and set up audio in and out, which is quick and painless. You can set gain here but not latency: for that you'd have to go to the device in Audio MIDI Setup.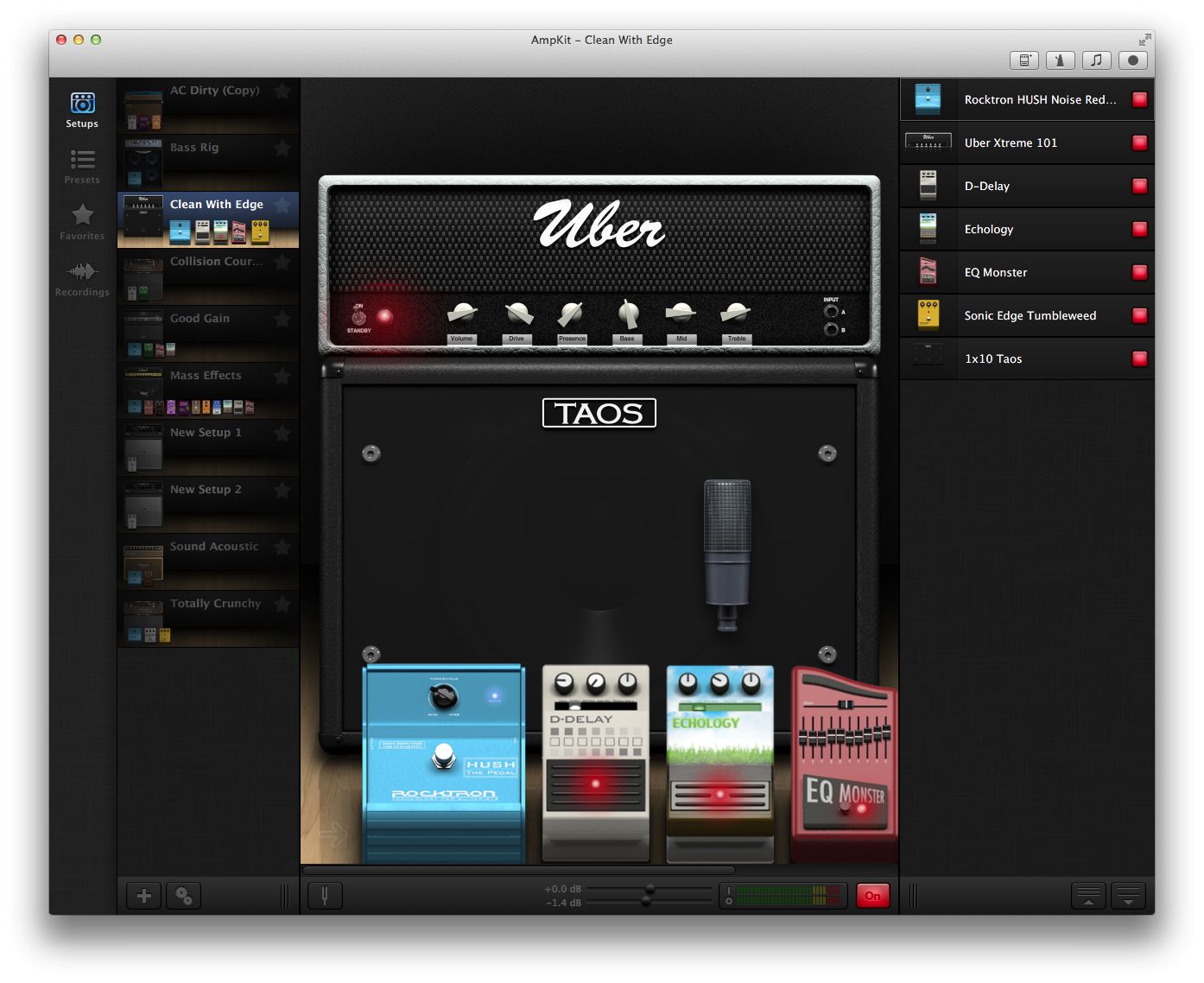 The interface is slick and Mac-like, if a little dark.
With sound running in, you can go to the Setups tab at the top left and load a setup, which is a combination of amp, cab and pedals. The GUI feels slick and responsive, though the non-selected screen elements are a little too dark, and could do with being slightly brighter despite being in the background. Select a setup and your sound gets processed. Click on any device onscreen and it is highlighted in a device list on the right, and its controls shown. You can edit the settings of any device or mute it entirely in this panel. I must admit that I instinctively went to change settings using the dials and buttons on the pedals and amps themselves, only to find this isn't possible. Pedals can be stomped on and off in the main display area, but that's it.

Pedals, amps, mics and cabs are tweaked using the control panel to the right, not the dials and switches on the devices themselves.
Extensive use is made of right-clicking in the interface, and you can add and remove pedals and cycle through presets quickly and easily using the contextual menu. The next option down from Setups is Presets and there are 137 of these, incorprating a selection of the app's 22 amps, 28 pedals, 28 cabs and 8 mics. All your favorites are here and they sound great, crunchy, dynamic, warm and authentic. There's a Recordings section as well and this lets you import files to jam over or manage your own recorded performances. One interesting feature here is the ability to "re-amp" a performance, changing part or all of the rig as a recording plays back. You can make tweaks or replace entire parts of the setup. Reading between the lines, the app must be re-automating the effects over your untreated recording, and this works well.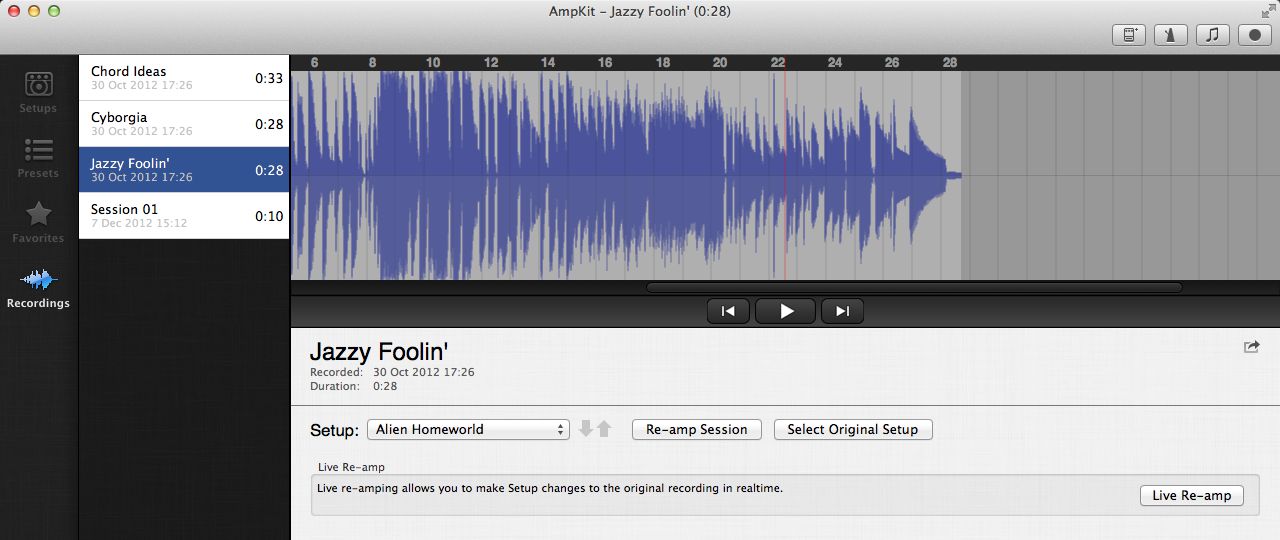 Re-amp your performance by changing setups post-recording or tweaking settings on existing modules.
There's a nice Mac feel to the interface and the floating windows reflect this. There's one for gear: drag and drop any kind of amp, cab or pedal into a setup, and there's also a floating metronome, a backing track manager and a simple record window to let you capture your performances. It's not a DAW, but it's great for practicing, jamming and recording your takes. You can export as dry, wet or wet plus backing tracks and you're able to share setups with the iOS versions of the app.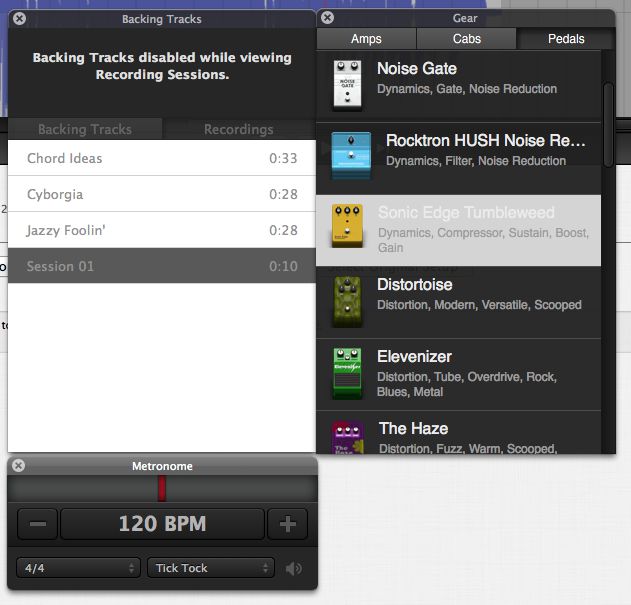 The floating windows are handy for managing kit, backing tracks and for recording.
AmpKit is a great sounding app that's very easy to use and offers lots of flexibility for any Mac user. Record bass, guitar or any other sound through it in the studio or on stage for excellent tones. There's a free trial available at http://ampkitmac.com.