Algoriddim has been making DJ apps for the Mac and for iOS for some time and djay Pro is its latest version for OS X 10.9 and above. It shares a common look with its iOS siblings, though as you might expect it has more functionality since it's a full Mac app. djay Pro can stream music directly from Spotify with advanced integration and also from your iTunes library, though any iTunes Match tracks need to be downloaded first, as is always the case. You can drag and drop music files from anywhere on your Mac in too, and an Automix feature identifies tracks that the app thinks will sound good together.
Multi Talented
You get up to four decks and can switch between turntable and waveform view, with horizontal or vertical waveforms available. Personally I found horizontal waveform view the most useful because it's what I'm used to, but you can pick whichever suits you best. There are the kind of DJ controls you'd expect including pitch and tempo for each deck, EQ, cueing and loop points and BPM sync and beat matching. Scrolling around a waveform or moving the virtual decks will scrub the audio with a classic vinyl effect. Under the hood, the app uses the latest technologies: it's 64-bit, uses multiple cores for audio analysis and supports Retina displays. It also manages to display frequencies using colors, making it simpler for example to identify kicks or snares within the waveform.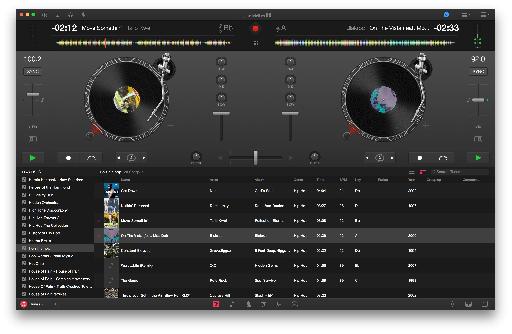 Two turntables and a microphone, as Beck once sang.
In Use
Using djay Pro is fairly straightforward. The track browser works like a cleaner version of iTunes and provides helpful ways to preview and load tracks as well as building new playlists. The beat matching is pretty good though not perfect and I found that more care and attention was needed when matching up tracks than in Traktor Pro. Where NI's app just seems to get it right most of the time, here I ended up doing more manual adjustment of beat grids, at least with hip hop. The key and tempo matching worked well.

There are effects available for each deck though you only get the Essentials pack of five as standard, with over 30 others developed by Sugar Bytes available as in-app purchases. Some may grumble about this, though to add the complete set is a one-off £6.99 cost, so it's not too bad. Built-in effects are controlled using clever X/Y pads, instant punch-in presets or manual controls. Crucially though, each deck can access your Audio Unit plug-ins so you can load up any effect you happen to have installed. This is a big deal and really expands the usefulness of the effects section, even if it seems slightly buggy at present.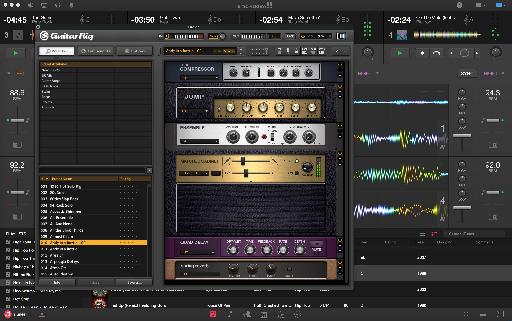 Yes, you can load any AU plug-in into a deck!
MIDI control is supported so you can connect one of the many supported devices or use MIDI learn to build your own maps, and it's possible to record your performances to an audio file as well. A built-in Sampler section can be called up and this lets you trigger samples on the fly, choosing from bundled sounds, adding your own or sampling directly in from any deck or a microphone.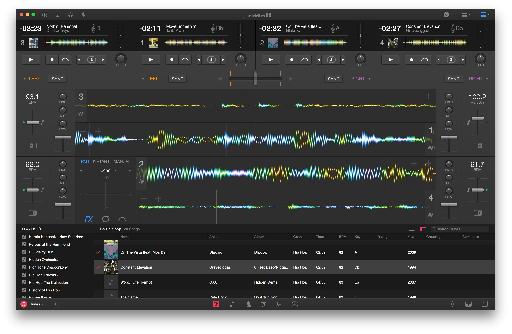 Use up to four decks and choose different views.
Final Thoughts
djay Pro is a thoroughly modern Mac app and takes advantage of the latest in multi-touch, cloud and under-the-hood technology. It feels slick and well designed, and on the whole should prove easy for most people to pick up. Given that their prices aren't too far apart, comparisons with Traktor Pro are inevitable. As someone who has used both, I'd say Traktor's beat matching is more accurate, more often. However djay Pro can access your Audio Unit plug-ins, which is incredibly useful, and also has advanced Spotify integration built in. A free trial of the app is available for you to check out for yourself.
Price: $49.99/£39.99

Pros: Cutting edge specs. Flexible views. Great browser. Advanced Spotify integration. Access your AU plug-ins. Pretty friendly to use.
Cons: Charging for extra effects could seem a little unfair to some. Beat matching can require care to get right. Using third-party plug-ins during live performance generally increases risk of crashes.