Creating drum beats with Ableton Live is now almost a completely mouse free experience for those who own Push. Directly from the hardware itself you can select samples, program patterns, add FX, adjust swing and a whole lot more. In this tutorial, I will look at creating a glitch-hop beat as the DNA of typical glitch-hop drums utilizes these aforementioned features as much as any other genre. However, the techniques can be applied to any type of beat.
Set up
First of all we need to create a drum rack and place suitable samples on it. Beforehand, you could create a drum rack with all the drum samples you need on your computer, but this is relatively simple to do with Push either. Let's take a closer look.
Create a new track by pressing the Add Track button on Push. On the left-hand side of the LCD screen, use the scroll buttons to navigate to Drum Rack. The subfolders open up to the right. As we want to start with a blank canvas, tap the rightmost green button (sixth selection control button) to load an empty drum rack onto the track.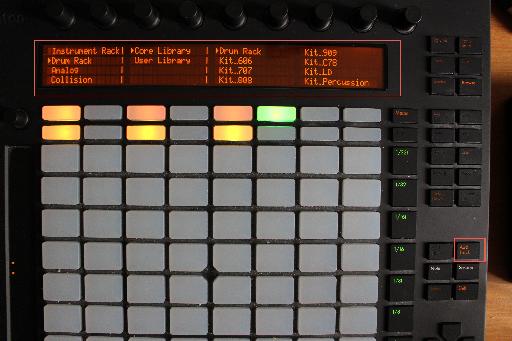 Now let's find some samples. Push allows you to add individual drum hits to each slot. In Note mode, tap one of the Drum Rack pads and then hit the Device button. Press the Selection Control button underneath '