iOS aún no tiene un equivalente de audio al Carrete. Hasta que lo haga, la elección del lugar para compartir su mezcla por proyectos de GarageBand puede hacerlas un poco difícil de acceder. Es importante ser conscientes de las limitaciones de cada método, en caso de que necesite acceder a ellos en cualquier situación. Así que cuando se mezcla en su proyecto de GarageBand en tu dispositivo iOS, ¿dónde lo pusiste?
Opción 1 - Subir a SoundCloud (o Facebook, o YouTube)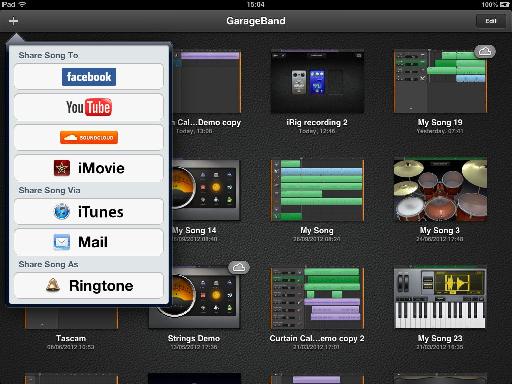 GarageBands menú Compartir.
Tap the Share button in GarageBand.

Choose SoundCloud - this will mix down your project and upload an .m4a file.

Enter your SoundCloud login details.
Esta es una gran solución, pero sólo si usted sabe que usted siempre tendrá Wi-Fi (o 3G) de acceso. Esto no es siempre el caso, sin embargo, especialmente cuando estás de viaje, y cuando esté desconectado, sus mezclas seguirá siendo frustrantemente fuera de su alcance.
Opción 2 - Compartir a través de iTunes
Esta es una opción útil, pero sólo si tienes un Mac conectado a su dispositivo iOS.
Tap the Share button in GarageBand

Choose Share Song Via iTunes
Tap the iTunes option - this will mix down your project and create an m4a file.

The files appear in iTunes (on your Mac) in the File Sharing window (select your iOS device in iTunes and click the Apps tab).

Save the file to your Mac.

Add the file from your Mac to your iTunes music library and re-sync your iPad.

Opción 3 - Abrir en ...
Por desgracia, la versión actual de GarageBand no ofrece abierto en otra aplicación ... desde el botón Compartir. Manzanas aplicaciones de iWork han añadido este, por lo que sin duda puede ser sólo una cuestión de tiempo? Pero, mientras tanto usted puede acceder a esta opción si decide compartir Canción Via Mail:
Tap the Share button in GarageBand.

Choose Share Song Via Mail.

Email the file to yourself.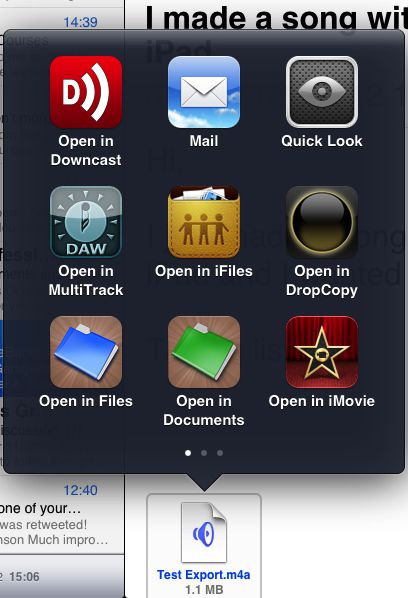 Mantenga pulsado el archivo adjunto.
En su aplicación de correo, encuentra el mensaje, luego toque y mantenga presionado el apego a la intemperie en diálogo. Varias opciones aquí son dignas de consideración:
Abrir en una aplicación de reproductor de podcast como Downcast .

La apertura de su canción en Downcast.




Abrir en una aplicación de editor de audio como Hokusai o TwistedWave .

AudioCopy en Onda torcida.




Estas opciones requieren que enviar por correo electrónico los archivos a ti mismo mientras está en línea sin embargo, así que si usted está fuera de línea (y sin acceso a un Mac) y quiere preparar mixdowns para la reproducción, es suficiente con una canción de opciones sobre acciones a iMovie.




Compartir Song To iMovie

Pulse el botón Compartir en GarageBand.

Elige Compartir Canción Para iMovie.

En el proyecto de iMovie puede agregar imágenes fijas a dar al archivo de audio de una identidad visual pero recuerde que debe cambiar el tamaño de su valor predeterminado todavía seis segunda longitud para que pueda escuchar el archivo de audio completo!

Comparta el proyecto de iMovie a la Lista de Cámara


Compartir el proyecto de iMovie para el Carrete.




En la aplicación Fotos, puede organizar su audio (que ahora es video) en álbumes para hacer más fácil la búsqueda.