iOS n'a pas encore d'équivalent audio de la pellicule. Jusqu'à ce qu'il fait, le choix de l'endroit où partager votre mixés projets GarageBand peut les rendre un peu difficile d'accès. Il est important d'être conscient des limites de chaque méthode, au cas où vous avez besoin d'y accéder en toute situation. Ainsi, lorsque vous mixer votre projet GarageBand sur votre appareil iOS, où faut-il le mettre?
Option 1 - Transférer sur SoundCloud (ou FaceBook, ou YouTube)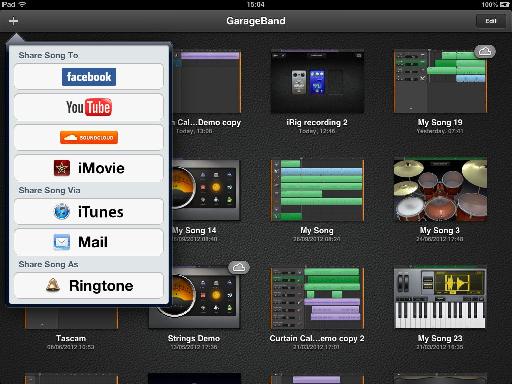 Menu Partager GarageBands.
Tap the Share button in GarageBand.

Choose SoundCloud - this will mix down your project and upload an .m4a file.

Enter your SoundCloud login details.
Il s'agit d'une excellente solution, mais seulement si vous savez que vous aurez toujours une connexion Wi-Fi (ou 3G) d'accès. Ce n'est pas toujours le cas en particulier lorsque vous êtes en déplacement, et quand déconnecté, vos mixages restera désespérément hors de portée.
Option 2 - Partager via iTunes
Cette option est utile, mais seulement si vous avez un Mac connecté à votre appareil iOS.
Tap the Share button in GarageBand

Choose Share Song Via iTunes
Tap the iTunes option - this will mix down your project and create an m4a file.

The files appear in iTunes (on your Mac) in the File Sharing window (select your iOS device in iTunes and click the Apps tab).

Save the file to your Mac.

Add the file from your Mac to your iTunes music library and re-sync your iPad.

Option 3 - Ouvrir dans ...
Malheureusement, la version actuelle de GarageBand n'offre pas ouvert dans une autre appli ... de son bouton Partager. Applications iWork pommes ont récemment ajoutées ce, alors il peut certainement être qu'une question de temps? Mais en attendant, vous pouvez accéder à cette option en choisissant de partager Chanson Via Mail:
Tap the Share button in GarageBand.

Choose Share Song Via Mail.

Email the file to yourself.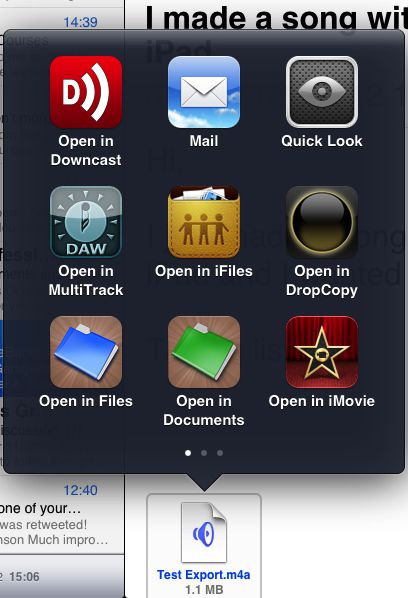 Appuyez et maintenez la pièce jointe.
Dans votre application Mail, retrouvez l'email, puis appuyez et maintenez l'attachement de l'Open En boîte de dialogue apparaît. Plusieurs choix sont ici à considérer:
Ouvrir dans une application de podcast joueur comme Downcast .

L'ouverture de votre chanson en Downcast.




Ouvrir dans une application Audio Editor comme Hokusai ou TwistedWave .

AudioCopy à la vague torsadée.




Ces options ne vous oblige à envoyer des fichiers à vous-même tout en ligne cependant, si vous êtes déconnecté (et qui n'ont pas accès à un Mac) et que vous souhaitez préparer mixages pour la lecture, vous n'avez qu'une seule chanson d'options sur actions à iMovie.




Chanson Pour iMovie Partager

Appuyez sur le bouton Partager dans GarageBand.

Choisissez chanson Share iMovie.

Dans le projet iMovie, vous pouvez ajouter alambics à donner au fichier audio une identité visuelle mais n'oubliez pas de redimensionner le reste de son défaut six deuxième longueur afin que vous puissiez entendre votre fichier audio entier!

Partagez le projet iMovie pour la Pellicule


Partage du projet iMovie pour la Pellicule.




Dans l'application Photos, vous pouvez organiser vos fichiers audio (ce qui est maintenant la vidéo) dans des albums afin de faciliter la recherche.