The Elektron Analog Rytm 8 voice drum computer has been making colossal waves since its release. Its powerful sequencer, parameters locks, multicolored velocity/pressure sensitive pads, and massive low end, in my opinion, make it one of the leading hardware drum machines on the planet.
There is no shortage of features packed into this incredible unit. Sounds can be programmed directly through the hardware itself by punching in steps or playing the pads in live record mode. Sequencing is more fun than a barrel of monkeys and I've been able to develop combinations of patterns unique to this machine.
To bridge worlds and further expand my options, I combined the Rytm with two powerful allies… Ableton Live 9 and Push. Tapping into the strengths of all three, the results were hugely satisfying and have led to some inspiring sequencing techniques.
Setting up and Syncing
If you're unfamiliar with syncing Ableton Live and external gear or just need a refresher, here are several informative AskAudio Magazine articles to get you up and running:
Tracking Korg Volca Beats or Any Monophonic Drum Machine in Ableton Live
Using Ableton Push and Drum Racks to Control External Hardware.
Integrating External Instruments with Racks in Your Ableton Live Rig
Sync up!
After dialing in the initial preferences, Live and the Rytm should be synced fittingly. I've chosen for Live to be the sync master, controlling all clock and transport functions. Of course, this arrangement can be reversed if desired.
Note: Conveniently enough, MIDI is transmitted directly to and from the Rytm through a standard USB cable. MIDI Sync preferences for the Analog Rytm are accessed via: Global > MIDI Config > MIDI Sync.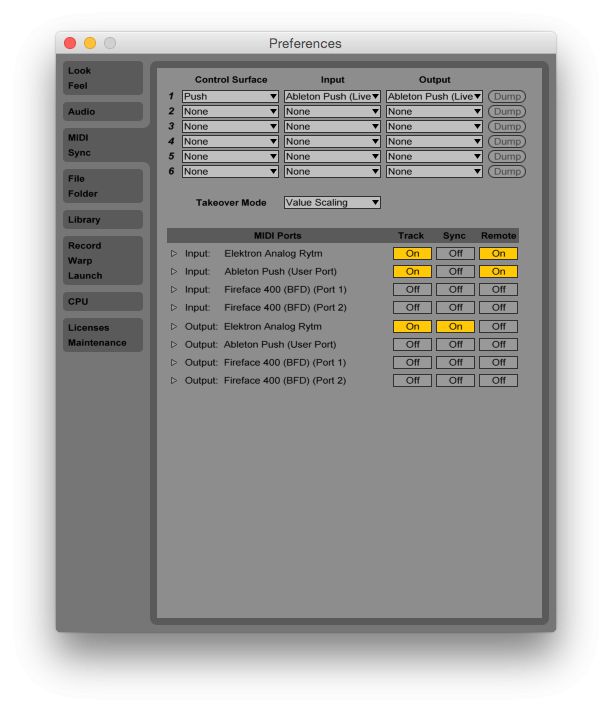 MIDI and External Instrument Racks
Routed through Live, the simplest setup for a MIDI controller (PUSH) to control an external device is by creating a MIDI track, instantiating an external instrument rack and setting the correct input and output type settings.

From here you can use PUSH's 'Note' mode to play the Rytm's synths, samples or combination of both. In this configuration, MIDI notes C-2 to B-2 will trigger each of the 12 sounds assigned to the corresponding Rytm tracks provided they are all set to their default channels. If not, these settings can be configured accordingly in the Global preferences (MIDI Config > MIDI Channels).
Note: To play all of the Rytm's tracks individually, PUSH's Note Mode can be set to 'chromatic' allowing access to every half step.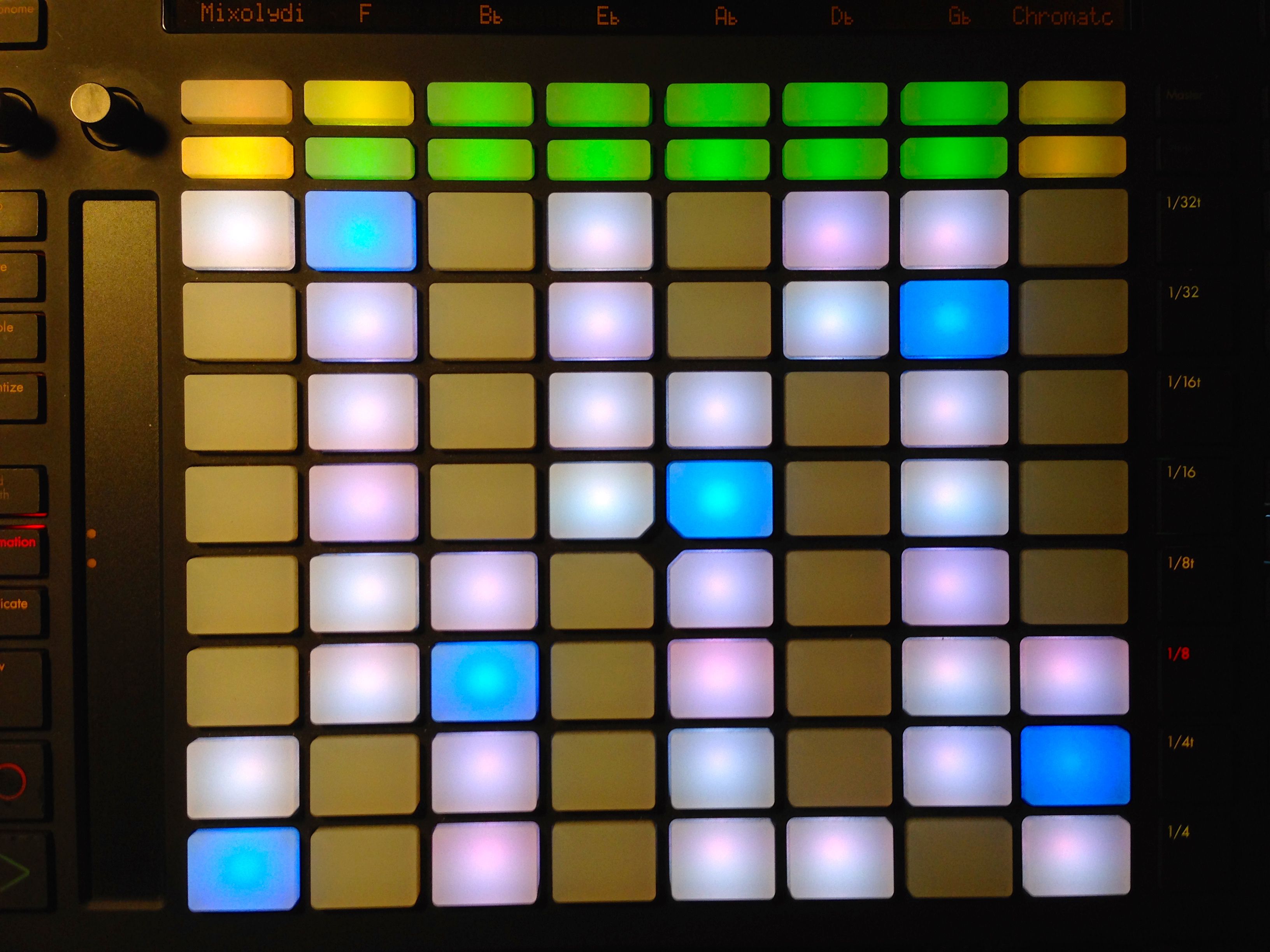 Moving up the scale past MIDI note B-2 triggers the Rytm's active track in any of its 48 chromatic variations. Essentially, this is the same as playing the Rytm's pads in CHROMATIC mode where sounds are scaled from lowest to highest pitch. It works wonders for fashioning sensational melodic bass/lead synth passages.
Note: The Rytm needs to be chromatic enabled if any pitch variation is to be heard. This can be accessed via the Sound Settings menu (Function+Mute) on the Analog Rytm.

Drum Racks
Another variation employs PUSH's Live's drum step sequencer to control the Rytm.
Start with an empty drum rack and load twelve external instrument racks into individual drum cells. Set MIDI "Receive Play' note values to correspond to each of the tracks on the Rytm. By default these are assigned C1 through B1. Likewise, each of the external racks' MIDI To settings need to match channel assignments on the Rytm. By default these are MIDI channels 1-12.

Unless you are routing audio out individual outputs on the Rytm, be sure to set the Audio From settings to no input for all but one instance of your external racks. Otherwise you will be duplicating the incoming signal twelve times and overloading the drum rack.
Recording Sequences
After accomplishing these steps, users can sequence just as if using an ordinary drum rack.
MIDI sequences can be played and recorded into the Rytm quite effortlessly. Hitting play on Live's transport will start playback. Pressing Record+Play on the Rytm initiates live record mode. Hit record again to stop recording.
Repeat Mode
Additionally, PUSH's repeat mode has been a handy implement for recording patterns. Switching it on and holding down a pad allows users to record a continuous succession of notes ranging from 1/4 to 1/32t. Beat divisions can be changed on the fly and considering the pads are velocity sensitive, the results can be quite dynamic and expressive.
The Analog Rytm has Retrig Mode which generates similar results. At the time of writing this article however, there was a limitation that the retriggered notes could not be recorded in realtime via Live Record mode. Never fear, there is a very convincing rumor that this will be rectified in a near future update. For the mean time, PUSH has done an excellent job filling in the gap.
Groove Pool
Take advantage of Live's advanced groove and swing capabilities by recording sequences into MIDI clips and then assigning swing settings from the groove pool. Record these quantized sequences into the Rytm and fine tune them by making additional adjustments using the onboard swing settings. This is a great technique for getting different combinations of swing across different tracks into a single pattern.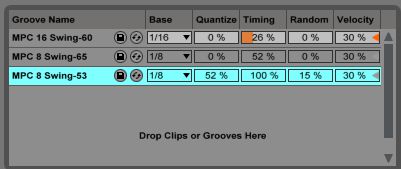 MIDI Effects
Procure inspiring and sometimes pleasantly unexpected results by applying Live's built-in MIDI devices and Max for Live effects to drum sequences.
For example, try adding an arpeggiator before your drum rack. Adjust the rate, gate, steps, distance and beat retrigger settings for some funky groove on groove action. You might be shocked at how easy it is to effortlessly dial in some stelar material!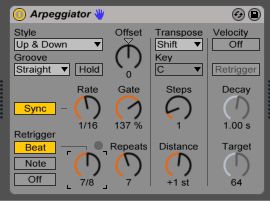 Two example sequences created with Live's arpeggiator:

Conclusion
The Analog Rytm on its own is a tremendous power house of sonic expression. Combined with Live 9 and Push, it's unstoppable. Both sequencers offer unique features that have contributed greatly to defining new and exciting workflow. By incorporating Live's groove settings and MIDI devices with the Rytm's massive sound and parameter locks, this perfect fusion is nothing short of pure exhilarating. The possibilities for creative sequencing and sound sculpting are endless.