ADAM Audio A7Vs might just be the best monitor speakers out there... and you can create tuning profiles using A-Control and Sonarworks.
ADAM Audio to the rescue
Several months ago, in the middle of a project, my favorite studio monitors gave up the ghost. I was a monitor orphan. So, out of pure desperation, I headed over to the nearest Guitar Center store. I know that GC is not the best place to do some serious monitor comparisons but I had no choice! So I had GC salesperson call up my favorite monitor testing track album: Steely Dan's Gaucho. I blind listened to every stereo pair in their rather limited collection. When I heard what I liked, I opened my eyes and to my surprise my choice was not the Genelecs or the KRKs but the smallish ADAM A5s. The pair cost me under $500 USD. I adopted them on the spot to be my stopgap monitors until so I could finish my work and then go shopping for my real monitors.
I decided to try out the new A7Vs
Well, several months later, these A5 monitors won me over with their overall sound quality, clarity and listenability. Even their bass response was totally acceptable for the kind of work that I do. But, I really did want something a bit bigger to properly fill my room. So, I decided to try out the new A7Vs. As the publisher of this site, I had been asked, about a year ago, to be one of the panel of judges for an ADAM Audio mixing competition. So when my friends at ADAM asked me to review their A7Vs to review, I said absolutely! So here are my impressions: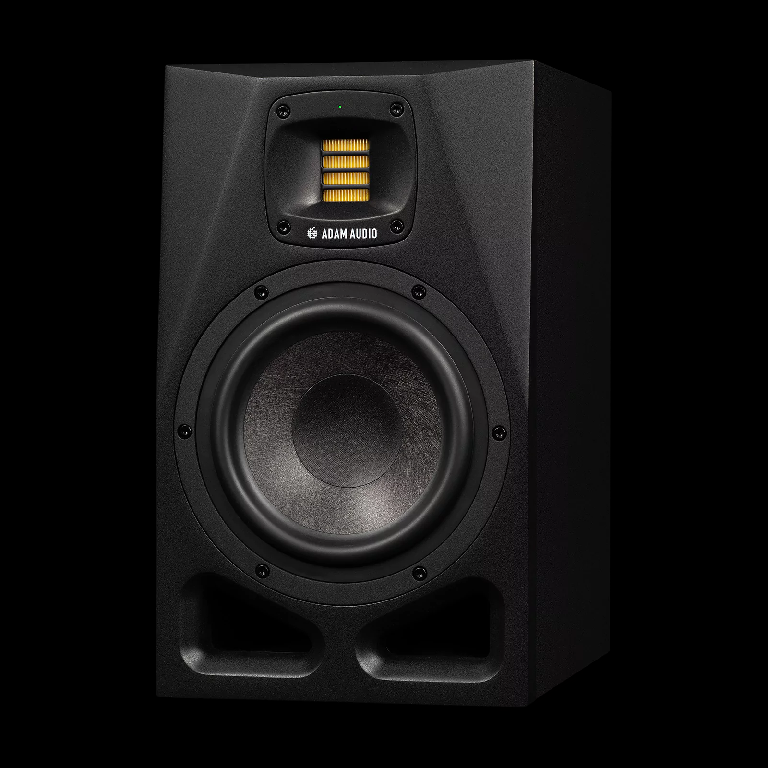 Those ribbon high frequency drivers are sweet
Right out of the box, without any DSP customization, they sound darn good! Now I know that "darn" isn't a technical term, but this isn't going to be a technical review. I'm simply sharing my impressions. I listen to a lot of different kinds of music, crazy electronic tracks, jazz, pop, and classical. My taste is eclectic. I also compose music for media so I spend a lot of time in front of monitors. I can listen to the A7Vs all day long without any ear fatigue. Those ribbon high frequency drivers are sweet. That's a real plus and an important quality for me.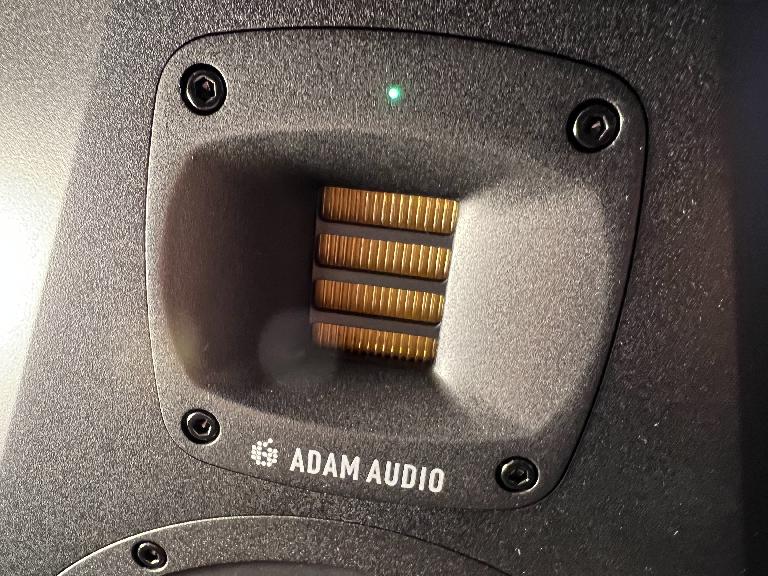 Now let's talk about mixing. I do a fair amount of that, and I'm noticing that my mixes are better than ever—which means that they transfer perfectly to my home audio system, car and my AirPods. Serious folks, these monitors create a very clear cross platform sonic picture.
The Built-in DSP can host different calibration profiles
One of the most important features of these A7Vs is their built-in DSP to tune these monitors perfectly to the acoustic space. These monitors have voicing and room adaptation options that can be controlled remotely and in real time via A Control which is ADAM's free-to-download software application (available for Windows and MacOS). This built in DSP can actually host different calibration profiles that are custom tailored for various recording/mixing environments. Mid-size monitors like these are often moved around within a control room or even to different listening environments. Being able to create unique DSP profiles for every situation assures that you're always hearing the most accurate audio in every situation.
With A Control, you can upload and store Sonarworks SoundID Reference calibration profiles directly on the A Series monitors without having to boot up the SoundID Reference application or any additional DAW plugin. This powerful collaboration with Sonarworks and the A series monitors embedded technology makes the calibration process as simple as possible.
Heads Up: We will be reviewing and tuning the new A8Hs in a forthcoming article.
No more reaching behind the monitors
The A7Vs also have 6 bands of parametric equalization where users can create their own corrective filters to make changes to the voicing and room adaptation settings found on the backplate. All changes made in A Control can be heard in real time from the listening position. This is hugely significant because means that you can remain in the prime listening position as you reference different tunings and EQ. No more reaching behind the monitors and pushing buttons between tunings!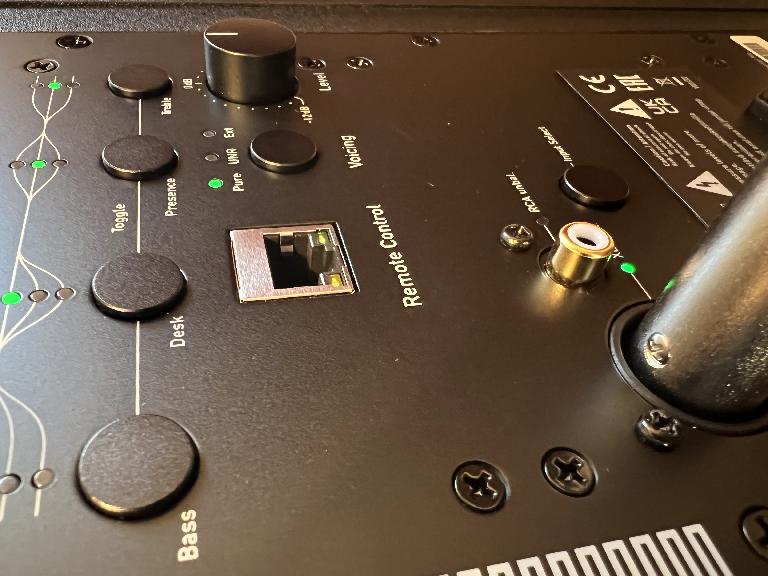 With A-Control you don't have to reach behind the A7Vs to make adjustments. You can do everything from the prime listening position.
So to sum it all up, the ADAM Audio A7Vs are an excellent choice right out of the boxes and I'm sure, that once there're tuned to my room I'll be even more impressed. More on the tuning in our next article.