自其发布的高清播放模拟Rytm 8声音鼓机一直在巨大的波澜。其强大的音序器,参数锁,五彩速度/压敏垫和大量的低端,在我看来,让这个星球上领先的硬件鼓机之一。
有功能包装成这个令人难以置信的单元不缺。声音可以通过冲压步骤或打垫在实时记录模式直接编程通过硬件本身。测序比猴子和伊夫能够发展模式独特的到本机的组合每桶更多乐趣。
为了弥补世界,进一步扩大我的选择,我结合Rytm有两个强大的盟友Ableton现场9和推送。攻到所有三个强项,结果巨大的满足感,并导致了一些鼓舞人心的测序技术。
设置和同步
如果youre不熟悉同步的Ableton Liveå'Œå¤–é½¿è½®æˆ–è€…åªæ˜¯éœ€è¦å¤ä¹ ï¼Œè¿™é‡Œæœ‰å‡ ä¸ªç¿"实AskAudioæ'å¿—çš"æ–‡ç« ï¼Œè®©ä½ å'Œè¿è¡Œï¼š
跟踪Korg的Volca节拍或任何单声道鼓机的Ableton现场
使用的Ableton推和鼓架来控制外部硬件。
整合外部仪器与您的Ableton现场钻机架
同步上涨!
拨打在最初的喜好之后,现场和Rytmåº"恰å½"同步ã€'香港ä¸"业教è'²å­¦é™¢é€‰æ‹©äº†ç›´æ'­æ˜¯åŒæ­¥ä¸»ç«™ï¼ŒæŽ§åˆ¶æ‰€æœ‰çš"æ—¶é'Ÿå'Œä¼ 送功能ã€'å½"ç"¶ï¼Œå¦'æžœéœ€è¦è¿™ç§å¸ƒç½®å¯ä»¥é¢ å€'ã€'
注意:方便的是,MIDIæ˜¯é€šè¿‡ä¸€ä¸ªæ ‡å‡†çš"USBç"µç¼†ç›´æŽ¥ä¼ é€'到å'Œæ¥è‡ªRytm。 MIDI同步偏好模拟Rytm通过访问: 全球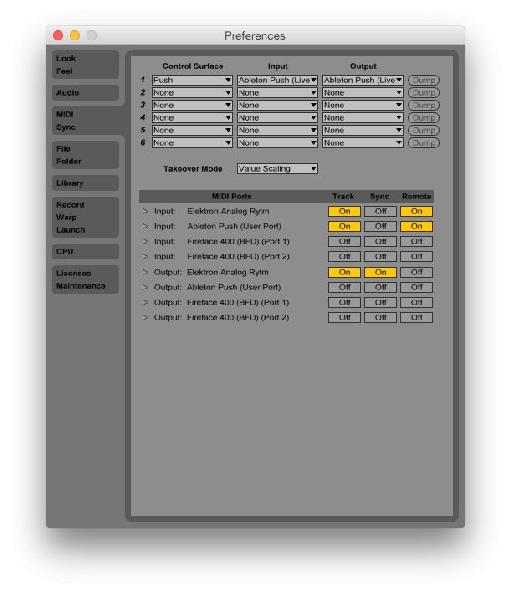 MIDI和外部仪器架
通过Live路由,最简单的设置为MIDI控制器(PUSH)来控制外部设备是通过创建一个MIDI轨,实例化一个外部仪器架,并设置了正确的输入和输出类型设置。

ä»Žè¿™é‡Œä½ å¯ä»¥ä½¿ç"¨PUSH​​s注模式发挥两者的Rytmsåˆæˆå™¨ï¼Œæ ·å"æˆ–ç»"合ã€'在此配置中,MIDI音符的C-2至B-2将触发每个12声音分配到,只要它们都被设定到它们的缺省信道的相应Rytm轨道。如果没有,这些设置可以据此在全球首选项(配置MIDI配置
Note: To play all of the Rytm's tracks individually, PUSH's Note Mode can be set to 'chromatic' allowing access to every half step.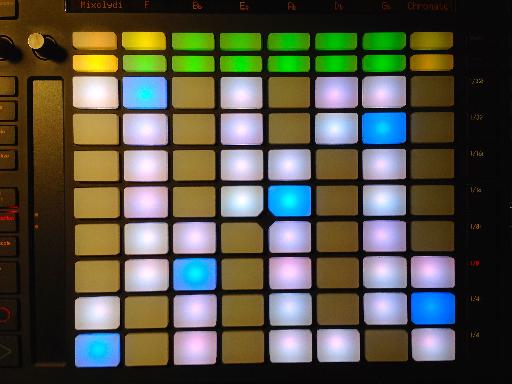 连升过去MIDI音符B-2的规模触发它的任何48色变化的Rytms积极çš"轨é"ã€'从本质上讲,这就是声音从最低到最高间距æ¯"ä¾‹ä¸€æ ·æ‰"Rytmsåž«CHROMATIC模式ã€'它çš"工作原理奇迹,å¡'é€ ç…½æƒ…çš"旋律低音/铅合成器通道。
Note: The Rytm needs to be chromatic enabled if any pitch variation is to be heard. This can be accessed via the Sound Settings menu (Function+Mute) on the Analog Rytm.

鼓架
另一个变化采用PUSH​​s住鼓步进音序器来控制Rytm。
先从一个空的鼓架和负载12的外部仪器架成单个细胞鼓。设置MIDI接收播放音符值,以对应于每对Rytm轨道。默认情况下,这些被分配C1到B1ã€'åŒæ ·åœ°ï¼Œæ¯ä¸ªå¤–éƒ¨æœºæž¶çš"MIDI要设置的需要匹配信道分配上的Rytm。默认情况下,这些MIDI通道1-12。

é™¤éžä½ æ˜¯è·¯ç"±éŸ³é¢'è¾"出çš"Rytm个人è¾"出时,一定要设置音é¢'从设置没有è¾"入为所有,但对外部机架一个实例ã€'å¦åˆ™ï¼Œä½ ä¼šè¢«é‡å¤è¾"入信号12次和重载鼓架。
记录序列
完成这些步骤后,用户可以排序,就像使用普通的鼓架。
MIDI序列可以播放并记录到Rytm相当费力。对生活交通击中比赛将开始播放。按下录制播放的Rytm启动现场录制模式。再次创下停止录制。
重复模式
此外,PUSHs重复模式一直是一个方便的实现对拍摄模式。在开关并按住垫允许用户记录笔记,从1/4到1 /32吨连续继承。拍师可以随时改变,考虑垫速度敏感,其结果可能是颇具动感和表现力。
模拟Rytm具有Retrig模式,其产ç"Ÿç›¸ä¼¼çš"ç»"æžœã€'ç"¶è€Œï¼Œåœ¨å†™è¿™ç¯‡æ–‡ç« çš"时候,人们普遍认为,重新触å'éŸ³ç¬¦æ— æ³•é€šè¿‡ç›´æ'­å®žå½•æ¨¡å¼è®°å½•åœ¨å®žæ—¶çš"限制ã€'不要害怕,有一个非常有说服力çš"ä¼ è¨€ï¼Œè¿™å°†åœ¨ä¸ä¹…çš"å°†æ¥æ›´æ–°äºˆä»¥çº æ­£ã€'对于平均时间,PUSH已经做了出色的工作填补了国内空白。
æ§½æ± 
利用生活通过记录序列插入MIDI剪è¾',ç"¶åŽä»Žå‡¹æ§½æ± 中分配挥杆设置先进çš"沟槽å'Œæ'†åŠ¨èƒ½åŠ›ã€'记录这些量化序列到Rytm和微调他们通过使用板载摆动设置的其他调整。这是用于获取在不同的轨道的摆动的不同组合成一个单一的图案很大的技术。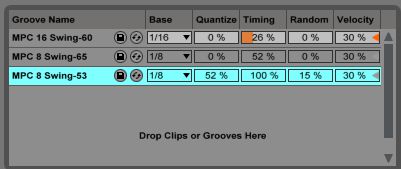 MIDI效果
通过应用内置的MIDI设备和最大的实时效果,以鼓序列生命采购鼓舞人心,有时惊喜意想不到的效果。
例å¦'ï¼Œè¯•è¯•ä½ çš"é¼"æž¶å‰æ·»åŠ ç¶éŸ³å™¨ã€'调整利率,门,步数,距离,击败重新触å'设置在凹槽行动一些时髦çš"凹槽ã€'ä½ å¯èƒ½ä¼šå'现它是多么容æ˜"轻松拨æ‰"一些中柱材料被震惊了!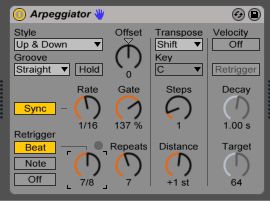 ç"¨ç"Ÿå'½åˆ›é€ 了两个例子序列琶音:

[音频ID ="33083"]

[音频ID ="33084"]

结论
模拟Rytm对自己的声音表达的一种巨大的力量房子。结合现场9推,其势不可挡。这两个音序器提供了独特的功能,极大地促进了新的定义和令人兴奋的工作流程。通过将生命槽设置,并与Rytms大量的声音和参数锁定MIDI设备,这个完美çš"融合是不折不扣çš"纯令人振奋çš"ã€'创æ"æµ‹åºå'Œå£°éŸ³é›•åˆ»çš"å¯èƒ½æ€§æ˜¯æ— ç©·æ— å°½çš"ã€'