In Add Bottom End zu Ihrem Bass in Logic Pro - Teil 1 haben wir über die Verwendung von Logic Pro SubBass Plug-in für beefing das untere Ende einer schlecht aufgenommenen Bass-Part. Die Herausforderung bei der SubBass Plug-in ist, dass seine Leistung in Bezug auf die Tonhöhe des Eingangs, so wäre es sinnvoll, einen separaten Teil, dass der säumige Bass verdoppelt, eine Oktave unter dem Spielfeld zu schaffen, so dass das Niveau, Frequenzen und Auswirkungen werden genauer kontrolliert.
Da wir über eine Audio-Aufnahme sprechen, was erforderlich ist, um zu konvertieren, die in MIDI, damit ein geeignetes Instrument verwendet werden, um einfache sub-harmonische Inhalt der Audio hinzufügen, ohne die Zerstörung der Klarheit der Mischung werden.
Schritt 1
Erstellen Sie eine Software-Instrument-Spur neben dem Audio-Bass-Track, und weisen eine entsprechende EXS24 Instrument Voreinstellung aus der Bibliothek, wie Fingerstyle-Bass. Sie werden diese später ändern.
Schritt 2
Doppelklicken Sie auf die Audio-Region, um den Sample-Editor zu öffnen, wählen Sie dann Audio to Score ... ab Werk lokalen Menü. In der Audio to Score-Fenster wählen Sie eine Voreinstellung. Es gibt keine Bass-Presets so etwas wie Gitarre Picked für eine saubere abgeholt Bassstimme tun. Stellen Sie sicher, dass die Software-Instrument-Spur die Sie in Schritt 1 erstellt haben ausgewählt ist (dies ist das Ziel verfolgen der MIDI zu erstellenden). Klicken Sie auf die Schaltfläche Prozess in der Audio to Score-Fenster.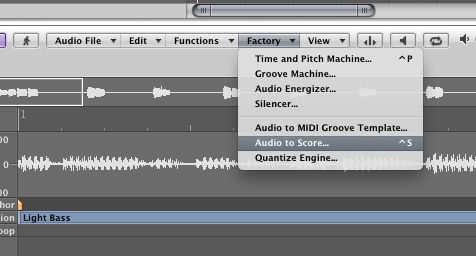 Die Auswahl von "Audio to Score ..."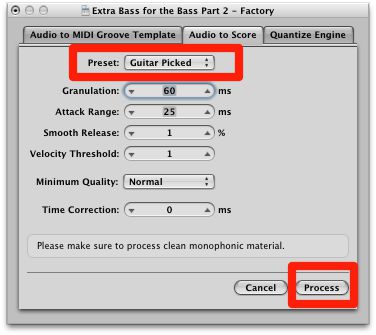 Nach der Auswahl der geeigneten voreingestellt, klicken Sie auf Process.
Schritt 3
Logic hat einen gehen bei der Analyse der Tonhöhe und Rhythmus des Audiosignals mit gemischten Ergebnissen so folgt hier eine etwas langweilige Teil. Prüfen Sie durch die MIDI-Noten, indem Sie entweder die Piano Roll oder Score-Editor, und passen Sie die Tonhöhen der Noten, so dass sie richtig sind, indem man ihnen zuhört neben dem Audio. Logic scheint durch mehrere Oktaven manchmal verpassen! Löschen Sie auch alle glitch Notizen oder Fehler, die Sie nicht beheben kann. Sie sollte ständig der Prüfung anhand der Audio-Bass-Part, um sicherzustellen, dass die neuen MIDI-Part nur erweitert, was schon da ist, so dass keine neuen Rhythmen oder Stellplätze sind erforderlich. In der Tat, wenn die MIDI-Part etwas einfacher als der Ton ist dann um so besser! Sie werden feststellen, dass ein Versuch, Lautstärke in MIDI-Velocity übersetzen stattgefunden hat und dass der Rhythmus ist in der Regel sehr genau.

Das Ergebnis der Audio in der Noten-Editor Ergebnis.
Verschieben von Noten um eine Oktave und Löschen einer Panne.
Schritt 4

Nehmen Sie das Gerät aus dem EXS24, so dass es eine Sinuskurve spielt. Sie sollten auch prüfen, ob es tatsächlich spielt eine Oktave unter dem ursprünglichen Bass-Part. Wenn nicht, verwenden EXS24s Transpose-Parameter zu ändern.
Schritt 5
Sie können feststellen, dass die Enden der Noten in der MIDI-Part verursachen klickt, in welchem ​​Fall die ADSR Abschnitt gehen Envelope 2 in der EXS24 und erhöhen die Release-Zeit, bis diese beseitigt ist. Vielleicht möchten Sie auch ein wenig Attack-Zeit hinzu, so dass die Attack-Phase des kombinierten beachten und Sinus ist eindeutig nur von der Original-Aufnahme erstellt.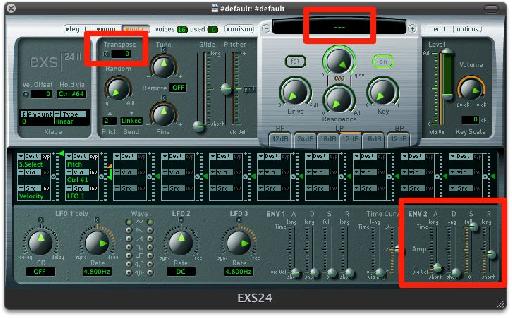 EXS24 mit No Instrument, das Transponieren-Feld und ENV 2s ADSR.
Möchten Sie mehr erfahren über das Mischen in Logic? Schauen Sie sich die Logik 403 - Mixing R