Authentic sounding upright acoustic pianos are still relatively hard to come by in the software world, with many either offering pitch-perfect concert grands or lacking the warmth of that real old piano sound. Recording upright pianos is perfectly possible of course, though it's tricky to say the least, requiring at least a couple of good mics, a very controlled room and some clever positioning. Plus, a tuned upright piano. An easier solution is to use something like The Giant, NI's sample-based acoustic piano instrument. With much more of a focus on the ethereal sound of an upright, it provides loads of tools to help you get the perfect "real" piano sound you want. Here are some top tips for getting the most out of it.

Tip 1
The instrument has some built-in effects but if you click on the Settings button in Kontakt you are taken to the nuts and bolts part of the setup. Select the Insert Effects section and you will see some effects are already present and these will be shaping the current patch in some way. You can edit or remove these effects to change the sound, or indeed add new effects to tailor a completely new sound. Choose from the Kontakt effects in each slot or use the Preset menu to access factory chains or store your own.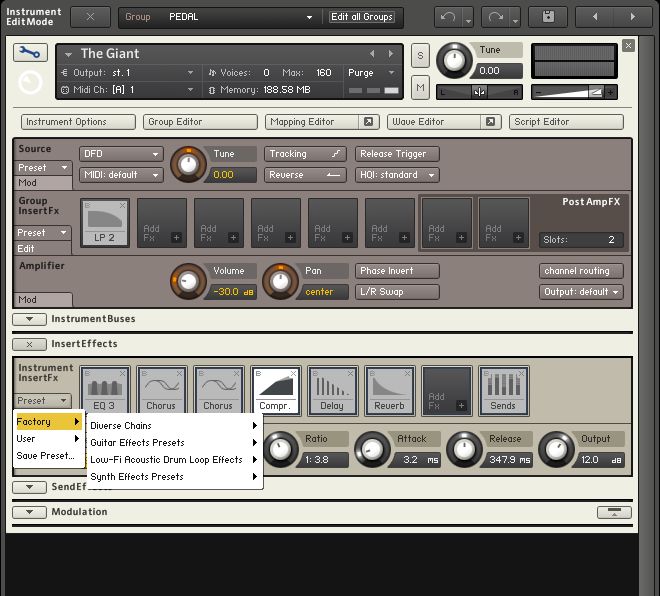 Use Kontakt's plug-in and rack system to add further effecrs to your piano patches.
Tip 2
The Anatomy tab lets you make fundamental changes to the way the sound is generated. Click on its Expand button to reveal multiple edit sections. Add longer release settings to a patch to make the notes more sonorous, and widen or narrow the stereo image with the Stereo knob. Increase or decrease mechanical noises – hammer, damper, pedal and strings are available – to create either a cleaner or a more old and dusty sound. You can even change the way the sustain pedal behaves.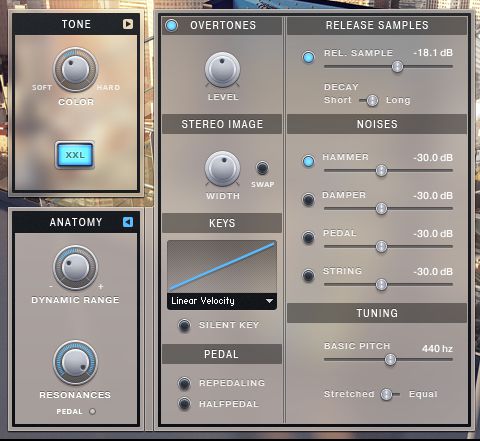 The sound can be almost endlessly altered by changing which samples are used and how they are filtered.
Tip 3
You can create some incredible space effects by choosing one of the bigger reverb presets like "Giant Reso" then turning the Amount, Size and Distance controls up accordingly. With enough reverb added, your piano notes will sound more like synthesized pads.
Tip 4
There is the regular Giant .nki instrument and a second, which is called The Giant – Cinematic. This contains more weird and wonderful, sound effect-style patches. In the Sources window you can turn different elements of a sound on or off, like the pluck sound, overtones or resonance of a string. Click on the Expand button and each one has its own set of controls as well. You can use the five faders to balance the level of each noise. It's a good way to use the piano almost like a synth, getting ethereal, cinematic sounds out of it by turning different sonic elements on or off and tweaking them.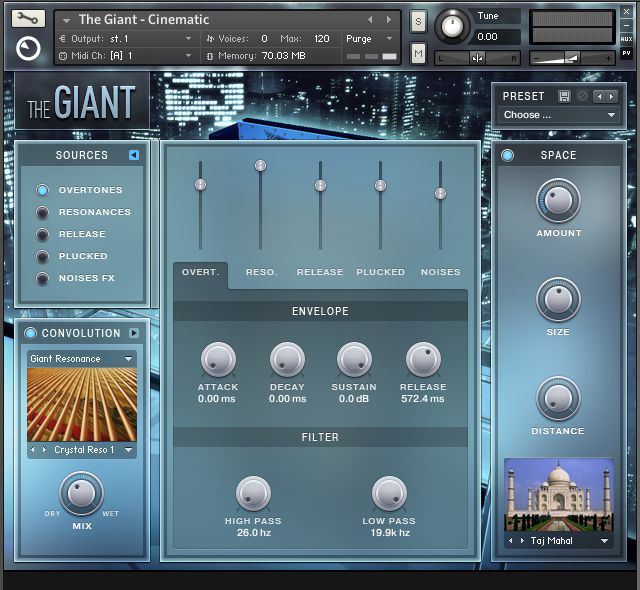 The Cinematic patch is more geared towards making weird and wonderful effects and noises.
Tip 5
As with any instrument hosted in Kontakt you can load more than one instance within the app and route a different MIDI channel to each one. So you can play or record more than one piano sound at once, provided your computer has the power to handle it. It's pretty efficient so unless you push it really hard it should be fine.