Authentic klingende aufrechten akustischen Pianos sind noch relativ schwer in der Software-Welt kommen, mit vielen entweder mit Pitch-perfekte Konzertflügel oder fehlt die Wärme von diesem echten alten Klavierklang. Aufnahme Klavieren ist durchaus möglich, natürlich, obwohl seine tricky gelinde zu sagen, erfordert zumindest ein paar gute Mikrofone, einen sehr kontrollierten Raum und einige clevere Positionierung. Plus, ein abgestimmtes Klavier. Eine einfachere Lösung ist so etwas wie verwenden The Giant , NIS sample-basierte akustischen Klavier Instrument. Mit viel mehr von einem Schwerpunkt auf der ätherischen Klang eines aufrechten, bietet es jede Menge Tools, die Ihnen helfen, das perfekte echten Klavierklang Sie wollen. Hier sind einige Top-Tipps, um das Beste aus ihm heraus.
Tipp 1
Das Gerät verfügt über einige eingebaute Effekte, aber wenn Sie auf die Schaltfläche Einstellungen in Kontakt Sie sind an den Schrauben und Muttern Teil des Setups gemacht. Wählen Sie die Insert-Effekte Abschnitt und Sie werden sehen einige Effekte sind bereits vorhanden und diese werden die Gestaltung der aktuellen Patch in irgendeiner Weise. Sie können bearbeiten oder entfernen diese Effekte den Klang verändern, oder in der Tat neue Effekte auf, einen völlig neuen Sound. Wählen Sie aus dem Kontakt Effekte in jedem Steckplatz oder verwenden Sie das Preset-Menü auf die Werkseinstellungen Ketten zuzugreifen oder speichern Sie Ihre eigenen.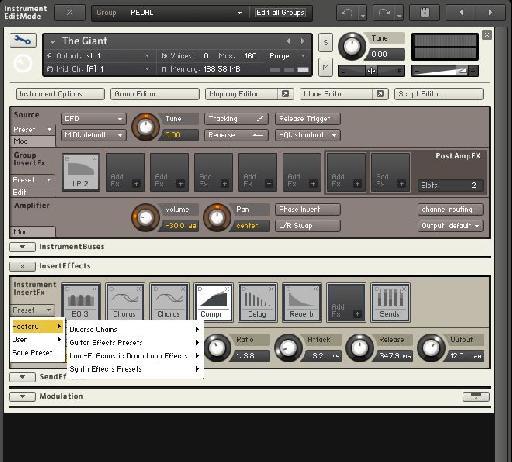 Verwenden Kontakts Plug-in-und Rack-System zur weiteren effecrs Ihr Klavier Patches hinzuzufügen.
Tipp 2
Die Anatomie Registerkarte können Sie grundlegende Änderungen an der Art und Weise der Ton erzeugt wird. Klicken Sie auf die Schaltfläche Erweitern, um mehrere Abschnitte bearbeiten offenbaren. In mehr Release-Einstellungen zu einem Patch, um die Noten sonorer und breiter oder schmaler das Stereobild mit dem Stereo-Knopf. Erhöhen oder verringern mechanische Geräusche Hammer, sind Dämpfer, Tret-und Strings zur Verfügung, um entweder ein Reinigungsmittel oder mehr alt und verstaubt Sound zu kreieren. Sie können sogar die Art und Weise das Sustain-Pedal verhält.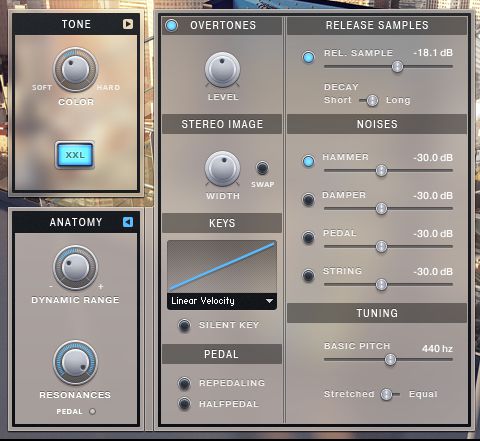 Der Ton kann fast endlos, indem die Proben verwendet werden und wie sie verändert werden gefiltert.
Tipp 3
Sie können einige unglaubliche Raum Effekte durch die Wahl eines der größeren Reverb-Presets wie Riesen Reso wandte sich dann den Betrag zu erstellen, steuert Größe und Entfernung bis entsprechend. Mit genügend Hall aufgenommen, wird Ihr Klavier Noten eher synthetisiert Pads klingen.
Tipp 4
Es ist die regelmäßige Riesen. Nki Instrument und eine zweite, die als The Giant Cinematic wird. Dieser enthält mehr seltsame und wunderbare, Sound-Effekt-style Patches. Im Fenster Quellen können wiederum verschiedene Elemente einer Ton ein oder aus, wie die zupfen Ton, Obertöne oder Resonanz einer Saite. Klicken Sie auf die Schaltfläche Erweitern und jeder hat seinen eigenen Satz von Kontrollen sowie. Sie können die fünf Fader den Pegel jedes Rauschen auszugleichen. Es ist ein guter Weg, um das Klavier fast wie ein Synthesizer verwenden, immer ätherisch, filmischen Sounds aus ihm heraus, indem verschiedene Elemente sonic-oder ausschalten und Tweaking sie.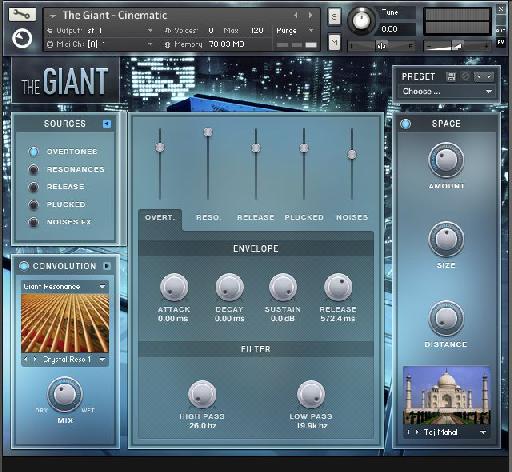 Der Cinematic Patch ist mehr in Richtung macht seltsame und wunderbare Effekte und Geräusche ausgerichtet.
Tipp 5
Wie bei jedem Instrument in Kontakt Gastgeber können Sie mehr als eine Instanz innerhalb der App und Route laden einen anderen MIDI-Kanal zu jedem. So können Sie abspielen oder aufnehmen mehr als ein Piano-Klang auf einmal, sofern Ihr Rechner über die Macht, es zu behandeln. Seine ziemlich effizient sein, so, wenn Sie es wirklich schwer schieben sollte es in Ordnung sein.