Roland Unveils VERSELAB MV-1 Song Production Studio
The all-in-one composition tool from Roland with an "inspiring workflow," features vocal recording, sequencing, with ZEN-core sounds, and more.
Los Angeles, CA, January 11, 2021 — Roland introduces VERSELAB MV-1 Song Production Studio, an innovative new composition tool for modern music creators. Offering an all-in-one design for go-everywhere production, VERSELAB allows composers to create professional multi-track songs with vocal recording, 16 velocity-sensitive pads, and Roland's famous 16-step TR-REC rhythm sequencer.
VERSELAB's onboard ZEN-Core sound engine provides a vast library of premium instrument and rhythm sounds to choose from, while future integration with Roland's Zenbeats music creation app will allow users to enhance their workflow with a computer or mobile device.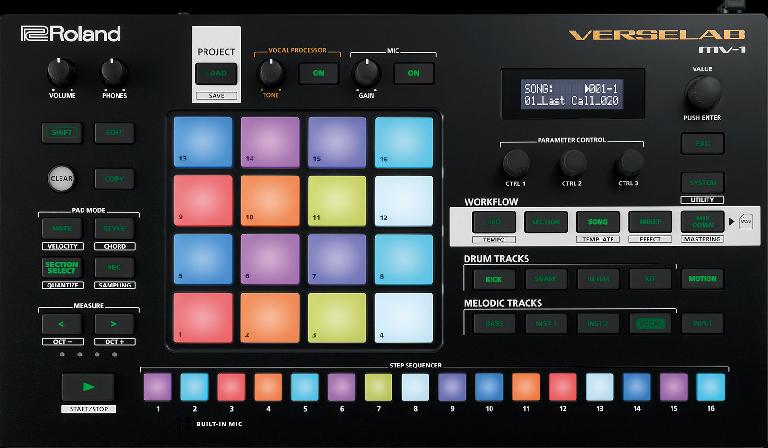 VERSELAB gives vocalists and beatmakers everything they need to develop songs anywhere. With templates, pattern generators, and a guided workflow that smoothly moves through the process of making tracks, VERSELAB eliminates option paralysis and lets creators focus on what matters most—finishing their music.
Users can easily record vocals via the built-in mic or an external XLR mic and add an array of contemporary effects, from auto-pitch to harmonizers. The powerful ZEN-Core engine delivers a history of classic Roland instruments and a wide range of curated sounds for quick-fire inspiration. The TR-REC sequencer and 4x4 pads provide a direct, hands-on interface that's perfect for building drum tracks, bass lines, and melodic parts as fast as the ideas come.

VERSELAB also includes an arsenal of pro mixing and mastering effects to create polished tracks ready for distribution. Plug-and-play integration with Roland's popular Zenbeats app will be coming soon, providing even more production options by interfacing with a computer, tablet, or smartphone.
Availability & Pricing