If you own an iPad and have been playing around with the Garageband app, you may have realized that the drum instrument has some serious potential to replace MPC style pad controllers. The trouble I always had with such push button pad controllers is that they are not as sensitive as I would want them to be, even after adjusting the pad sensitivity. I've gone as far as to open up the controller and find ways to modify the sensitivity.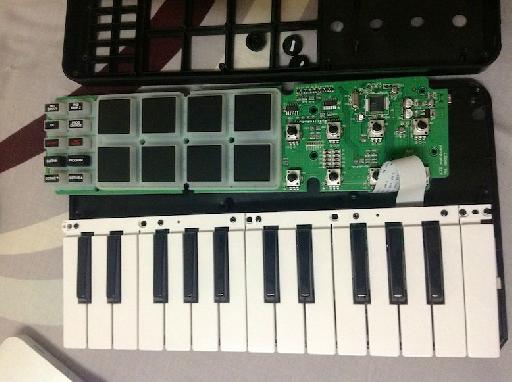 Inside the Akai MPK Mini.
With the Garageband for iOS app I find there is no such issue because all the instruments respond to touch. So even the most minimal touch on the screen will trigger the sound. This creates the potential to execute some crazy breakbeat style finger drumming with a lot more ease compared to other controllers.
Step 1 - Setting up Garageband
Garageband mimics velocity sensitivity by using the accelerometer data generated when the iPad is tapped. There are three levels of sensitivity (Low, Medium & High) which may be chosen based on user preference. Having no velocity sensitivity can make the performance sound robotic but at the same time, if the velocity sensitivity is set to '