Sie sagen, video ist zwei Drittel Audio. Legen Sie es auf die Probe ... Setzen Sie auf eine DVD oder VHS (zeige ich in meinem Alter?) Von Ihren Lieblingsfilm, mute die Tonspur oder den Sound und die! Nach einer Weile werden Sie feststellen, wie wichtig Sound ist in unserer Wahrnehmung des Geschichtenerzählens

Jeden Tag, rund um die Welt, es gibt Tausende von Kabel-TV und Internet-Kanäle produzieren Tonnen von Video-Inhalten, dass ALLE müssen Musik und Ton. Bevor Sie jedoch in graben können und beginnen Komponieren für Bild gibt es Konzepte, die Sie haben, zu verstehen habe und Werkzeuge, die Sie wissen müssen, wie zu bedienen.
Es lohnt sich wirklich zu wissen, was du mit Video zu tun in Logic, wenn es um Codecs, Frame-Raten, Tempo, Druck-, SMPTE, etc. kommt .. und Steve H
In der heutigen schnellen Tipp werden wir durch die verschiedenen Möglichkeiten, um eine Video-Datei in Logic importieren laufen. Wenn Sie ein QuickTime-Video zur Hand haben, es lohnt, greift diese, so können Sie entlang.
Tipp 1 - Global Tracks

Oberhalb der Track-Liste in den Arrange-Bereich ist der Global Track Abschnitt. Mit einem Klick auf den Global Tracks Dreieck zeigt die aktuelle globale Tracks. In einem neuen Projekt werden Sie oft sehen, Marker, Tempo und Chord Globale Spuren. Auf der Global Tracks Headers gedrückter Ctrl-Taste und wählen Sie entweder auf Video ansehen oder wählen Sie Configure Globale Spuren für die globale Spuren der Wahl anzuzeigen. Sie können die Größe und sogar noch weiter hide / show jedes global verfolgen.
In der Video Globale Spuren auf Open Movie klicken. Sie können nun den Film der Wahl zu navigieren.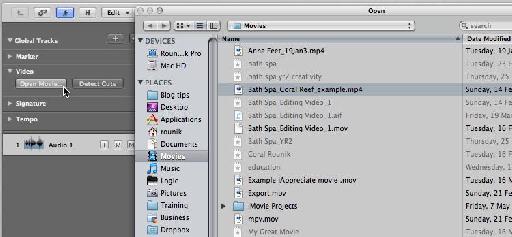 Tipp 2 - Datei-Menü

Easy as pie dieses. Einfache Ablage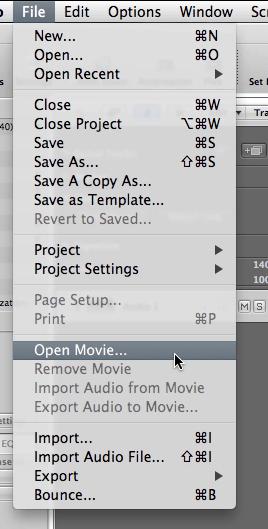 Tipp 3 - Von der Finder

Wenn Sie wie ich, genießen Sie zwischen den Anwendungen Schalten, dann ziehen Sie einen Film aus einem Finder-Fenster wird erscheinen natürlich und intuitiv für Sie. Interessanterweise ist es egal, nachzuvollziehen, welche Sie ziehen den Film auf im Arrangierbereich. Der Film wird nicht auf einer Spur, die Sie erstellen im Arrangierbereich sitzen ... Vielmehr liegt es in der Video Global Track.
Ein Vorteil dieser Methode ist die Leichtigkeit, mit der Sie wählen, wo der Film (dank dem gelben Hilfe-Tag) einfügen können.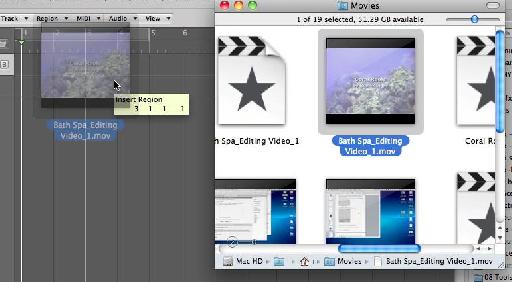 Tipp 4 - Von der Browser

Dies ist eine gute Wahl für diejenigen, die Sie, wie das Browsen in den Finder in der Liste oder Spalten-Ansicht, sondern lieber in Logic zu bleiben. Öffnen Sie die Medien auf der rechten Seite der Logik-Schnittstelle. Aus dem Register, wählen Sie Browser und navigieren Sie zu der Videodatei.
Sie können entweder ziehen sie in den Arrange-Bereich, wie würden Sie tun, mit dem Finder ... alternativ, positionieren Sie den Abspielkopf in dem Sie die Video-Datei eingefügt werden soll und wollen auf die Video-Datei doppelklicken Sie auf

Tipp 5 - Audio extrahieren

Sie können mit ein paar von den Import-Methoden vor, dass börsennotierte, sobald Sie den Film Drop in die Logik, wenn eine Audio-Spur in den Film-Datei enthalten ist aufgefallen, wird Logic gefragt, ob Sie die Audiospur, die Arrange extrahieren möchten. Dies wird eine neue Audiospur und platzieren Sie den Ton von der Videodatei auf der Spur. Im Grunde, so dass Sie bearbeiten (Mute, Solo, flex, etc) die Video-Audio-Track wie jedes Audio-Region in Logic. Excellent!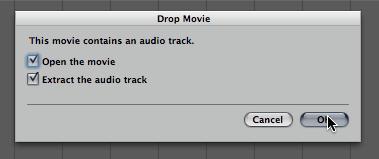 Wenn Sie weitere Hilfe benötigen auf dieser oder einer anderen Logik oder Mac Software-Problem besuchen Sie uns auf www.macprovideo.com/forum/!
.
Interested in learning more about Logic and scoring to video? These tutorials will help you to become proficient whether you are starting out or looking for advanced tips, tricks and techniques! We'd love to hear from your. Let us know what you think by writing a comment below!