Ils disent que la vidéo est de deux tiers audio. Mettez à l'épreuve ... Mettre sur un DVD ou VHS (suis-je montrer mon âge?) De votre film préféré, couper la piste son ou tous les sons et après un moment vous vous rendrez compte à quel point le son est importante dans notre perception de la narration!

Chaque jour, partout dans le monde, il ya des milliers de télévision par câble et les chaînes internet produisant des tonnes de contenu vidéo que la musique et le son besoin de TOUS. Toutefois, avant que vous pouvez creuser et commencer à composer pour l'image il ya des concepts que vous avez à comprendre et outils dont vous avez besoin de savoir comment l'utiliser.
Il paye vraiment savoir ce que vous faites avec la vidéo dans Logic quand il s'agit de codecs, des taux de trame, le tempo, la compression, SMPTE, etc .. et Steve H
En bout rapide d'aujourd'hui nous allons parcourir les différentes manières d'importer un fichier vidéo dans Logic. Si vous avez une vidéo quicktime pour la main ça vaut le coup saisissant afin que vous puissiez suivre.
Astuce 1 - Pistes globales

Au-dessus de la liste de pistes dans la zone Arrangement est la section Global Track. En cliquant sur le triangle Pistes globales montrera les pistes mondiale actuelle. Dans un nouveau projet, vous aurez souvent voir Pistes Marker, Tempo et Chord mondial. Contrôle-clic sur les entêtes Pistes globales et soit choisir d'afficher ou de vidéo choisissez Configurer les pistes globales pour afficher les pistes mondiale de choix. Vous pouvez redimensionner et même plus loin masquer / afficher chaque piste mondiaux.
Dans la vidéo cliquez sur les pistes mondiales Open Movie. Vous pouvez maintenant naviguer vers le film de son choix.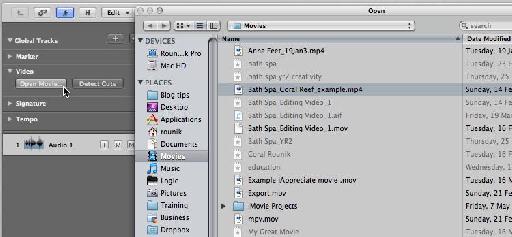 Astuce 2 - Menu Fichier

Simple comme bonjour celui-ci. Simple choisissez Fichier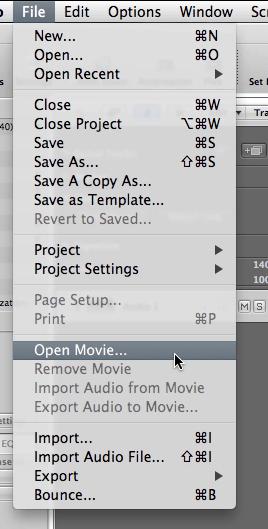 Astuce n ° 3 - À partir du Finder

Si comme moi, vous aimez la commutation entre les applications, puis en faisant glisser un film à partir d'une fenêtre du Finder semblera naturel et intuitif pour vous. Fait intéressant, il n'est pas question que la piste que vous faites glisser le film sur la zone Arrangement. Le film n'est pas assis sur une piste que vous créez dans la zone Arrangement ... plutôt, elle réside dans la piste vidéo mondial.
Un avantage de cette méthode est la facilité avec laquelle vous pouvez choisir où insérer le film (grâce à la balise d'aide jaune).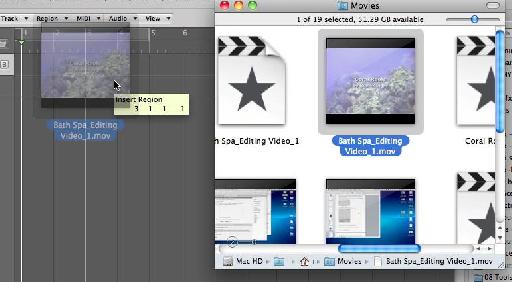 Astuce 4 - Dans le navigateur

Ceci est un bon choix pour ceux que vous aimez la navigation dans le Finder dans la liste ou par colonnes, mais préfèrent rester dans la logique. Ouvrez l'Espace médias sur la droite de l'interface de Logic. Dans les onglets, sélectionnez navigateur et accédez au fichier vidéo.
Vous pouvez soit faire glisser pour la zone Arrangement, comme vous le feriez à l'aide du Finder ... Alternativement, la position de la tête de lecture où vous souhaitez le fichier vidéo à insérer, puis double-cliquez sur le fichier vidéo

Astuce 5 - Extraire l'audio

Vous avez peut être remarqué avec un couple de méthodes d'importation énumérées ci-dessus qu'une fois que vous déposez le film dans la logique, si une piste audio est contenue dans le fichier du film, Logic vous demandera si vous voulez extraire la piste audio à l'Arrangement. Cela va créer une nouvelle piste audio et placez le fichier audio du fichier vidéo sur cette piste. En substance, vous permettant d'éditer (mute, solo, flex, etc) une piste audio de la vidéo comme vous le feriez n'importe quelle région audio dans Logic. Excellent!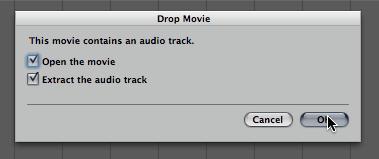 Si vous avez besoin d'aide sur cette question ou toute autre logique ou un problème logiciel Mac nous rendre visite à www.macprovideo.com/forum/!
.
Interested in learning more about Logic and scoring to video? These tutorials will help you to become proficient whether you are starting out or looking for advanced tips, tricks and techniques! We'd love to hear from your. Let us know what you think by writing a comment below!