Waves are doing an excellent job of presenting some of their best plug-ins in packages endorsed by high-profile artists. Here we get some of Dave Audé's favorite Waves products in a very reasonably priced bundle.
This collection is aimed at the electronic music producer but this could represent a bargain regardless of the genre you are working with. I'll break down each plug-in included to show you exactly what you get for your money.
1 - C6 Multiband Compressor
Everyone should own some form of multi-band dynamics processor, regardless of the style of music they are producing. These amazing plugs can not only fix a hundred different issues but can also be used as full on creative effects.
The C6 actually represents the natural evolution of its much loved predecessor the C4. Adding two 'floating' bands, the C6 offers 6 fully independent compressors. These can be put to work on any frequency giving you a massive amount of flexibility.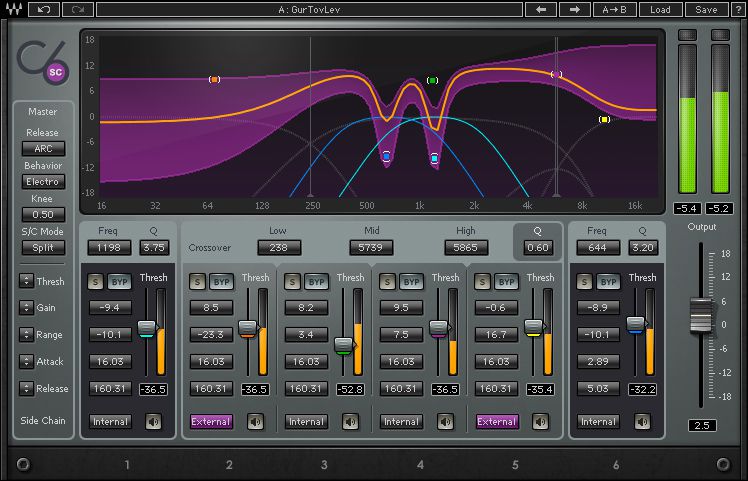 The C6 Multiband Compressor.
The interface has also been updated, giving clear concise visual feedback on the processing taking place. Even someone new to the concept of multi-band processing should feel pretty comfortable here.
I found the C6 to sound smooth on just about all program material, even when pushed hard it produces a pleasing, well-rounded sound with very few audible artefacts. It performed well processing drums, de-essing vocals and even did an outstanding job of ironing out problems on the master buss.

2 - Element Synth

This has to be the star of the group. Element hasn't been around very long and it's likely that this synth hasn't received the attention it deserves. It's really a fully featured polyphonic virtual analog, so nothing new there but with features like multi effects and an analog style sequencer / arpeggiator thrown in it becomes a pretty serious package.
Waves have managed to cram a lot of synth into a relatively small interface here without anything feeling cramped or crowded. This is quite important especially if you are working with a laptop or single monitor.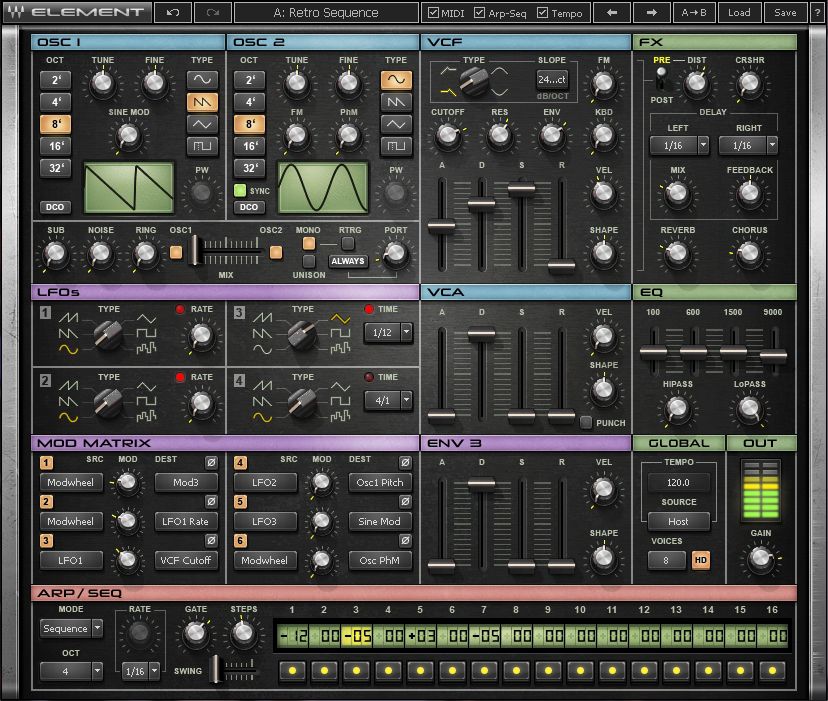 The Element Synth.
Even though Element is unobtrusive it packs some punch in the sound department. I always enjoy using a synth with solid effects built in. Saving and loading patches with huge reverbs and delays just seems so much more satisfying than using external plug-ins.
This is a great synth by anyone's standards, but when you consider how cheap this is it almost becomes a no-brainer. If you buy it as part of this package you get even more discount!
3 - H-Delay Hybrid Delay
I've always been a massive fan of delay so when I see a new delay plug-in pop up I'm immediately interested. I'm a bit of a sucker for filtered, modulated echo effects due to the trippy sound that can be squeezed out of them. The Waves H-Delay manages to produce this analog style effect without an overly complex interface.
You'll not find any over-the-top mod matrix here or any drop-down menus, simply an intuitive interface with very logical controls. The H-Delay can produce everything from incredibly clean delays to grungy bucket brigade style take effects. It uses a variable analogue control to make the transformation between these styles.

The H-Delay Hybrid Delay.
If you've been after an upgrade to your DAW's delay plug-in and want something that's easy to use with a bit of character, then the H-Delay comes highly recommended. It's always fun to use with very repeatable results.
4 - L3 Multimaximizer
Using a limiter on a drum group or master buss is probably something most of us do. In some situations you may want a little more control than your average full range limiter gives you.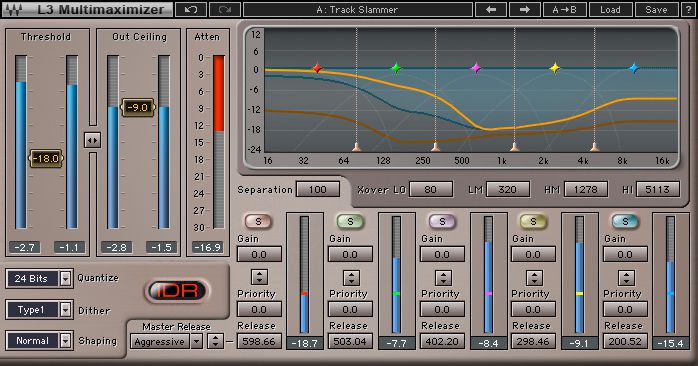 The L3 Multimaximizer.
Let's say you are limiting a drum loop and you want to create varying loudness on both the snare and kick drum, this is where there L3 Multimaximizer comes in. Its controls are very much like those of a multi-band compressor but give you five bands of linear phase EQ combined with the trusted limiting algorithms from the L3 Ultramaximizer.
The L3 is really intended for mastering and it does a top-notch job sitting at the end of your master buss, but it's just as useful for adding punch and clarity to instrument groups.
5 - L3 Ultramaximizer

If you fancy something a bit simpler, or your EQ and multi-band needs are being taken care of by other processors, the L3 Ultra is probably a better bet. When it comes to Limiters there probably aren't many with as much time served as the Waves L Series.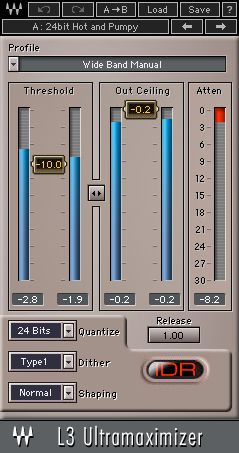 The L3 Ultramaximizer.
Plenty of clean volume is the name of the game here. With various algorithms, dithering and excellent metering, the L3 still stands up to the best software limiters out there. If you haven't invest in a mastering limiter yet then this could be the way to go.
6 - Thoughts And Conclusion
None of the plug-ins here are exactly new but they are all useful and ooze quality. When it comes to native processing, Waves are still right on their game. Bundling some of the best processors they have to offer and using popular artists is certainly a clever marketing move, but it's not the celebrity endorsement that interests me here it's the saving. The individual plug-ins are already at an all time low, but once you apply the discount this collection offers it makes it incredibly affordable.
If you are building a plug-in collection or just fancy a refresh for a bit of inspiration, you should seriously consider picking this up. There was a time when Waves plug-ins were only within reach for the super studios, but now they have come down to planet Earth you might as well give them a spin!