Universal Audio has been a name synonymous with innovation and quality for over 50 years. Founded by M.T. "Bill" Putnam Sr. in 1958 they have produced some of the most widely used and recognizable outboard gear in the recording industry. Their LA-2A and 1176 limiters are found in practically every recording studio in the world.
More recently they have become known for their groundbreaking work in DSP card and software plug-in development. The UAD range of cards and satellite Firewire DSP accelerators allow you to run some of the best hardware emulations available without placing any load on your CPU.
So what happens when you merge these two things together? Well, you get the Apollo!
Apollo Hardware
The Apollo audio interface is built into a 1u rack chassis. It features four premium (digitally controlled) mic preamps, 2 Hi-z inputs, 8 line ins/outs, 8 ADAT ins/outs as well as S/PDIF and Word Clock connections. There is also a pair of independent Monitor outs on balanced TRS sockets as well as two headphones outs.

As well as this wealth of connectivity, it also features built-in UAD-2 DSP Acceleration in either a Duo or Quad configuration. This allows you to run any UAD powered plug-ins straight off the Apollo. The Apollo will even allow you to monitor and even track through up to four plug-ins with as little as 2 ms latency!
The Apollo is also groundbreaking in the fact that it's one of the first high spec audio interfaces to incorporate Thunderbolt connectivity. My review model (kindly lent to me by UA's Jed Allen) featured the optional Thunderbolt card installed. Just plug that cable into a Thunderbolt equipped Mac (in this case a 2012 iMac) and you're off. No nonsense!
All the ins and outs sound incredible, and I'm not just saying that! The mic preamps are crystal clear as you would expect. With 118 dB dynamic range and THD (Total Harmonic Distortion) at an impressive -110 dB, Universal Audio haven't cut any corners here. Even the Hi-Z input sounds noticeably better than my other interface when using amp simulations in my DAW. The smart switching is a nice touch too. This automatically switches the preamp to Hi-Z when you plug a guitar cable into the front of the Apollo.
All the features of the preamps can be controlled directly from the front of the Apollo. Select any of the four preamps by pressing the Gain knob. You'll find buttons for Mic/Line, Low Cut (12db at 75Hz), Phantom Power (+48V), 20 dB Pad, Phase Invert and a Link switch for turning inputs 1-2 and 3-4 into stereo channels.
ADAT ins and outs have two ports each which offers for more flexibility at higher sample rates (The Apollo can handle conversion up to 24-bit/192 kHz) using the ADAT S/MUX protocol. This allows 8 channels (split between ports 1 and 2) of in/out at sample rates between 88.2 & 96 kHz and 4 channels (split) at 176.2 & 192 kHz.
You could also connect up to two UA 4-710d Mic Preamps via a single port at 44.1 & 48 kHz giving you an extra eight high quality preamps with compression!


Not bad!! So now for the even cleverer bit!
Apollo Console Software
With the Apollo, the hardware is only half the story. Once you've installed your Apollo software and drivers (I was up and running in minutes) and authorized any plug-ins (Apollo comes with the 1176N, LA-2A Leveling Amplifier, and the Pultec EQP-1A), you're off!
The Apollo is mainly controlled by the the 'Console' software. This is a virtual mixer interface giving you access to a host of useful features. I'll go over a couple now.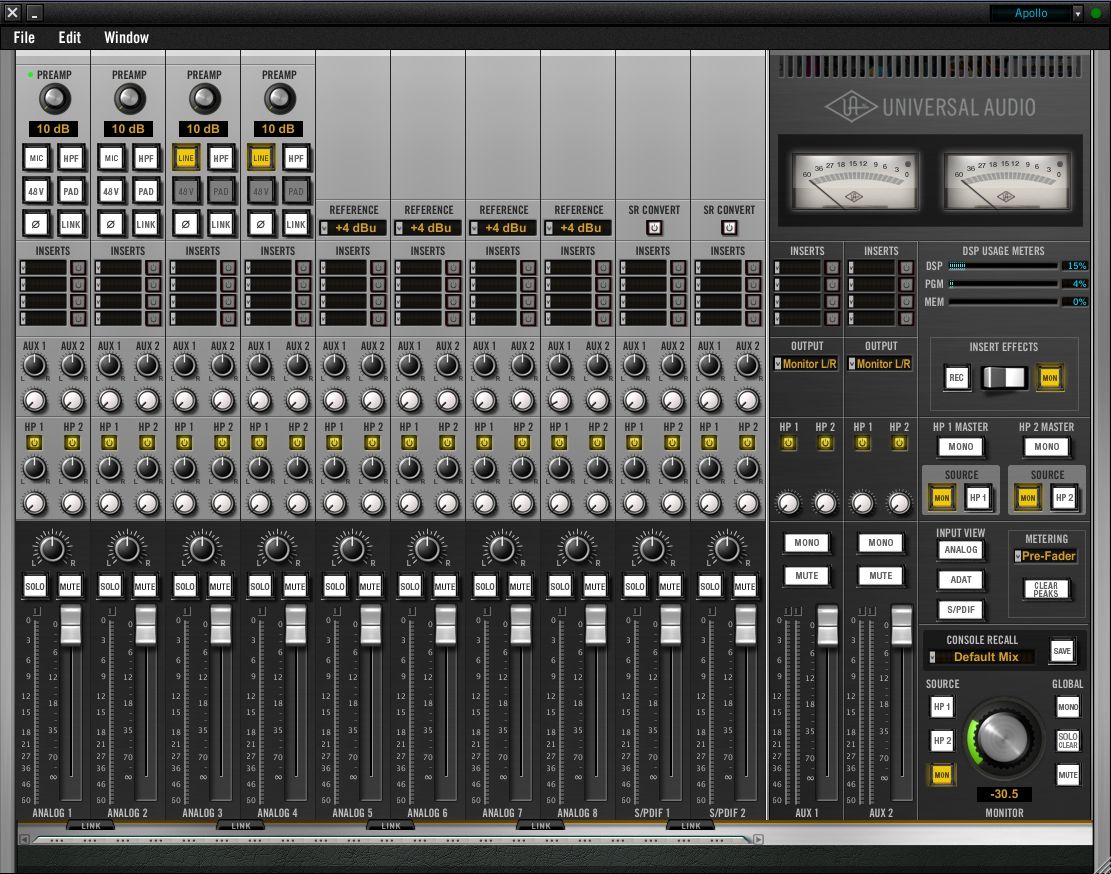 From setting up your mic and line inputs to getting a headphone mix the Console is where most things happen. It also has a couple of very nifty features too.
First off, every input to the Apollo has four insert slots in which you can load your UAD powered plug-ins.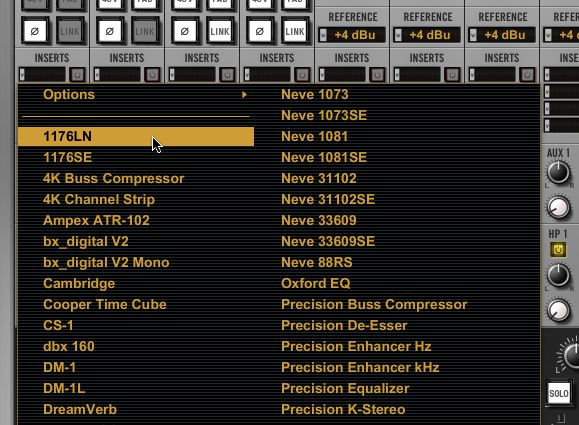 Here you can see the 1176N loaded into Slot 1 of Mic/Line 1.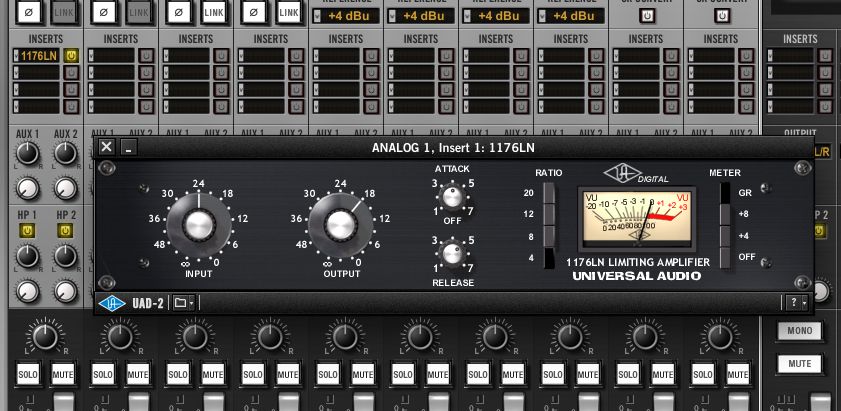 If you have more than one plug-in loaded, you can view them as a channel strip by Command-clicking (Control-clicking on PC) any slot.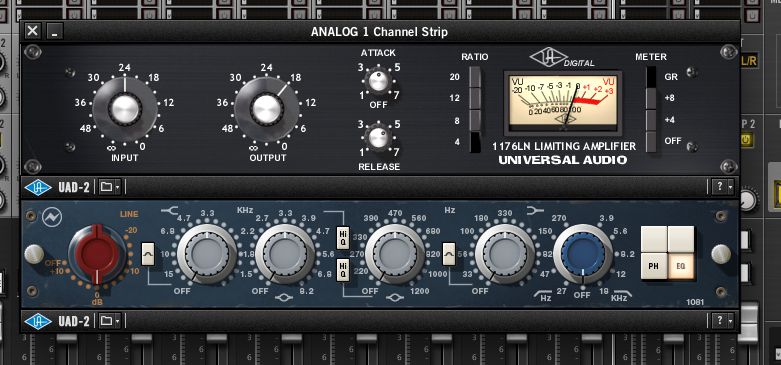 You have the ability to either monitor these effects or place them in the record path of the channel and print them to your DAW. Depending on what plug-ins you're using, latency can be as little as 2 ms!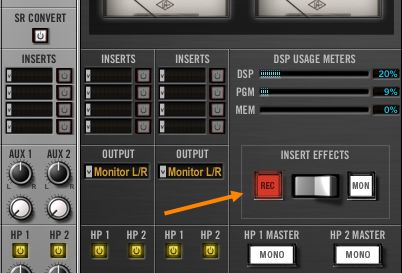 Console also features two Aux channels that can be used for effects like Reverb or Delay when tracking. There is a send (post fader - with pre fader on the list of improvements) on every input channel for both Auxes.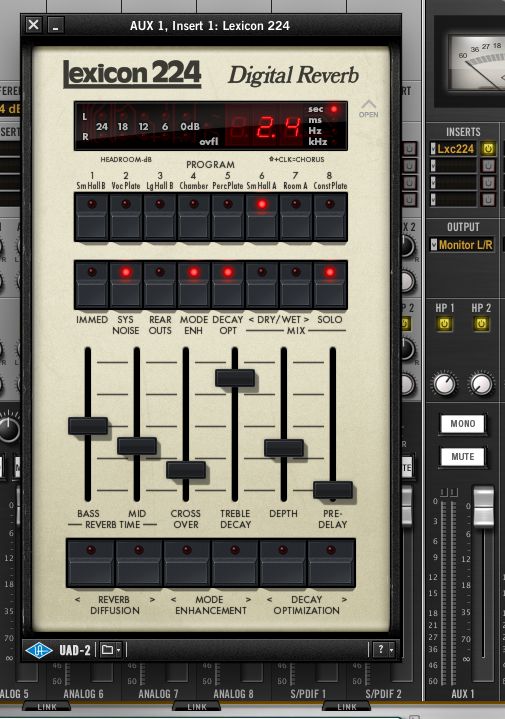 The Aux channels also give you the option to record both a Wet and Dry version of your input. This is down to the fact that all channels including Monitor, Headphones 1-2, Aux 1-2 can be accessed as an input by your DAW.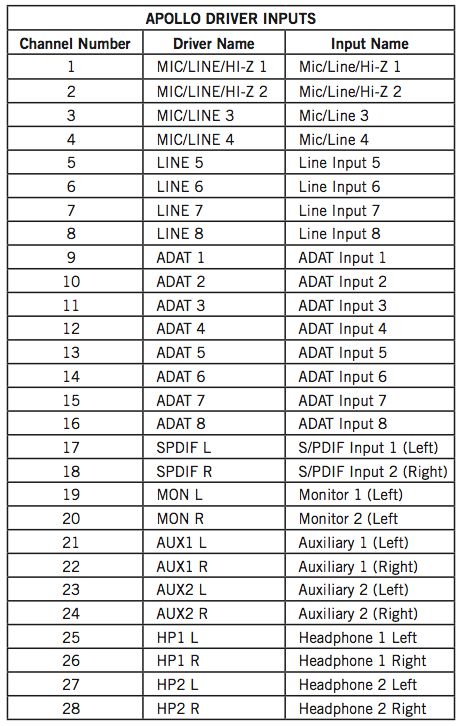 Any effect inserted into an Aux track is output to the corresponding DAW input. Say in Logic Pro a stereo track fed with inputs 21-22 will be fed the signal from Aux 1 allowing you to say record your Reverb too, or maybe an EQ'd and compressed version of your vocal. You know, like in the olden days!! :)
You can also save various Console configurations for later use. In fact, UA has gone one step further with the addition of the Console plug-in. Load this into a session in your DAW and click the Sync button and whatever Console configuration you have at the time will be saved in your DAW session and recalled on load.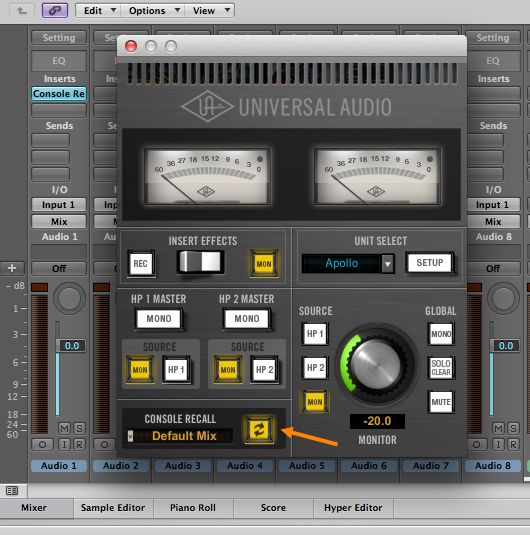 This is great if you're doing pickups on a track for say vocals. Just plug in the mic and you're back where you left off last time!!
You can of course run all your UAD plug-ins in your DAW as usual.
Conclusion
Having lived with the Apollo for about a month, I'm finding the thought of letting it go quite a drag! So, I'm going to buy one... immediately!! I guess that's my review of the Apollo. I want one, and I'm going to part with my hard earned cash! Why? Because it's a great piece of kit!
You can't say fairer than that!
Discover more about the UAD Apollo here.