Source Audio make some cool stuff! Hot Hands anyone?! They also make rad pedals. Today I'll be looking at the OFD Guitar microModeler which is the latest addition to the Soundblox 2 line!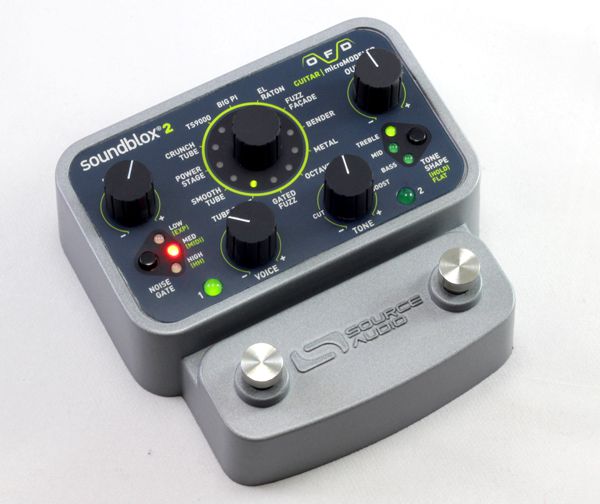 Build
Upon opening the box the first thing I noticed was that the OFD Guitar microModeler is built like a small tank. The cast aluminum casing feels solid and you get the feeling that even the most angry airline baggage handler would have a job breaking it!
The knobs feel very sturdy and you get the impression that the foot switches are probably indestructible! All in all a very well made unit.
The back panel holds all the ins and outs. There's two 1/4 inch jack sockets for the guitar input and output. An input for the 9V power supply (that ships with the pedal) and two 1/8 inch sockets for the proprietary Multi Function feature which I'll come to in a bit.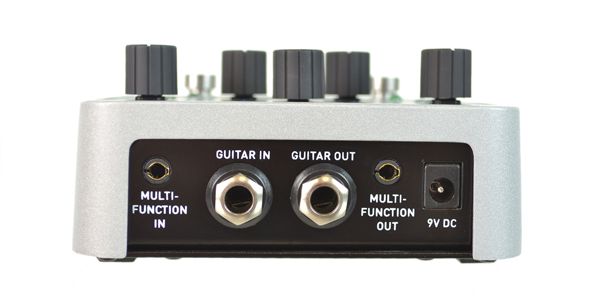 The OFD Guitar microModeler sports 24-bit converters and a 56-bit Digital Signal Processor. Yep, that's 56-bits! It is also True Bypass (default) with an option to switch to a Buffered Bypass mode as well.
Models
The pedal features twelve models of classic overdrive, fuzz and distortion tones (hence the name OFD). These include both amp and pedal tones. They are as follows:-
Tube Drive: Based on Marshall Plexi

Smooth Tube: Based on Mesa Boogie

Power Stage: Based on Fulltone OCD

Crunch Tube: Tube overdrive

TS9000: Based on Ibanez Tube Screamer

Big Pi: Based on a Big Muff Pi

El Raton: Based on ProCat Rat

Fuzz Facade: Based on Dallas Arbiter Fuzz Face

Bender: Based on Sola Sound MKII Tone Bender

Metal: Scooped Distortion

Octave Fuzz: Based on Roger Mayer Octavia

Gated Fuzz: All out Fuzz!
Although the the pedal seeks to emulate this classic hardware it was also designed to take you well beyond the originals. This is where the pedal really shines. With the available sound shaping tools what you have is a very creative stomp box!
Tweakablity
The pedal has five main knobs. The first is the Model selector on an endless encoder. The remaining four control the main sound shaping features.
Along the top we have the Drive knob that obviously adds more gain to the sound and the Output control. You can choose to drive the input of your amp with this giving a nice boost for leads.
The two main tone shaping tools are the Voice and EQ controls. The Voice control is a midrange adjuster for the distortion engine. It can effect the tone and distortion behavior in a fairly radical way. Turning it left will mellow out the sound while turning it right will cause the distortion to become more biting and aggressive. This is definitely a big part in taking these models to a different place!
The final knob controls cut and boost for a three band EQ. You select the bands (Treble, Mid and Bass) with the selector switch to the right of the Tone knob. Again this is a great tool for shaping the tonal quality of the model and gives you a lot of scope. To reset the EQ just hold down the band selector.
The last thing I should mention is the built in Noise Gate which is a very cool utility feature. It has three settings High, Med, Low. If you're using a very high gain tone that produces a lot of unwanted background noise the gate does a very effective job of eliminating this.
External Control
There are two 1/8 inch jacks on the rear panel labeled Multi Function In and Out. These allow you to connect one of Source Audio's proprietary controllers. These include their Dual Expression Pedal, Hot Hands Controller, MIDI Controller or Soundblox HUB.
Plugging one of these into the input gives you external control of either one chosen parameter (like Voice or Drive) or the ability to morph presets (see next section).
You can choose which control type (EXP, HH or MIDI) you want by holding down the Tone Shape button and pressing the Noise Gate selector.
I already have a Source Audio expression pedal so I could test this out and it works like a charm! It's actually worth getting one anyway as it has two expression outs as well as the SA Multi function out. Same results with the Hot Hands too! Loads of Fun!!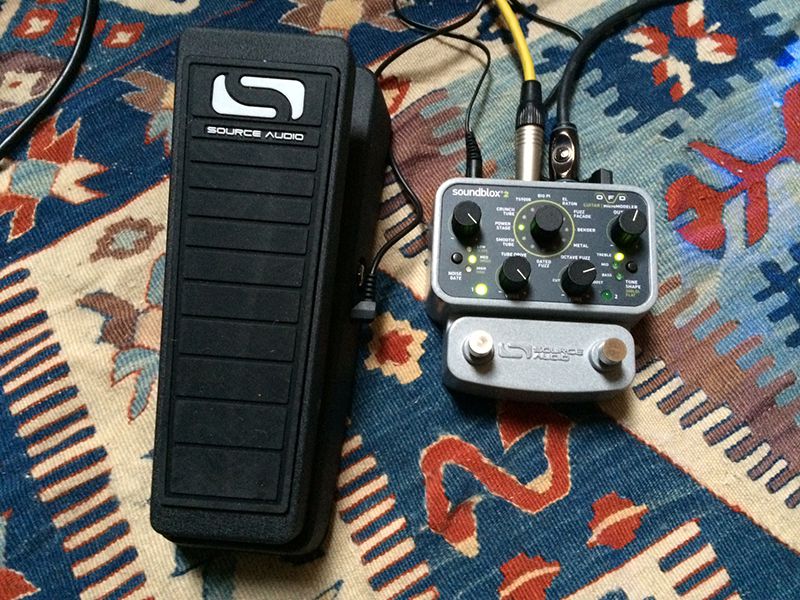 The SA MIDI Controller and HUB can be used to add regular expression pedals into the mix as well as MIDI control.
Morphing Presets
The OFD has one feature up its sleeve that really makes it totally killer. The ability to morph presets. This isn't some hokey volume crossfade though, it's an algorithmic crossfade! This means that halfway through you actually have a hybrid pedal. This is very cool!!
Ever wanted to morph from an OCD into an Octave Up Fuzz for that high note in a solo? Your wait is over! :)
Expandability
The OFD only has two presets which is kind of a bummer for a pedal that's so diverse! Considering how many great sounds you can get out of this thing it's a nightmare choosing which two will stay! However adding a Source Audio HUB to this pedal will allow you to save and recall 128 pedal 'Scenes' (that's both presets!) which should expand its usefulness in a MIDI controlled pedalboard setup no end.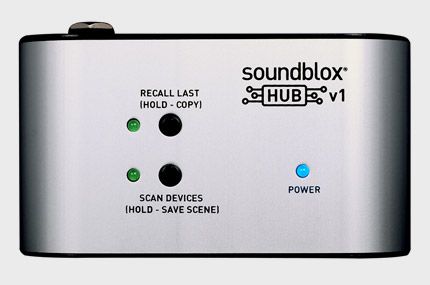 The Multi Function Out will also allow you to daisy chain other Soundblox pedals together. This means you can save patches over multiple pedals and control parameters on each pedal with one expression pedal. Nice!
In Use
So let's hear this thing. I've set up a couple of examples to highlight three models.
Amp: Bogner
Mic: SM57 straight at cone center.
Guitar: Fender American Deluxe Strat
The first is the TS9000. The Tube Screamer is a very popular pedal and has a very distinct sound. So does the OFD do a good job here? Well, yes it does! Here's the TS9000 model with a flat EQ and default Voice setting. Gain is at 2 o'clock and Output at 1 o'clock. Clean amp tone first.
It definitely has that mid range crunch sound that yells Tube Screamer. Backing the Voice off to 9 o'clock gives you a clearer crunch with less emphasis in the mid range.
Boosting the Voice control to the right at 4 o'clock really adds quite a bit of hi mid range gain and bite to the sound. I haven't touched the Gain control!
This should show you what kind of effect the Voice control has on the models. A lot of potential here!
So moving on. The one sound that I was most keen to try out was the Octave model. This classic sound should be in every guitarists arsenal! Made famous by Hendrix, the Octavia will give you a strange Ring-mod tone at lower registers and an octave up at high registers. The trick is to use the neck pickup and roll the tone knob down on the guitar.
Here it is low. Gain at full and Voice at 3 o'clock.
Works fantastically just like you would expect! And high up!
Perfect! I guess I can pack away my Fulltone Octafuzz then!
Lastly I thought I'd do a direct comparison. I have a Fulltone OCD so I thought this would be a good one to try. This is pretty much a go-to Distortion pedal for me so I was interested to see how the OFD would compare.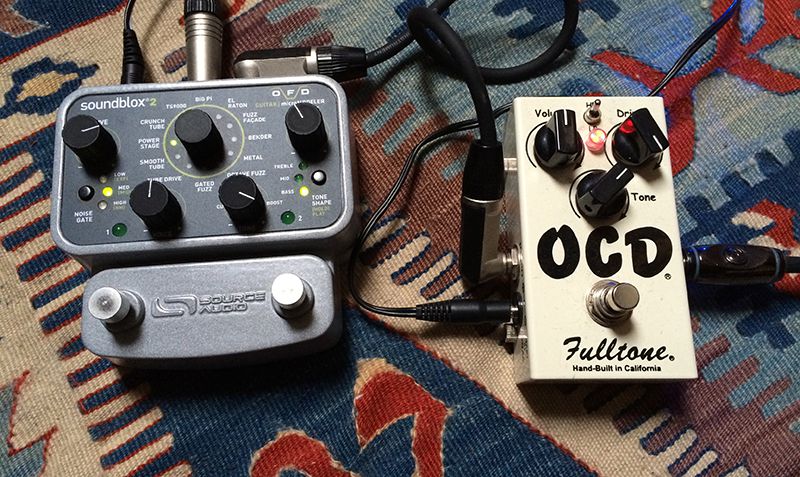 So here's the OCD.
Now here's the OFD.
It's pretty damn close!! Took a bit of tweaking with the EQ and Voice to get it there. The OFD also had a lot more Gain left in the bag too. Quite impressive!
The pedal also responds really well to dynamics cleaning up on softer playing and volume changes on the guitar. The rest of the models are highly useable and provide an enormous palette of sounds!
Conclusion
The Soundblox 2 OFD Guitar microModeler packs a lot of punch and features into a very small box. If you're looking for a versatile Overdrive/Distortion/Fuzz pedal for your board (or you want to just simplify a pedalboard for small gigs) or just have a really creative stompbox for the studio then I'd recommend you try this out. I can tell you now that this bad boy is staying in my rig!