Native Instruments' Skanner was an interesting release to say the least. It is a sampler, a Wave Scanning synth, or maybe an effects device? In reality, it's a little bit of all three but regardless of exactly what category we put Skanner in, the new 'XT' version certainly deserves a look...

What's Changed?
The first thing to note about Skanner XT is that it features exactly the same interface and synth engine as the free version did when it was released. Essentially there have been no changes in the way the instrument actually works.
If you aren't familiar with Skanner, then all you really need to know is that it's a synthesizer that uses Wave Scanning technology and sample based oscillators to create it's sound. Waveforms are mixed with modulated samples to produce some pretty nasty sounds.
It also uses a really innovative morphing system that can move between presets in realtime. The user can choose the speed that the morphing occurs and the effect can even be automated within your DAW.
The whole instrument runs within NI's Reaktor and can also be loaded up within the free Reaktor player. So if you don't want to splash out on the full version of Reaktor to get access to this and other instruments... No problem.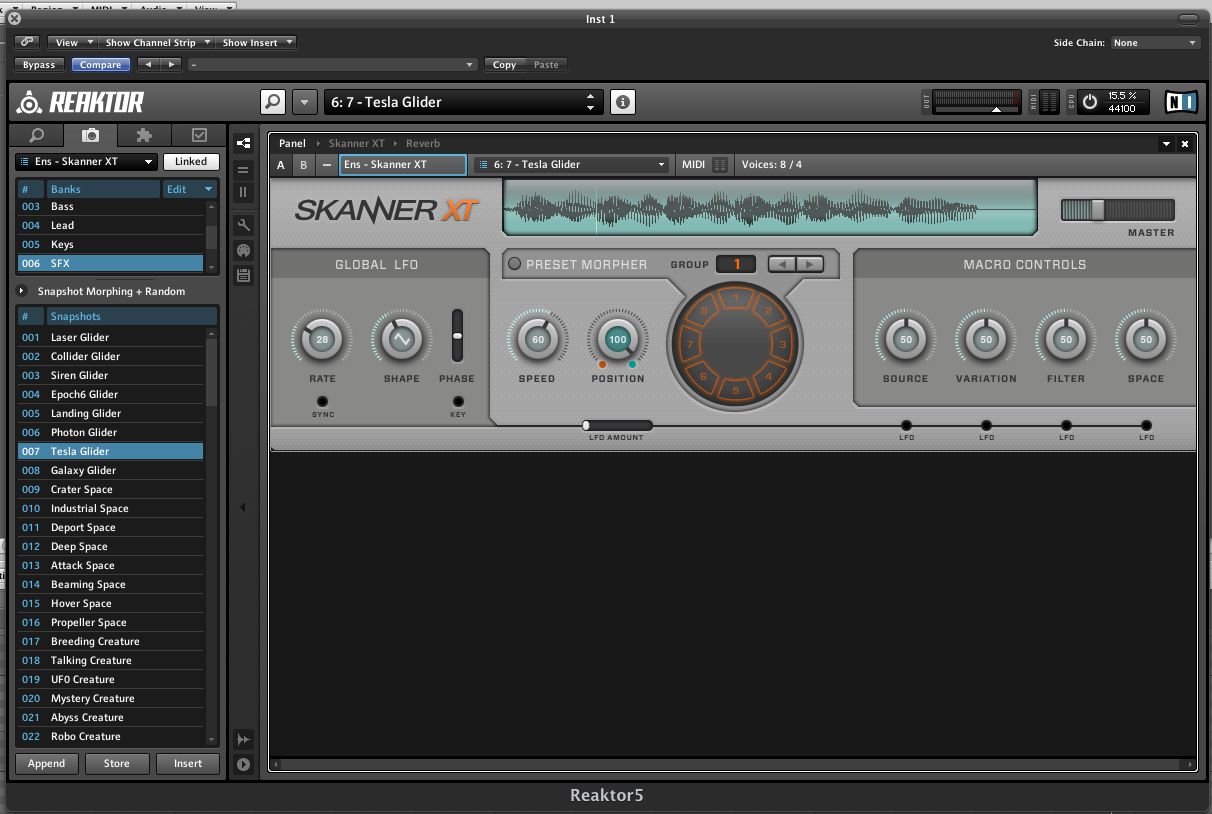 Skanner XT running in Reaktor.
Great FX are effortless for the XT :
So what exactly is the difference between Skanner XT and the free version of Skanner released some time ago, well the answer is simple... Sounds. In fact, according to NI, there are more than double the amount of waveforms and presets here and this new material has led to more categories being added to the patch library as well.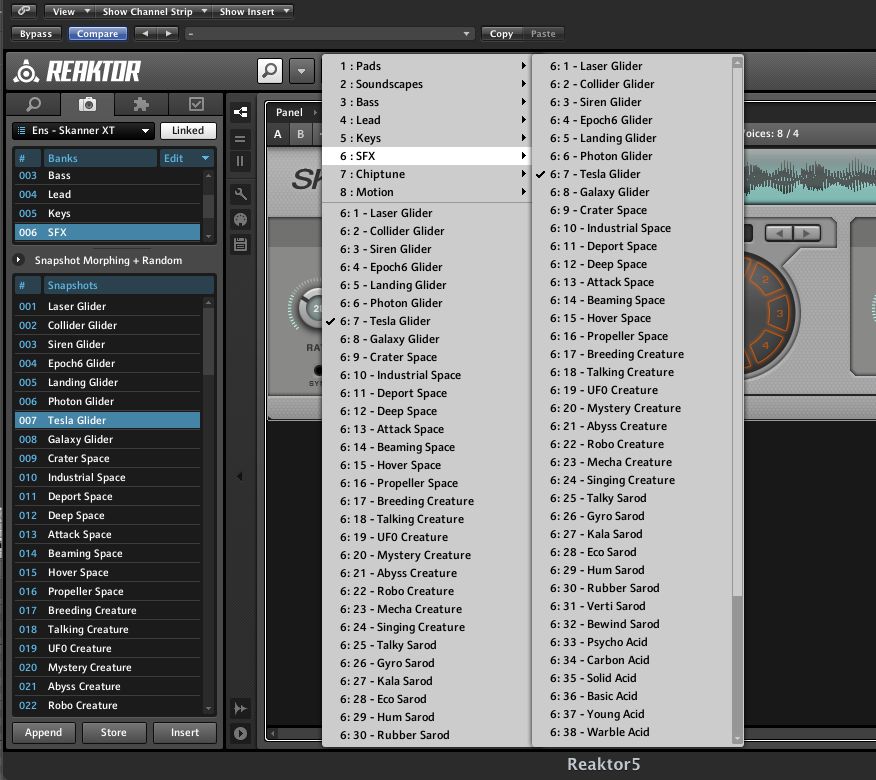 Lots of shiny new presets!
Morphing at the touch of a button:
I had a quick blast through the sounds and I have to say even without any tweaking the output of this thing is impressive. You could easily lose a few hours of your life with Skanner XT and a pair of headphones and that's before you even access any of it's more advanced parameters.
There are also plenty of instrument patches such as really raw basses:
Getting Hold Of The New XT Version...
So how do you get hold of all these lovely new sounds? And more importantly, what will it cost? Well if you are a registered Skanner owner you'll be glad to know you get a whopping 50% discount and the new version will only cost you €24.50. If you are brand new to all of this Skanner XT will only cost €49.
So all in all, it's a bit of a steal and remember you can do all of this with the free Reaktor player. Whichever route you need to take everything is available directly from NI's website, so no middlemen to deal with and no unsightly boxes or DVDs either.
To Skan Or Not To Skan?
So all you need to decide is if this instrument is for you. My advice would be to go ahead and purchase it. At these prices it's a bit of a no brainer and honestly this thing sounds awesome. I'll be going straight back to it as soon as I've finished writing this up.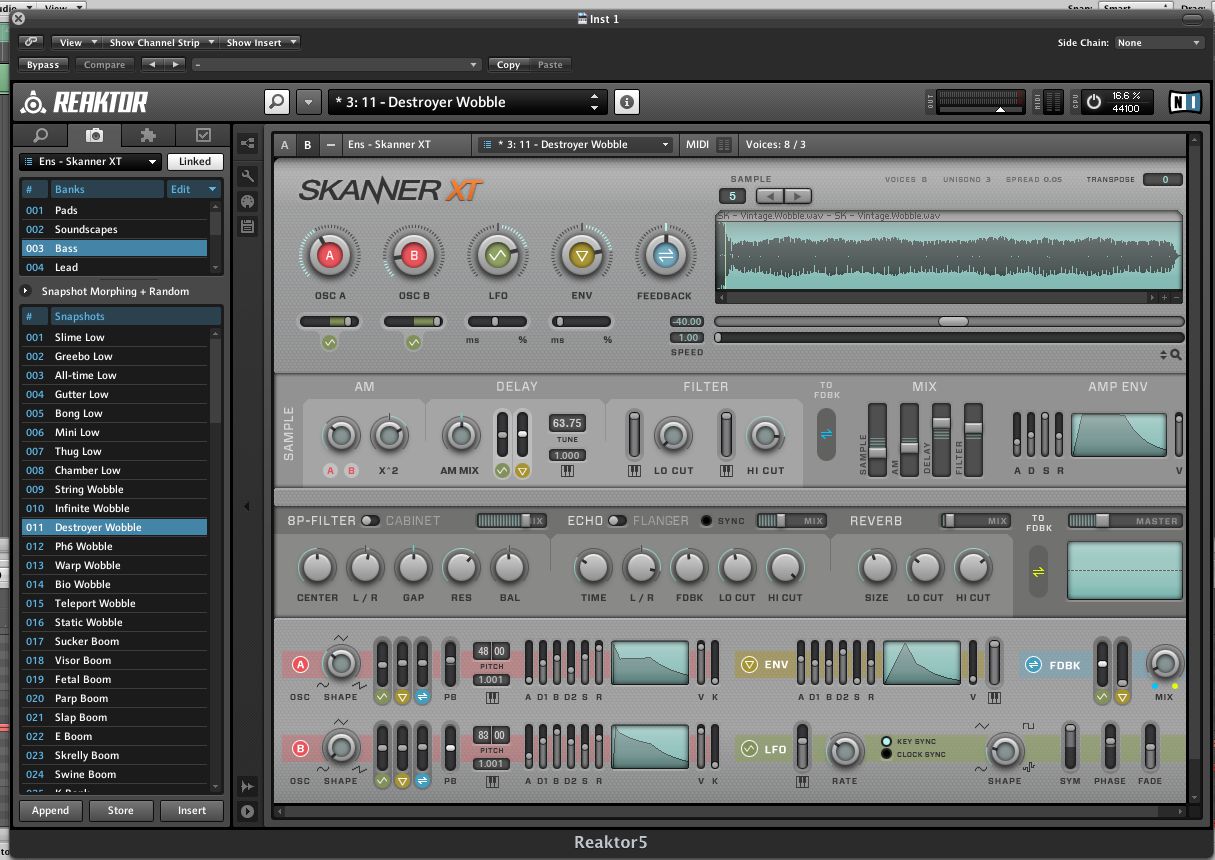 Some of the more advanced features from the 2nd editing panel.
If you are a relative beginner who just loves new sounds, you can stroll through the patch library, and in contrast the synth enthusiast can use the 2nd control panel and delve deep into Skanner's synth engine. If you are a Reaktor pro, you can even change the way the instrument is routed at it's core.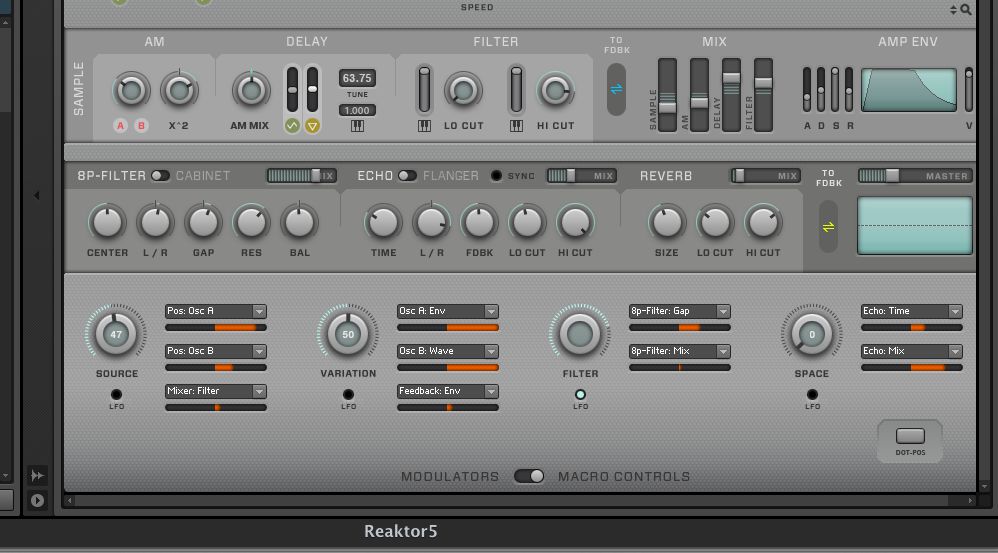 More in depth editing of the Macro controls.