Roland's new trio of "Boutique" synthesizers are mini replicas of three of their most popular and well-known instruments of the '80s. I'll be reviewing their new remake of the JX-3P analog synthesizer from 1983. I owned this instrument (and it's add-on programmer the PG-200) until only a few years ago, and can tell you right off, that this new digital recreation sounds nearly identical to the original. Analog purists take note!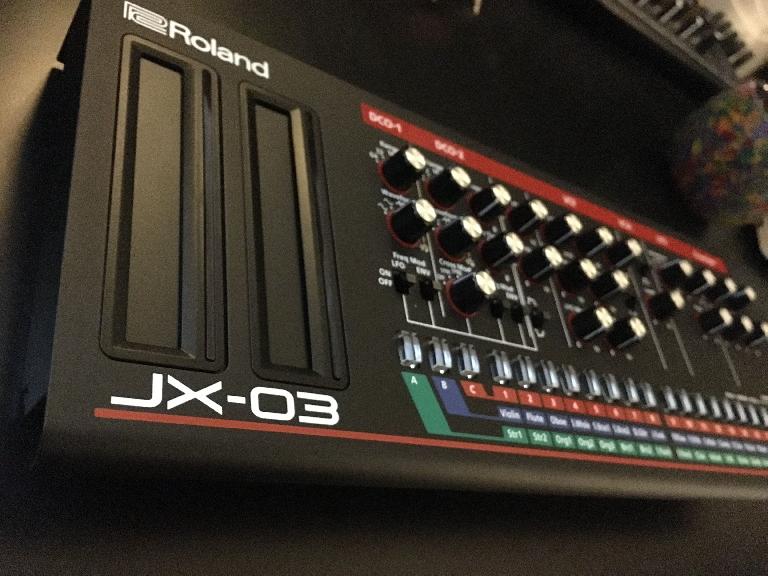 Because the programmer was sold separately (and it's built-in presets were notoriously blah) many people dismissed the JX-3P and thought of it as more of a "preset" synth. This made the JX-3P somewhat of a secret weapon to people who actually took the time to program it. In this article I'll not only be going over most of the features, but I'll be showing audio examples of how fat, tight, and wonderfully analog this synth can actually be.
What's changed from the 1983 original?
Several waveform additions to oscillators, cross mod, and the LFO have been added. A wider range of octaves per oscillator, a delay has been added, and best of all; the JX-03—unlike its analog mother—can be edited while receiving MIDI! (the original couldn't when used with the programmer). You can expand the 4-voice polyphony of the JX-03 by buying another one (or more) and "chaining" them together, and the JX-03 can be powered by battery or by USB.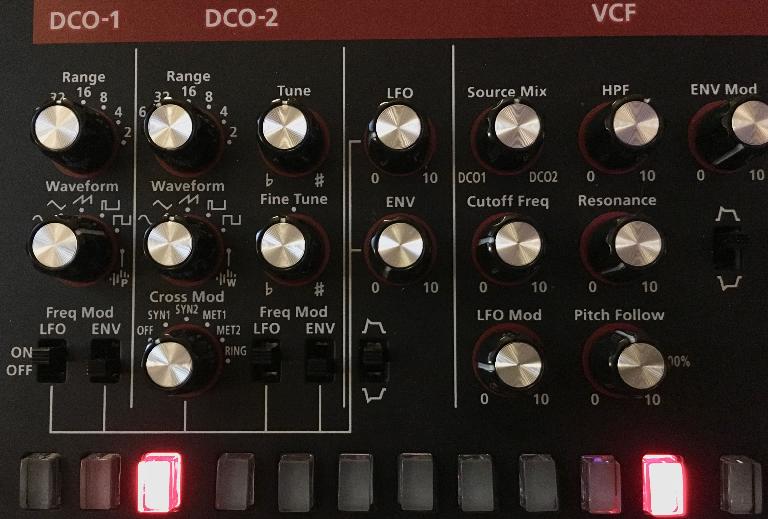 Digitally Controlled Oscillators
The JX-03's two oscillators have a wider range of octaves than the original JX-3P. There are now more waveforms to choose from, like sine and triangle. With the tune knob, DCO2 can be tuned up or down by an octave, and there's also a Fine Tune knob for detuning DCO2 for a thicker sound. The Cross Mod knob with its five different settings, allows you to generate a tighter sound by synching DCO2 to DCO1, or use it to create metallic sounds by modulating DCO1 with DCO2's waveform shape. "Pulse Width Modulation" is also possible with Cross Mod's Syn1 setting. When set, simply turn the Tune/Fine Tune knobs in the DCO2 section to taste. Unlike other synths, PWM is not limited to square waves, it works with any oscillator waveform type. Below are three audio examples:
Audio sample 1 is a simple but fat two-oscillator bass sound:
Audio sample 2 uses the tune and detune knob to make a techno/house type bass (I sweep the filter on this too):
Audio sample 3 is a repeating synth note using the JX-03's Cross Mod feature to demonstrate a PWM sound:
Voltage Controlled Filter
The filter section remains identical to the original. The oddly placed DCO1 and DCO2 mix knob is located here just as it was. You get a great sounding Low Pass filter (the same one from both the Juno 106 and Jupiter 8) with Resonance, a High Pass, and Pitch Follow knob so the higher you play the more open the filter becomes (like on a piano where the low notes seem more dull, and the higher notes seem brighter.) In the arpeggiated audio sample below I sweep both the cutoff and high pass (HPF) plus I add a bit or resonance toward the end. I also used the JX-03's built-in delay for a simple effect.
Audio sample 4:
LFO, Envelope and Modulation
The JX-03's LFO has several more waveform types than the original, including new up/down sloped sawtooth waves great for making backward type risers or edgy pulsed basses. There is also a Delay Time knob for offsetting the LFO's effect on the sound, and a standard rate control. As with the original, the rate of the LFO is not very fast. Forget about super fast LFO's lightly modulating pitch or filter for analog type distortions, but luckily the new noise wave option for the LFO can be used for this.The standard ADSR envelope has a great punchy sound without adding any clicks even at very low attack settings making the JX-03 great for stabby/punchy type basses, tight chords/synth stabs and bell type sounds, but is equally at home producing extremely smooth strings. Example below.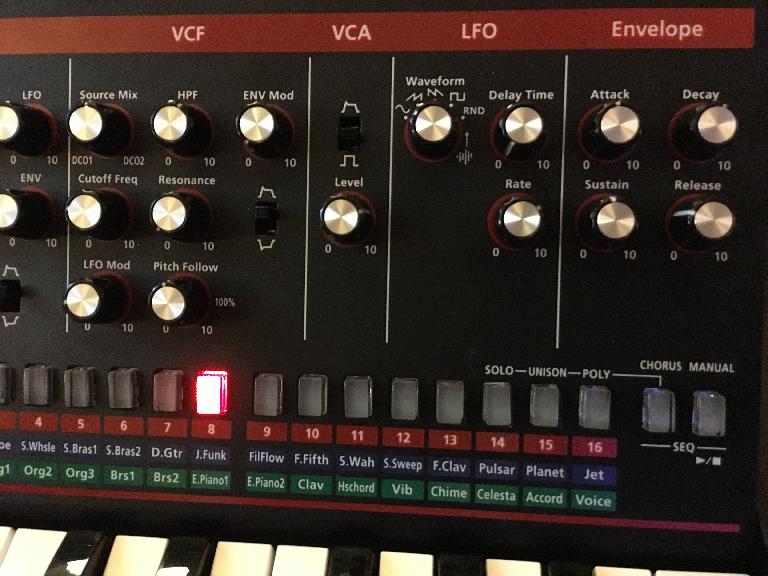 Audio sample 5:
Both DCOs and the Filter can be modulated easily by either the LFO or the Envelope. The DCO's use a simple on/off switch to enable either the LFO or Envelope. You then use separate LFO and ENV knobs to incrementally blend in either modulation. The Filter uses knobs for both LFO and ENV allowing you to shape and modulate the cutoff. It's too bad they're not tempo synchronize-able when being used with your DAW (or even with its own built-in sequencer). I would think the boutique series instruments could be firmware upgradable, but that hasn't been mentioned in any documentation as of yet. The sample below shows the LFO creating a sawtooth pulse when modulating the filter.
Audio sample 6:
Sequencer & Misc
You enter/exit the sequencer by holding both the Chorus and Manual buttons down simultaneously.The built-in step sequencer gives you 16 patterns with up to 16 steps per pattern (basically 16 one bar sequences). It's easy to move from pattern to pattern by holding the chorus button and then single clicking one of the 16 numbered buttons. To program a step, you simply hold the button for the step, while also pressing the musical key (if you have the extra K25-M mini keyboard) or by moving your finger up and down the ribbon controller if you don't. You can send MIDI Clock from your DAW to the JX-03 and the sequencer will synchronize to it.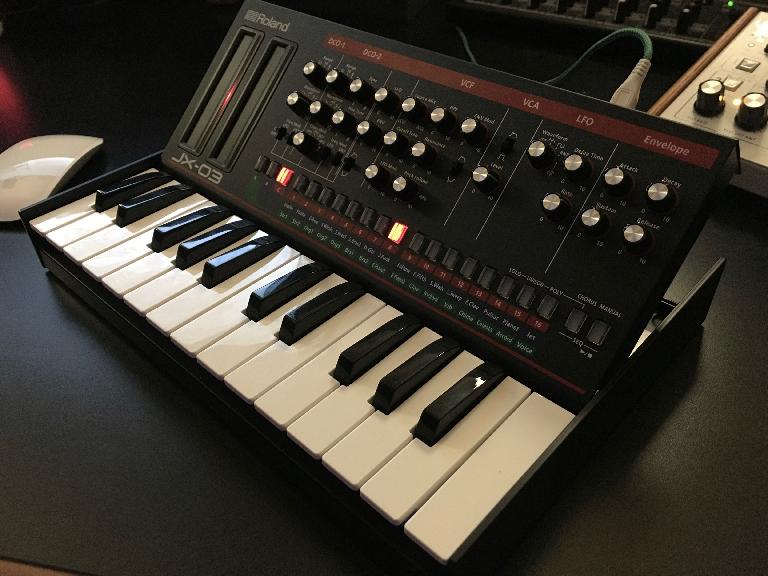 Switch the JX-03's voicing from Solo, to Unison, and Poly modes is done by holding the chorus button and the labeled buttons (14, 15 and 16). You can enable/disable portamento/glide, and In the system settings you have control over things like pitch bend range, transposition, chain mode, toggling the delay effect, mastering tuning and more.
Standard Connectivity
On the back of the JX-03 you'll find a power switch, a USB micro port (described in detail below), a volume knob for the built-in speaker, headphone jack, a mono output, input used for chaining multiple devices together, and MIDI in and out. What, no power!? Yes, the JX-03 is powered either by battery or by USB.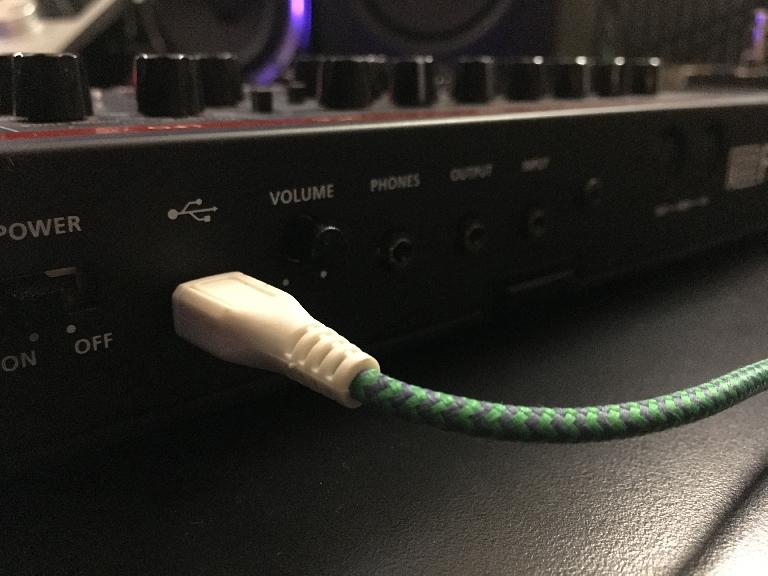 USB Connectivity
Like most new synth modules, the USB port allows you to easily send and receive MIDI data. The JX-03 goes much farther however and allows you to use its USB port to send audio too. This works great on the Mac… so much so, that I only use the JX-03 in this way (I don't use the analog output). You create what is called an "aggregate device" in the Mac's Audio/MIDI application, name it, then use it as a virtual interface that combines not only your main recording/output interface, but the Boutique synth in addition. Many DAWs (including Logic) only allow you to pick a single interface or input, so this combined aggregate device allows you to treat multiple interfaces as a single unified device. As described above, you only get 16 slots for saving your own custom presets and sequences. This is not a problem though… simply hold down the patch 2 button while powering on the JX-03 when connected to your computer via USB. The JX-03 appears on your desktop like a connected drive! There are two folders named Backup and Restore. You can easily copy any of the 16 presets and 16 sequence patterns for backup, and when you're ready to restore, drop them into the restore folder.
Price: $299 USD / £229 GBP
Pros: Near perfect virtual analog emulation. Fat analog sounds. Clear layout (like the original PG-200) inspires sound design. Small size allows for easy desktop use. Smoothly integrates with your DAW of choice via USB. Optional add-on K25-M makes for a great portable synth. Runs on USB power or 4 AA (Rechargeable Ni-MH or Alkaline) batteries. Built-in speaker.
Cons: LFO does not sync internally or externally to a DAW (possible fix via firmware update). Knobs don't send MIDI continuous controller data.