You're looking at an interesting little device called the Jamstik+, a five-fret "Smart Guitar" that functions as a MIDI controller. Through a combination of real guitar strings and a sensor-equipped fretboard, the Jamstik+ converts your strumming' into MIDI data. You might be thinking, "only five frets?" "That seems kind of worthless." Well, if the Jamstik+ was meant to compete with software like Jam Origin's MIDI Guitar, I'd agree with you. However, this controller is first and foremost an educational device aimed at folks who want to learn basics of guitar. And that leads us to the next logical question: Does it work? In short, yes. Keep on reading for all the details!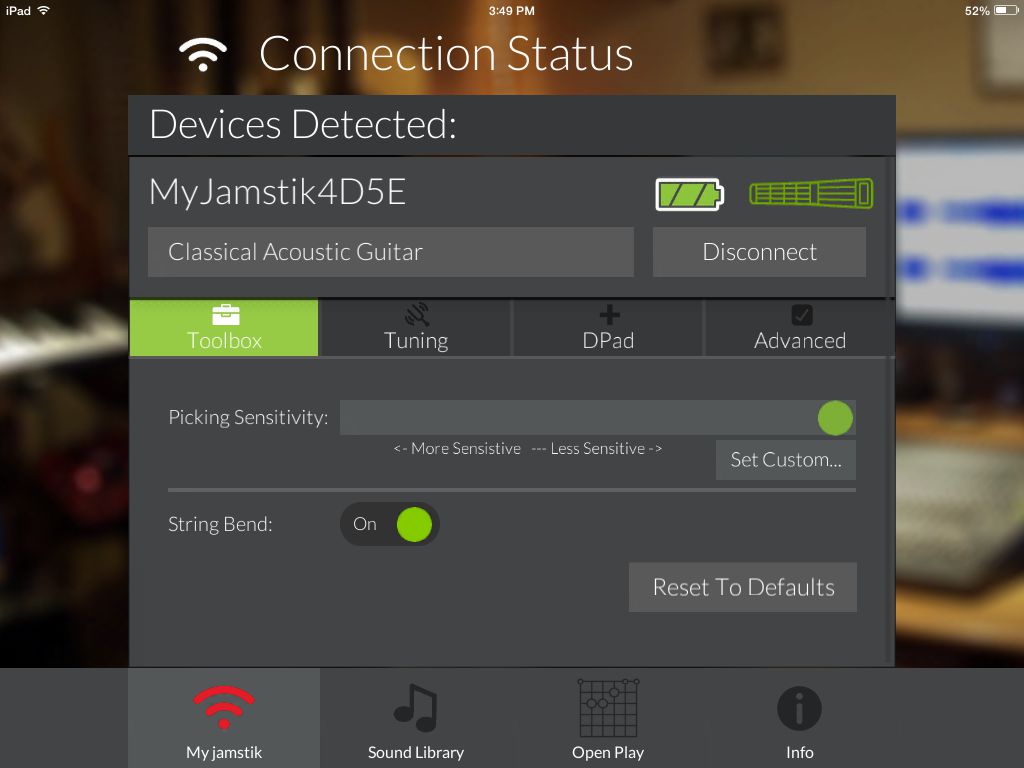 Hardware and Use
Five frets, six strings, and a palm-mute button: These are the three basic components of the Jamstik+. (It also has a D-Pad for controlling companion apps, but I'll get to that later.) And honestly, aside from the device's miniature shape, it feels a lot like a guitar. The frets are distinguished by legitimate fretwire, and as previously mentioned, the strings are real. Contrary to what you might be thinking, though, they don't actually make any sound—each string passes through a trigger located under a cowling on the neck, so the tuning is irrelevant.
So, how well does it work? As a MIDI controller, it takes a bit of getting used to. Pull-offs and hammer-ons aren't going to register on the Jamstik+, and its string bend capabilities are finicky. Picking melody lines also requires some practice. I set mine to the highest "picking sensitivity" setting and still managed to trigger notes with my palms. In the right hands, though, it can function as a solid, barebones MIDI controller—take a look at Zivix's (the maker of the Jamstik+) Boom Clap cover video, for instance. I could see the guitar-and-string form factor sparking a new kind of creativity for certain folks, but alas, I am not one of them.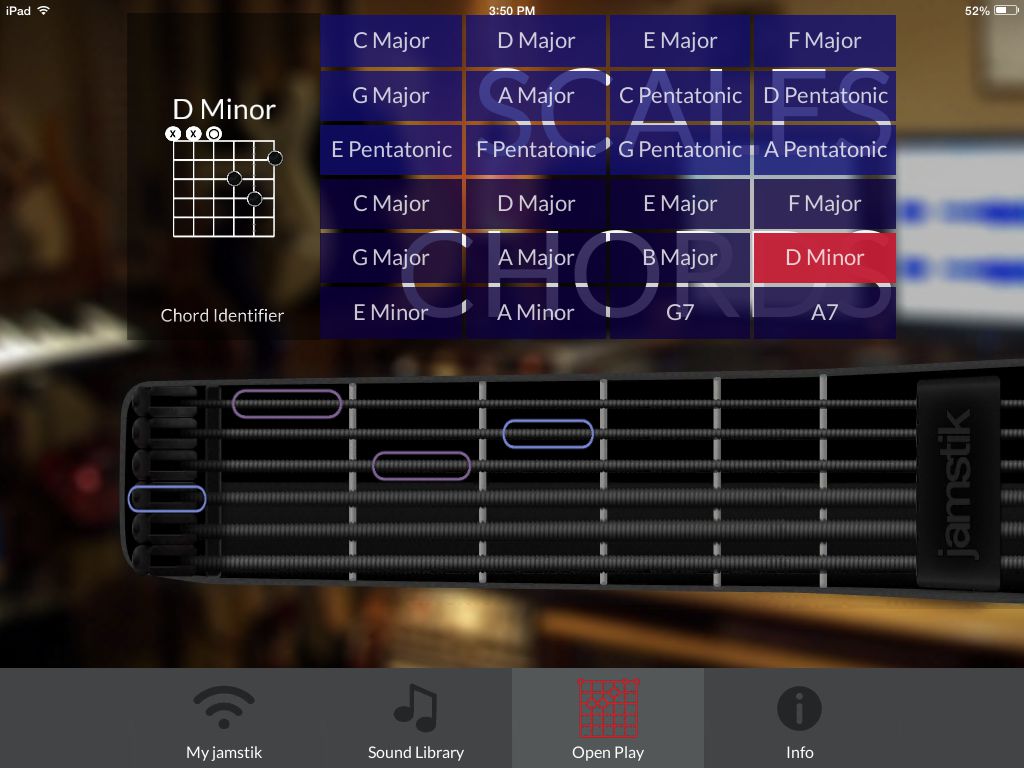 The Ultimate Guitar Tutor
Remember when Rosetta Stone pioneered a fresh new technique for learning foreign languages? Similar interactive learning tools are starting to filter into the now digitized music industry, and the Jamstik+ is right in the middle of it. It absolutely rocks as a guitar tutor. In fact, I actually found myself wishing it had been around when I picked up my first cutaway acoustic.
To get going, you'll need to connect your phone or tablet to the Jamstik+'s built-in Wi-Fi network, then launch its proprietary "Jamstik Connect" app. And really, that's it. You're ready to roll. Jamstik Connect allows you to adjust device settings (like tuning, D-Pad functionality, and picking sensitivity), plus it's packed with a small sound library and "Open Play" mode that outlines a few of the basic chords and scales (five frets' worth, anyway). The coolest part, though, is that it provides real-time feedback of your fingering, which makes learning and identifying new chords pretty darn easy. Just ask my wife: with no previous experience, she thoroughly enjoyed being able to quickly breeze through all the basic chord tablatures.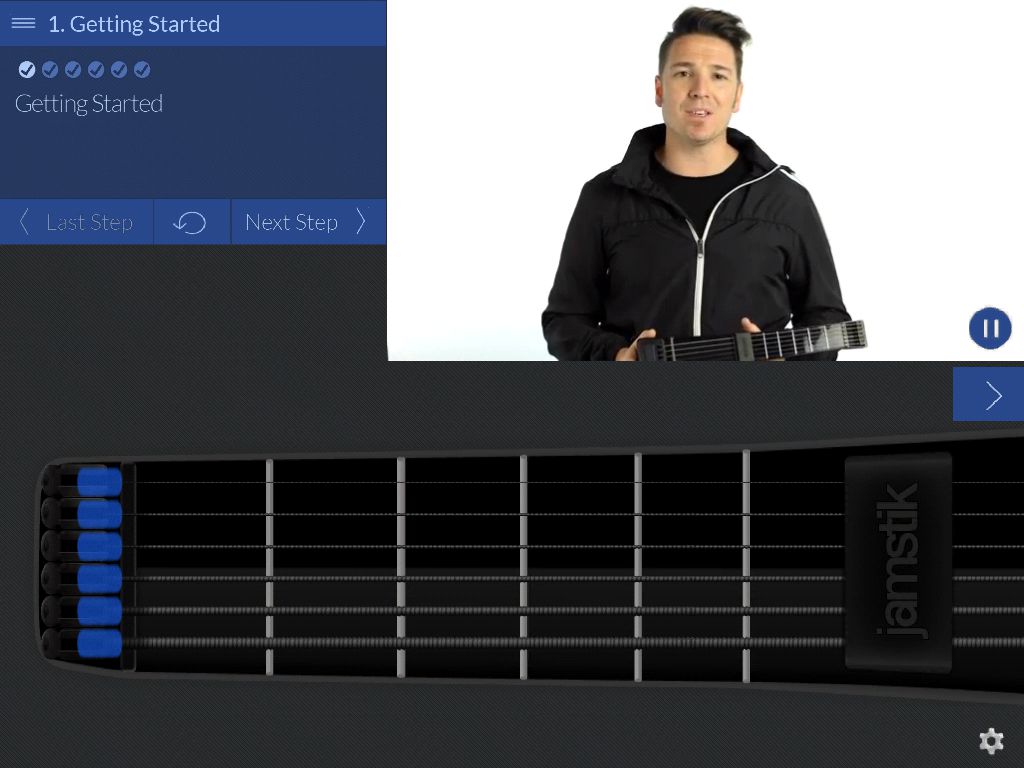 After the initial connection, Jamstik+ can be used with a huge variety of companion apps, including Zivix's own Jam Tutor. And to be clear, this is where the Jamstik+ truly shines. Eager pupils receive in-depth, video-based lessons, complemented by real-time feedback and evaluation. I'm serious, y'all: There's a lot to like about Jam Tutor's methodology. The video lessons are well done, and users can also enjoy several different challenge modes. And yes. one of them looks a lot like Guitar Hero.
Final Thoughts
I was skeptical at first. Very skeptical. But after spending a few weeks with the Jamstik+, it proved to be a valid learning tool. Would I ever incorporate it into my songwriting workflow? Probably not. But for utter beginners, the Jamstik+ is an awesome way to begin the path to musicianship. And in that light, the device has only one major downfall: it's price. $250 is plenty enough money to buy a beginner's instrument, but then again, lessons can be pretty expensive. If you're willing to drop that much money on a device that you'll definitely outgro (provided you stick with it, of course), then the Jamstik+ is for you. Otherwise, there's always the old fashioned way.
Compatibility: iOS, OS X
Price: $250 (http://jamstik.com/collections/jamstik-bundles/products/order-jamstik)

Pros: A decent Midi controller, but a great learning tool that provides real-time feedback for beginner guitarists. Genuinely feels like a guitar. Works with a large variety of apps, including Jam Tutor, which is filled with instructional videos and information.
Cons: Advanced guitar techniques (like pull-offs, slides, and hammer-ons) don't register. It's somewhat pricey for a beginners instrument.
Web: http://jamstik.com